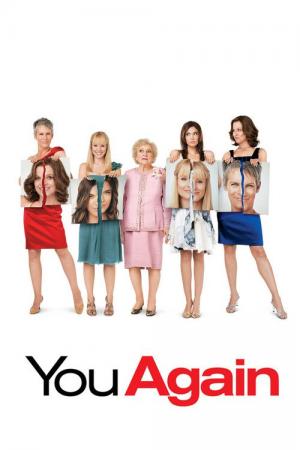 12 Best Movies Like You Again ...
If you liked this movie , you will for sure love these too! In this collection we highlight some of the best films that share a very similar mood to 'You Again', and are worth checking out.
1h 27m Comedy Romance
Taken aback by his mother's wedding announcement, a young man returns home in an effort to stop her from marrying his old high school gym teacher, a man who made high school hell for generations of students.
2.
Meet the Fockers (2004)
1h 55m Comedy Romance
Hard-to-crack ex-CIA man, Jack Byrnes and his wife, Dina head for the warmer climes of Florida to meet son-in-law-to-be, Greg Focker's parents. Unlike their happily matched offspring, the future in-laws find themselves in a situation of opposites that definitely do not attract.
1h 31m Comedy
Newly engaged, Ben and Sadie can't wait to start their life together and live happily ever after. However Sadie's family church's Reverend Frank won't bless their union until they pass his patented, "foolproof" marriage prep course consisting of outrageous classes, outlandish homework assignments and some outright invasion of privacy.
1h 51m Comedy Romance
Altruistic Jane finds herself facing her worst nightmare as her younger sister announces her engagement to the man Jane secretly adores.
5.
The Heartbreak Kid (2007)
1h 56m Comedy Romance
Eddie, the 40-year-old confirmed bachelor finally says "I do" to the beautiful and sexy Lila. But during their honeymoon in Mexico, the woman of his dreams turns out to be a total nightmare, and the guy who could never pull the trigger realizes he's jumped the gun.
6.
Confessions of a Shopaholic (2009)
1h 44m Comedy Romance
In the glamorous world of New York City, Rebecca Bloomwood is a fun-loving girl who is really good at shopping-a little too good, perhaps. She dreams of working for her favorite fashion magazine, but can't quite get her foot in the door-until ironically, she snags a job as an advice columnist for a financial magazine published by the same company.
1h 31m Comedy Fantasy Romance
After fishing out coins from a water fountain in Italy, cynical New Yorker Beth Harper finds herself being wooed by several ardent suitors. As she deals with the attention, Beth tries to figure out whether a charming reporter really loves her.
8.
Meet the Parents (2000)
1h 48m Comedy Romance
Greg Focker is ready to marry his girlfriend, Pam, but before he pops the question, he must win over her formidable father, humorless former CIA agent Jack Byrnes, at the wedding of Pam's sister. As Greg bends over backward to make a good impression, his visit to the Byrnes home turns into a hilarious series of disasters, and everything that can go wrong does, all under Jack's critical, hawklike gaze.
1h 41m Comedy Romance
Tom and Hannah have been platonic friends for 10 years. He's a serial dater, while she wants marriage but hasn't found Mr. Right. Just as Tom is starting to think that he is relationship material after all, Hannah gets engaged. When she asks Tom to be her 'maid' of honor, he reluctantly agrees just so he can attempt to stop the wedding and woo her.
2h 5m Comedy Romance
Annie's life is a mess. But when she finds out her lifetime best friend is engaged, she simply must serve as Lillian's maid of honor. Though lovelorn and broke, Annie bluffs her way through the expensive and bizarre rituals. With one chance to get it perfect, she'll show Lillian and her bridesmaids just how far you'll go for someone you love.
11.
Betsy's Wedding (1990)
1h 34m Comedy
Offbeat fashion student Betsy Hopper and her straight-laced investment-banker fiancé, Dylan Walsh, just want an intimate little wedding reception, but Betsy's father, Eddie, a Long Island construction contractor, feels so threatened by Jake's rich WASP parents that he blows the ceremony up into a bank-breaking showpiece, sending his wife, Lola, into a financial panic.
1h 41m Comedy Romance
Paul Morse is a good guy. When his friends throw him a wild bachelor party, he just wants to keep his conscience clean -- which is why he's shocked when he wakes up in bed with a beautiful girl named Becky and can't remember the night before. Desperate to keep his fiancée, Karen, from finding out what may or may not be the truth, he tells her a teensy lie. Soon his lies are spiraling out of control and his life is a series of comical misunderstandings.
explore
Check out more list from our community