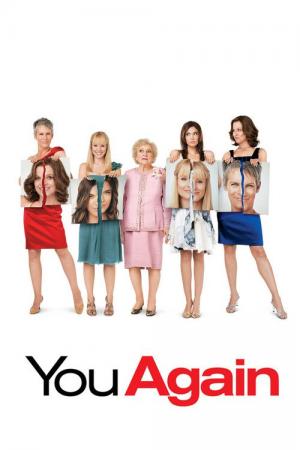 10 Best Movies Like You Again ...
If you liked this film , you will for sure love these too! In this selection we highlight some of the best films that share a very similar mood to 'You Again', and are worth checking out.
1.
Confessions of a Shopaholic (2009)
1h 44m Comedy Romance
In the glamorous world of New York City, Rebecca Bloomwood is a fun-loving girl who is really good at shopping-a little too good, perhaps. She dreams of working for her favorite fashion magazine, but can't quite get her foot in the door-until ironically, she snags a job as an advice columnist for a financial magazine published by the same company.
1h 29m Comedy Romance
Two best friends become rivals when their respective weddings are accidentally booked for the same day.
1h 41m Romance Comedy
Office temp Charlotte Cantilini thinks she's found Mr. Right when she starts dating gorgeous surgeon Dr. Kevin Fields. But there's a problem standing in the way of everlasting bliss: Kevin's overbearing and controlling mother, Viola. Fearing she'll lose her son's affections forever, Viola decides to break up the happy couple by becoming the world's worst mother-in-law.
1h 42m Comedy
A mild-mannered guy who is engaged to a monstrous woman meets the woman of his dreams, and schemes to find a way to be with her.
1h 30m Comedy Romance
When his lawyer wife, Sofia, becomes pregnant, chronic underachiever Tom Reilly must take a job at his father-in-law's advertising firm. Tom has to adjust to the demands of a very high-powered job, and he finds himself in an increasingly hostile office rivalry with Chip, Sofia's paraplegic former lover.
6.
Just Go with It (2011)
1h 57m Comedy Romance
A plastic surgeon, romancing a much younger schoolteacher, enlists his loyal assistant to pretend to be his soon to be ex-wife, in order to cover up a careless lie. When more lies backfire, the assistant's kids become involved, and everyone heads off for a weekend in Hawaii that will change all their lives.
7.
The Heartbreak Kid (2007)
1h 56m Comedy Romance
Eddie, the 40-year-old confirmed bachelor finally says "I do" to the beautiful and sexy Lila. But during their honeymoon in Mexico, the woman of his dreams turns out to be a total nightmare, and the guy who could never pull the trigger realizes he's jumped the gun.
8.
The Wedding Planner (2001)
1h 43m Comedy Romance
San Francisco's premiere wedding planner, Mary Fiore is rescued from an accident by the man of her dreams, paediatrician Steve Edison, only to find he is the fiancé of her latest client. As Mary continues making the wedding arrangements, she and Steve are put into a string of uncomfortable situations that force them to face their mutual attraction.
1h 45m Romance Comedy
Alex and his sister run a business designed to break up relationships. They are hired by a rich man to break up the wedding of his daughter. The only problem is that they only have one week to do so.
2h 5m Comedy Romance
Annie's life is a mess. But when she finds out her lifetime best friend is engaged, she simply must serve as Lillian's maid of honor. Though lovelorn and broke, Annie bluffs her way through the expensive and bizarre rituals. With one chance to get it perfect, she'll show Lillian and her bridesmaids just how far you'll go for someone you love.
explore
Check out more list from our community