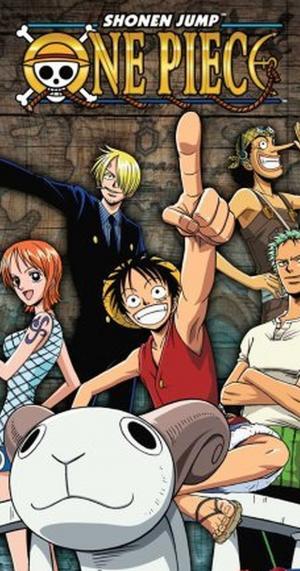 17 Best Shows Like One Piece ...
If you liked this movie , you will probably love these too! In this list we highlight some of the best films that share a very similar mood to '', and are worth checking out.
1.
Hunter x Hunter (2011)
24m Action & Adventure Animation Drama
Twelve-year-old Gon Freecss one day discovers that the father he had always been told was dead was alive. His Father, Ging, is a Hunter — a member of society's elite with a license to go anywhere or do almost anything. Gon, determined to follow in his father's footsteps, decides to take the Hunter Examination and eventually find his father to prove himself as a Hunter in his own right. But on the way, he learns that there is more to becoming a Hunter than previously thought, and the challenges that he must face are considered the toughest in the world.
25m Action & Adventure Animation Comedy Sci-Fi & Fantasy Mystery
Lucy is a 17-year-old girl, who wants to be a full-fledged mage. One day when visiting Harujion Town, she meets Natsu, a young man who gets sick easily by any type of transportation. But Natsu isn't just any ordinary kid, he's a member of one of the world's most infamous mage guilds: Fairy Tail.
3.
One Piece Film Z (2012)
1h 48m Action Adventure Animation
Zephyr, now known as Z, rides the seas with only one goal: Destroy all pirates and their dreams at becoming King of Pirates. When Luffy and his crew encounter him at sea, not only are they utterly defeated by the man with an arm made of Seastone, Nami, Robin, and Chopper are turned 10 years younger due to Z's minion Ain. Luffy is so determined to win against him that he does not even notice Z's master plan that could sacrifice thousands of lives.
4.
One Piece: Strong World (2009)
5.
Dragon Ball Z Kai (2009)
26m Sci-Fi & Fantasy Animation Action & Adventure Comedy
Rejoin Goku and his friends in a series of cosmic battles! Toei has redubbed, recut, and cleaned up the animation of the original 1989 animated series. The show's story arc has been refined to better follow the comic book series on which it is based. The show also features a new opening and ending. In the series, martial artist Goku, and his various friends, battle increasingly powerful enemies to defend the world against evil. Can Earth's defender defeat demons, aliens, and other villains?
7.
Dragon Ball Z: Lord Slug (1991)
8.
Dragon Ball Z: Tree of Might (1990)
25m Animation Action & Adventure Sci-Fi & Fantasy
Long ago in the mountains, a fighting master known as Gohan discovered a strange boy whom he named Goku. Gohan raised him and trained Goku in martial arts until he died. The young and very strong boy was on his own, but easily managed. Then one day, Goku met a teenage girl named Bulma, whose search for the mystical Dragon Balls brought her to Goku's home. Together, they set off to find all seven and to grant her wish.
10.
Fullmetal Alchemist: Brotherhood (2009)
25m Action & Adventure Animation Sci-Fi & Fantasy
Edward and Alphonse Elric's reckless disregard for alchemy's fun­damental laws ripped half of Ed's limbs from his body and left Al's soul clinging to a cold suit of armor. To restore what was lost, the brothers scour a war-torn land for the Philosopher's Sto­ne, a fabled relic which grants the ability to perform alchemy in impossible ways.The Elrics are not alone in their search; the corrupt State Military is also eager to harness the artifact's power. So too are the strange Homunculi and their shadowy creator. The mythical gem lures exotic alchemists from distant kingdoms, scarring some deeply enough to inspire murder. As the Elrics find their course altered by these enemies and allies, their purpose remains unchanged – and their bond unbreakable.
12.
Dragon Ball Z: The History of Trunks (1993)
48m Animation Action Science Fiction
It has been thirteen years since the Androids began their killing rampage and Son Gohan is the only person fighting back. He takes Bulma's son Trunks as a student and even gives his own life to save Trunks's. Now Trunks must figure out a way to change this apocalyptic future
13.
One Piece Film: GOLD (2016)
14.
The Legend of Korra (2012)
23m Action & Adventure Animation Drama Family Sci-Fi & Fantasy
Avatar Korra, a headstrong, rebellious, feisty young woman who continually challenges and breaks with tradition, is on her quest to become a fully realized Avatar. In this story, the Avatar struggles to find balance within herself.
24m Animation Action & Adventure Sci-Fi & Fantasy
In another world, ninja are the ultimate power, and in the Village Hidden in the Leaves live the stealthiest ninja in the land. Twelve years earlier, the fearsome Nine-Tailed Fox terrorized the village and claimed many lives before it was subdued and its spirit sealed within the body of a baby boy. That boy, Naruto Uzumaki, has grown up to become a ninja-in-training who's more interested in pranks than in studying ninjutsu.. but Naruto is determined to become the greatest ninja ever!
23m Animation Action & Adventure Sci-Fi & Fantasy
Join Satoshi accompanied by his partner Pikachu, as he travels through many regions, meets new friends and faces new challenges on his quest to become a Pokémon Master.
explore
Check out more list from our community