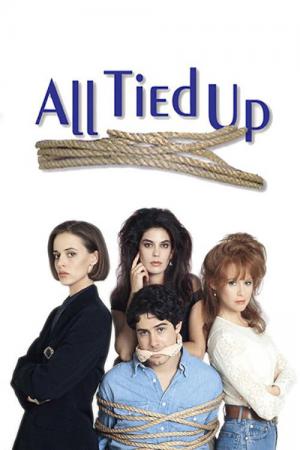 18 Best All Tied Up ...
If you liked this one , you will for sure love these too! In this list we highlight some of the best films that share a very similar premise to '', and are worth checking out.
An avid detective is assigned to investigate the heist of a batch of precious coins that end up in the hands of a suicidal barber.
3.
Ruthless People (1986)
1h 33m Comedy
A couple, cheated by a vile businessman, kidnap his wife in retaliation—without knowing that their enemy is delighted they did.
A rich brat fakes her own kidnapping, but in the process ends up locked in the trunk of a car that gets stolen.
5.
Maybe... Maybe Not (1994)
Der Bewegte Mann is a German comedy about a heterosexual man, Axel, who is thrown out of his girlfriends home for cheating and ends up moving in with a gay man. Axel learns the advantages of living with gay men even though they are attracted to him and when his girlfriend wants him back he must make a tough decision.
6.
Teresa&`s Tattoo (1994)
7.
It Had to Be You (2000)
8.
A Thin Line Between Love and Hate (1996)
1h 48m Comedy Thriller Crime Romance
Nightclub manager Darnell Wright is a perpetual playboy who is almost as devoted to his job as he is to the pursuit of beautiful women. After he sets his sights on the ultra-classy Brandi Web, he launches an all-out assault to win her heart. Ultimately, charm, lust and passion prevail, but Darnell learns the hard way that when you play, you pay. Brandi is much harder to get rid of than she was to get--especially when she realizes that she has a rival vying for Darnell's affection. When he finally decides to call it quits, Brandi becomes an obsessed femme fatale stalking the new love of her life.
10.
The Truth About Love (2005)
Danny Reilly (Dean Paras) is a self-obsessed man who, after dumping Renee Weber (Neve Campbell), falls in love again with Corey Wells (Katie Wright). But Renee makes it her mission to see that Danny never falls in love again and sets out for attack when he falls for Corey. Who will get the girl when Danny's constantly talking roomie Tim (Stefan Brogren) falls in love with Corey too?
13.
The Linguini Incident (1991)
14.
The Food Guide to Love (2013)
15.
I Love You to Death (1990)
16.
Unfaithfully Yours (1984)
17.
Au Revoir Taipei (2010)
explore
Check out more list from our community