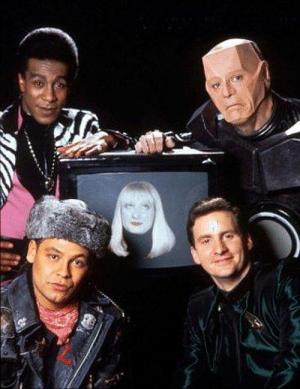 14 Best Shows Like Mst ...
If you liked this movie , you will definitely love these too! In this selection we highlight some of the best films that share a very similar mood to 'Red Dwarf', and are worth checking out.
1.
Mork & Mindy (1978)
30m Comedy
Mork & Mindy is an American science fiction sitcom broadcast from 1978 until 1982 on ABC. The series starred Robin Williams as Mork, an alien who comes to Earth from the planet Ork in a small, one-man egg-shaped spaceship. Pam Dawber co-starred as Mindy McConnell, his human friend and roommate. In 1997, the episode "Mork's Mixed Emotions" was ranked #94 on TV Guide's 100 Greatest Episodes of All Time list.
2.
The Hitch Hikers Guide to the Galaxy (1981)
33m Comedy Sci-Fi & Fantasy
Don't Panic! The story of Arthur Dent, an average Englishman who life was spared by his friend, who turned out to be an alien, while the planet Earth is destroyed. His friend tells him about the Hitchhiker's Guide to the Galaxy, a guide with anything you ever needed, and wanted to know. They travel across the galaxy, meeting friendly, and not so friendly characters in order to find the great question (the answer being 42).
1h 35m Comedy Science Fiction
Galaxina is a lifelike, voluptuous android who is assigned to oversee the operations of an intergalactic Space Police cruiser captained by incompetent Cornelius Butt. When a mission requires the ship's crew to be placed in suspended animation for decades, Galaxina finds herself alone for many years, developing emotions and falling in love with the ship's pilot, Thor.
30m Comedy Sci-Fi & Fantasy
Set in the not-too-distant future, this comedy anthology explores the issues of everyday life in the metropolis of Weird — stories that can only be told through the prism of sci-fi and comedy.
1h 36m Comedy Science Fiction
When the nefarious Dark Helmet hatches a plan to snatch Princess Vespa and steal her planet's air, space-bum-for-hire Lone Starr and his clueless sidekick fly to the rescue. Along the way, they meet Yogurt, who puts Lone Starr wise to the power of "The Schwartz." Can he master it in time to save the day?
6.
Amazon Women on the Moon (1987)
1h 25m Comedy Science Fiction
Acclaimed director John Landis (Animal House, The Blues Brothers) presents this madcap send-up of late night TV, low-budget sci-fi films and canned-laughter-filled sitcoms packed with off-the-wall sketches that will have you in stitches. Centered around a television station which features a 1950s-style sci-fi movie interspersed with a series of wild commercials, wacky shorts and weird specials, this lampoon of contemporary life and pop culture skewers some of the silliest spectacles ever created in the name of entertainment. A truly outrageous look at the best of the worst that television has to offer.
7.
Mystery Science Theater 3000: The Movie (1996)
1h 13m Comedy Science Fiction
The mad and evil scientist, Dr. Clayton Forrester, has created an evil little scheme that is bound to give him world global domination but first things first. He plans to torment Mike Nelson and the robots by sending them a real stinker of a film to watch called, "This Island Earth." He is convinced that this movie will drive them insane. Will this be the ultimate cheese that breaks the boys' spirits?
8.
JonTron's StarCade (2015)
9.
Mr. Show with Bob and David (1995)
30m Comedy
Mr. Show with Bob and David is an American sketch comedy series starring and hosted by Saturday Night Live writer/actor Bob Odenkirk and stand up comedian/actor David Cross. It aired on HBO from November 3, 1995 to December 28, 1998.Cross and Odenkirk introduced most episodes as heightened versions of themselves, before transitioning to a mixture of live sketches and pre-taped segments. The show featured a number of alternative comedians as both cast members and writers, including Sarah Silverman, Paul F. Tompkins, Jack Black, Tom Kenny, Mary Lynn Rajskub, Brian Posehn, Jerry Minor, Scott Aukerman, and Dino Stamatopoulos.It was nominated for four Primetime Emmy Awards, as well as a Golden Satellite Award.
1h 30m Comedy Science Fiction
Emperor Wang (the Perverted) is leader of the planet Porno and sends his mighty "Sex Ray" towards Earth, turning everyone into sex-mad fiends. Only one man can save the Earth, football player Flesh Gordon. Along with his girlfriend Dale Ardor and Professor Flexi-Jerkoff, they set off towards the source of the Sex Ray, unaware of the perils that face them!
11.
Dr. Goldfoot and the Bikini Machine (1965)
1h 28m Comedy Science Fiction
In this campy spy movie spoof Dr. Goldfoot (Vincent Price) has invented an army of bikini-clad robots who are programmed to seek out wealthy men and charm them into signing over their assets. Secret agent Craig Gamble (Frankie Avalon) and millionaire Todd Armstrong set out to foil his fiendish plot.
42m Drama Comedy Sci-Fi & Fantasy
Follows the crew of the not-so-functional exploratory ship in the Earth's interstellar fleet, 400 years in the future.
1h 46m Comedy Fantasy Science Fiction
'We come in peace' is not what those green men from Mars mean when they invade our planet, armed with irresistible weapons and a cruel sense of humor. This star studded cast must play victim to the alien's fun and games in this comedy homage to science fiction films of the '50s and '60s.
14.
Better Off Ted (2009)
21m Comedy
Ted, a successful but morally conscious man, runs a research and development department at a morally questionable corporation, Veridian Technologies. No achievement is too far fetched and no invention too unorthodox for Veridian. Ted loves his seemingly perfect job; he loves his superhuman boss, Veronica, and colleagues Lem, Phil and Linda, but he's starting to take a closer look at the company's extremely questionable practices... especially when they try to cryogenically freeze one of Ted's scientists for testing purposes.
explore
Check out more list from our community