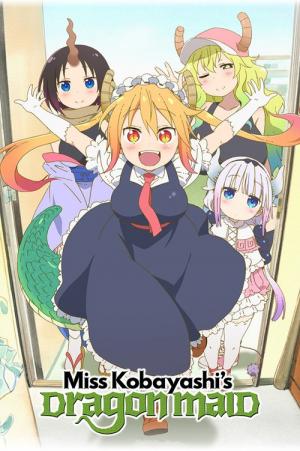 10 Best Shows Like Miss Kobayashi ...
If you liked this one , you will definitely love these too! In this list we highlight some of the best films that share a very similar mood to 'Miss Kobayashi's Dragon Maid', and are worth checking out.
1.
Monthly Girls' Nozaki-kun (2014)
24m Animation Comedy
High school student Chiyo Sakura has a crush on schoolmate Umetarō Nozaki, but when she confesses her love to him, he mistakes her for a fan and gives her an autograph. When she says that she always wants to be with him, he invites her to his house and has her help on some drawings. Chiyo discovers that Nozaki is actually a renowned shōjo manga artist named Sakiko Yumeno. She then agrees to be his assistant in order to get closer to him. As they work on his manga Let's Fall in Love (恋しよっ), they encounter other schoolmates who assist them or serve as inspirations for characters in the stories.
2.
Nichijou: My Ordinary Life (2011)
25m Animation Comedy
Follow the adventures of three ordinary girls as they make life's awkward moments a thousand times worse. Along with a colorful bunch of classmates, they learn their most important lessons the hard way. Meanwhile down the street, a pocket-sized professor makes life difficult for a robot who just wants to be normal. But normal is the last thing you can expect in a town where salmon falls from the sky. In fact, the only thing you can count on is your friends, but even they are totally weird.
3.
March Comes in Like a Lion (2016)
25m Drama Animation Comedy
Rei is a 17-year old professional shōgi player, who lives by himself, not having a real family, and has scarcely any friends. Among his acquaintances is a family, which consists of a young woman, Akari, and two young girls, Hinata and Momo, and who also keep a numerous number of cats.
4.
Interviews with Monster Girls (2017)
24m Animation Comedy Sci-Fi & Fantasy
The story takes place in an age where "Ajin" (demi-human), more casually known as "Demi," have slowly started to become accepted into human society. Tetsuo Takahashi is a biology teacher who ends up teaching three such Demi, hoping to understand more about them while also managing to catch their attention.
5.
Himouto! Umaru-chan (2015)
24m Animation Comedy
People are not always who they appear to be, as is the case with Umaru Doma, the perfect high school girl—that is, until she gets home! Once the front door closes, the real fun begins. When she dons her hamster hoodie, she transforms from a refined, over-achieving student into a lazy, junk food-eating otaku, leaving all the housework to her responsible older brother Taihei. Whether she's hanging out with her friends Nana Ebina and Kirie Motoba, or competing with her self-proclaimed "rival" Sylphinford Tachibana, Umaru knows how to kick back and have some fun!Himouto! Umaru-chan is a cute story that follows the daily adventures of Umaru and Taihei, as they take care of—and put up with—each other the best they can, as well as the unbreakable bonds between friends and siblings.
24m Action & Adventure Animation Comedy
Shigeo Kageyama, a.k.a. "Mob," is a boy who has trouble expressing himself, but who happens to be a powerful esper. Mob is determined to live a normal life and keeps his ESP suppressed, but when his emotions surge to a level of 100%, something terrible happens to him! As he's surrounded by false espers, evil spirits, and mysterious organizations, what will Mob think? What choices will he make?
7.
How Not to Summon a Demon Lord (2018)
24m Action & Adventure Comedy Sci-Fi & Fantasy Animation
When it comes to the fantasy MMORPG Cross Reverie, none can match the power of the Demon King Diablo. Possessing the game's rarest artifacts and an unrivaled player level, he overpowers all foolish enough to confront him. But despite his fearsome reputation, Diablo's true identity is Takuma Sakamoto, a shut-in gamer devoid of any social skills. Defeating hopeless challengers day by day, Takuma cares about nothing else but his virtual life—that is, until a summoning spell suddenly transports him to another world where he has Diablo's appearance!In this new world resembling his favorite game, Takuma is greeted by the two girls who summoned him. They perform an Enslavement Ritual in an attempt to subjugate him, but the spell backfires and causes them to become his slaves instead. With the situation now becoming more awkward than ever, Takuma decides to accompany the girls in finding a way to unbind their contract while learning to adapt to his new existence as the menacing Demon King.
8.
Gabriel DropOut (2017)
24m Animation Comedy Sci-Fi & Fantasy
Gabriel White graduated at the top of the class at angel school and attends a human school on earth in pursuit of knowledge, but then gets engrossed in an MMO and decides it's too much trouble to go anywhere. Based on the manga by Ukami.
24m Animation Comedy
Tamako is just a normal young girl whose family has been making mochi for generations. As her birthday approaches, she happens to meet a talking bird who claims to be a royal court attendant looking for a bride for his master. After the encounter, Dera the bird decides to stay around her and becomes a part of Tamako's life and the neighborhood that she lives in.
10.
KonoSuba – God's blessing on this wonderful world!! (2016)
24m Action & Adventure Animation Comedy Sci-Fi & Fantasy
After a traffic accident, Kazuma Sato's disappointingly brief life was supposed to be over, but he wakes up to see a beautiful girl before him. She claims to be a goddess, Aqua, and asks if he would like to go to another world and bring only one thing with him. Kazuma decides to bring the goddess herself, and they are transported to a fantasy world filled with adventure, ruled by a demon king. Now Kazuma only wants to live in peace, but Aqua wants to solve many of this world's problems, and the demon king will only turn a blind eye for so long…
explore
Check out more list from our community