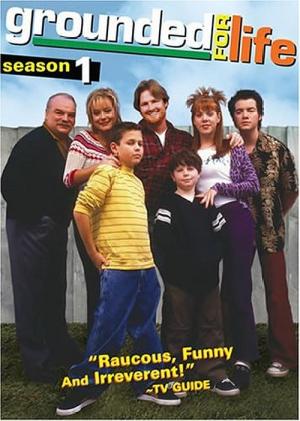 15 Best Shows Like Everybody Loves Raymond ...
If you liked this film , you will probably love these too! In this collection we highlight some of the best films that share a very similar mood to '', and are worth checking out.
22m Comedy
The daily mishaps of a married woman and her semi-dysfunctional family and their attempts to survive life in general in the city of Orson, Indiana.
2.
Schitt's Creek (2015)
22m Comedy
Formerly filthy rich video store magnate Johnny Rose, his soap star wife Moira, and their two kids, über-hipster son David and socialite daughter Alexis, suddenly find themselves broke and forced to live in Schitt's Creek, a small depressing town they once bought as a joke.
24m Comedy
After many years spent at the "Cheers" bar, Frasier moves back home to Seattle to work as a radio psychiatrist after his policeman father gets shot in the hip on duty.
25m Comedy
The Pritchett-Dunphy-Tucker clan is a wonderfully large and blended family. They give us an honest and often hilarious look into the sometimes warm, sometimes twisted, embrace of the modern family.
5.
The Michael J. Fox Show (2013)
25m Comedy
Look who's making the news again! One of NY's most beloved news anchors, Mike Henry (Michael J. Fox), put his career on hold to spend more time with his family and focus on his health after he was diagnosed with Parkinson's. But now five years later, with the kids busy growing up and Mike growing restless, it just might be time for him to get back to work. Having never wanted Mike to leave in the first place, his old boss Harris Green jumped at the chance to get him back on TV. The trick, as it's always been, was to make Mike think it was his idea. After several – okay, many - failed attempts, Mike's family, anxious to see him out of the house, finally succeeded in getting him to "run into" Green. Now their plan is in motion. He'll be back to juggling home, family, and career, just like the old days – only better.
6.
Your Family or Mine (2015)
30m Comedy
Oliver and Kelli are living proof of the old saying, "When you marry someone, you don't just marry them, you marry their whole family."
7.
The Jim Gaffigan Show (2015)
23m Comedy
Comedy about a husband and wife trying to raise their five kids in a New York two-bedroom apartment.
8.
$#*! My Dad Says (2010)
9.
Growing Up Fisher (2014)
22m Comedy
It's not every family that's brought closer together by divorce, but then again, the Fishers are anything but typical.
10.
Arrested Development (2003)
22m Comedy
The story of a wealthy family that lost everything, and the one son who had no choice but to keep them all together.
11.
Better With You (2010)
22m Comedy
Maddie and Ben have been dating for nine years and they know each other inside and out. Maddie's younger sister, Mia, has been dating Casey for seven weeks. With a shared c'est la vie attitude, Mia and Casey announce they're getting married and having a baby. It's news that throws Maddie for a loop. Surprisingly, the girls' parents, who have recently adopted a carpe diem sort of philosophy, couldn't be more pleased.
23m Comedy
Acclaimed author Jill Kargman plays a version of herself as she navigates the treacherous and elite ecosystem of New York's Upper East Side, and the uber-wealthy mommy clique inhabiting this fantastically outrageous domain.
14.
According to Jim (2001)
30m Comedy
According to Jim is an American sitcom television series starring Jim Belushi in the title role as a suburban father of three children. It originally ran on ABC from October 1, 2001 to June 2, 2009.
explore
Check out more list from our community