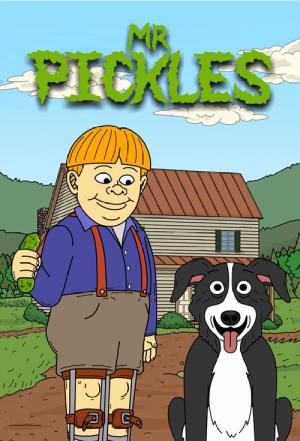 9 Best Shows Like Metalocalypse ...
If you liked this one , you will definitely love these too! In this collection we highlight some of the best films that share a very similar premise to 'Mr. Pickles', and are worth checking out.
15m Comedy Animation
A series of pop-culture parodies using stop-motion animation of toys, action figures and dolls. The title character was an ordinary chicken until he was run down by a car and subsequently brought back to life in cyborg form by mad scientist Fritz Huhnmorder, who tortures Robot Chicken by forcing him to watch a random selection of TV shows, the sketches that make up the body of each episode.
22m Animation Comedy
Sick, twisted, politically incorrect and Freakin' Sweet animated series featuring the adventures of the dysfunctional Griffin family. Bumbling Peter and long-suffering Lois have three kids. Stewie (a brilliant but sadistic baby bent on killing his mother and taking over the world), Meg (the oldest, and is the most unpopular girl in town) and Chris (the middle kid, he's not very bright but has a passion for movies). The final member of the family is Brian - a talking dog and much more than a pet, he keeps Stewie in check whilst sipping Martinis and sorting through his own life issues.
3.
Cavalcade of Cartoon Comedy (2008)
1m Animation Comedy
Seth MacFarlane's Cavalcade of Cartoon Comedy is an American cartoon web series created by Seth MacFarlane. The series is based on the cutaway jokes on Family Guy.
22m Animation Comedy
Brickleberry National Park is facing closure, but not if the park's dysfunctional park rangers can help it!"Brickleberry," an animated half-hour series, follows the crazy bunch of park rangers as they do their worst to keep the park running. Steve (David Herman) has been "Ranger of the Month" every month for years, so he feels threatened when Ethel (Natasha Leggero) is transferred from Yellowstone National Park to help whip the park into shape. Connie (Roger Black) and Denzel (Jerry Minor) are two unique rangers that each bring special skills (or in Denzel's case, lack of skills) to the job, and Woody (Tom Kenny) is the hapless Head Ranger who puts nothing above his beloved park, except his adopted bear cub, Malloy (Daniel Tosh), who he's taken in and spoils to death.
11m Sci-Fi & Fantasy Animation
Off the Air is an American anthology television series on Adult Swim. Its a collection of psychedelic and visually complex animation, art, and culture.The show is created by editor Dave Hughes, and produced by Hughes' company, Million Monkeys Inc.
6.
Pickle & Peanut (2015)
22m Comedy Animation
A buddy comedy series about two unlikely friends — an emotional pickle and a freewheeling peanut.
7.
Beavis and Butt-Head (1993)
11m Animation Comedy
Beavis and Butt-head are high school students whose lifestyles revolve around TV, junk food (usually nachos), shopping malls, heavy metal music, and trying to "score with chicks". Each show contains short cartoons centering on the duo who live in the fictitious town of Highland, Texas. The episodes are broken up by short breaks in which Beavis and Butt-head watch and make fun of music videos.
8.
Josie and the Pussycats (1970)
30m Animation Kids Family Comedy
Josie and the Pussycats is an American animated television series, based upon the Archie Comics comic book series of the same name created by Dan DeCarlo. Produced for Saturday morning television by Hanna-Barbera Productions, sixteen episodes of Josie and the Pussycats aired on CBS during the 1970-71 television season, and were rerun during the 1971-72 season. In 1972, the show was re-conceptualized as Josie and the Pussycats in Outer Space, sixteen episodes of which aired on CBS during the 1972-73 season and were rerun the following season. Reruns of the original series alternated between CBS, ABC, and NBC from 1974 through 1976. This brought its national Saturday morning TV run on three networks to six years.Josie and the Pussycats featured an all-girl pop music band that toured the world with their entourage, getting mixed up in strange adventures, spy capers, and mysteries. On the small-screen, the group consisted of level-headed lead singer and guitarist Josie, intelligent tambourinist Valerie, and air-headed blonde drummer Melody. Other characters included their cowardly manager Alexander Cabot III, his conniving sister Alexandra, her cat Sebastian, and muscular roadie Alan.
30m Animation
Bad Luck's lead singer and lyricist, Shuichi Shindo, is a total wreck. With deadlines for the band's next album looming, the pressure is on, but the normally energetic Shuichi has become listless and fallen into a writing slump. It's all because Yuki - the great love of his life - has suddenly become cold and distant. Depressed and anxious, Shuichi doesn't want to think about lyrics, he just wants to know how to get Yuki to talk to him!Now, thanks to Shuichi's big mouth bragging to the press about how talented he is, the band can't even hire someone else to write the lyrics for them. If they don't manage to break Shuichi out of his slump soon, it could mean the end of Bad Luck for good!
explore
Check out more list from our community