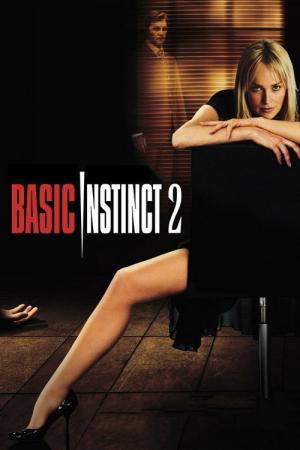 11 Best Movies Like Basic Instinct ...
If you liked 'Basic Instinct 2', you will love these movies! In this list we highlight some of the best films that share a very similar premise to 'Basic Instinct 2', and are worth checking out.
Detective Catherine Palmer is on the trail of an elusive serial killer. During her investigation she meets Vickie Kittrie, who belongs to an exclusive club of women who engage in secret sessions of bondage and S&M. Matters become even more complicated when Palmer finds herself attracted to Kittrie, leading to a brief lesbian encounter. Palmer soon learns that each victim belonged to this club of prominent, sexually experimental women. In order to catch the killer, Catherine must trust Vickie to guide her through the dangerous and illicit underground.
1h 57m
Director, Screenplay: Damian Harris
Novel: David L. Lindsey
Drama Mystery Thriller
2.
Killing Me Softly (2002)
A woman grows suspicious of her controlling husband after she discovers secrets about the women in his past.
1h 40m
Screenplay, Writer: Kara Lindstrom
Director: Chen Kaige
Novel: Sean French
Thriller
3.
Wild Things: Diamonds in the Rough (2005)
Two young women will stop at nothing for one to gain a $4 million inheritance of two priceless diamonds, while two detectives try to thwart their plans, but find complications abound.
1h 27m
Author, Characters: Stephen Peters
Director: Jay Lowi
Writer: Andy Hurst
Writer: Ross Helford
Crime Drama Mystery
Someone does a nasty hatchet job on a San Francisco big shot and the Assistant D.A. takes charge of the investigation. Through a web of blackmail and prostitution involving the Governor, an old lover of the law man emerges as a prime suspect and he has to deal with his personal feelings as well as the case.
1h 35m
Director: William Friedkin
Screenplay: Joe Eszterhas
Thriller Mystery
A woman tries to straighten out her life, even as her past as a con-woman comes back to haunt her.
1h 54m
Director, Writer: Brian De Palma
Thriller Crime Romance
A woman moves into an apartment in Manhattan and learns that the previous tenant's life ended mysteriously after they fell from the balcony.
1h 48m
Director: Phillip Noyce
Novel: Ira Levin
Screenplay: Joe Eszterhas
Drama Thriller
When teen-socialite Kelly Van Ryan and troubled bad girl Suzie Toller accuse guidance counselor Sam Lombardo of rape, he's suspended by the school, rejected by the town, and fighting to get his life back. One cop suspects conspiracy, but nothing is what it seems...
1h 48m
Director: John McNaughton
Writer: Stephen Peters
Mystery Thriller Drama
A police detective is in charge of the investigation of a brutal murder, in which a beautiful and seductive woman could be involved.
2h 7m
Director: Paul Verhoeven
Screenplay: Joe Eszterhas
Thriller Mystery
9.
No Strings Attached (1997)
A renowned journalist becomes a suspect in a series of murders after he becomes intimately involved with a mysterious woman. In an attempt to clear his name, he tries to find a connection between his lover and the increasing number of dead bodies.
1h 31m
Director: Josef Rusnak
Writer: Michael Holden
Writer: Nicholas Bogner
Drama Thriller
San Francisco heiress Page Forrester is brutally murdered in her remote beach house. Her husband Jack is devastated by the crime but soon finds himself accused of her murder. He hires lawyer Teddy Barnes to defend him, despite the fact she hasn't handled a criminal case for many years. There's a certain chemistry between them and Teddy soon finds herself defending the man she loves.
1h 48m
Director: Richard Marquand
Screenplay: Joe Eszterhas
Thriller
A seductive teen befriends an introverted high school student and schemes her way into the lives of her wealthy family.
1h 28m
Director, Screenplay: Katt Shea
Screenplay: Andy Ruben
Story: Melissa Goddard
Thriller Drama
explore
Check out more list from our community