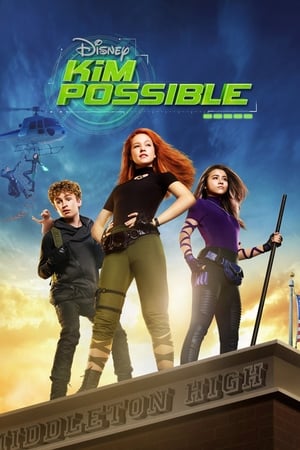 9 Best Shows Like Kim Possible ...
If you liked this movie , you will probably love these too! In this list we highlight some of the best films that share a very similar premise to 'Kim Possible', and are worth checking out.
In a magical universe, witches, warriors begin fighting in the name of good .vs. evil! At a magic school, five teenage girls are selected to defend the universe with their magic.
23m
Animation Action & Adventure
2.
Kim Possible: So the Drama (2005)
Dr. Drakken has an evil new plot for world domination, but his ultimate success depends upon finding out KP's weakness which may involve a new hottie at Middleton High School named Eric, who suddenly sparks feelings in Ron about Kim that resemble much more than friendship. To make matters worse, Bueno Nacho, Ron's favorite fast food chain has turned sour on him by bombarding him with little Devils
1h 11m
Director: Steve Loter
Writer: Mark McCorkle
Writer: Bob Schooley
TV Movie Action Adventure Animation Drama Family
3.
Sym-Bionic Titan (2010)
Sym-Bionic Titan is an American animated action science fiction television series created by Genndy Tartakovsky, Paul Rudish, and Bryan Andrews for Cartoon Network. The series focuses on a trio made up of the alien princess Ilana, the rebellious soldier Lance, and the robot Octus; the three are able to combine to create the titular Sym-Bionic Titan. A preview of the series was first shown at the 2009 San Diego Comic-Con International, and further details were revealed at Cartoon Network's 2010 Upfront. The series premiered on September 17, 2010, and ended on April 9, 2011. The series is rated TV-PG-V.Cartoon Network initially ordered 20 episodes; Tartakovsky had hoped to expand on that, but the series was not renewed for another season, as the show "did not have any toys connected to it." Although Sym-Bionic Titan has never been released on DVD, All 20 episodes are available on iTunes.On October 7, 2012, reruns of Sym-Bionic Titan began airing on Adult Swim's Toonami block.
23m
Creator: Genndy Tartakovsky
Creator: Paul Rudish
Creator: Bryan Andrews
Action & Adventure Animation
4.
Ben 10: Omniverse (2012)
A year after the events that took place during the "Final Battle" and after the destruction of Omnitrix, 16-year-old Ben Tennyson has to face new enemies.
22m
Creator: Joe Kelly
Creator: Duncan Rouleau
Creator: Steven T. Seagle
Creator: Joe Casey
Action & Adventure Animation
5.
Ultimate Spider-Man (2012)
While being trained by S.H.I.E.L.D., Spider-Man battles evil with a new team of teen colleagues.
21m
Kids Action & Adventure Animation Comedy
When 10-year-old Ben Tennyson discovers a mysterious device, he gains the power to change into ten different alien heroes, each with uniquely awesome powers. With such abilities at his disposal, Ben realizes a greater responsibility to help others and stop evildoers, but that doesn't mean he's above a little superpowered mischief now and then.
22m
Creator: Joe Kelly
Creator: Duncan Rouleau
Creator: Steven T. Seagle
Creator: Joe Casey
Kids Animation Action & Adventure Comedy
7.
Star vs. the Forces of Evil (2015)
Intergalactic warrior Star Butterfly arrives on Earth to live with the Diaz family. She continues to battle villains throughout the universe and high school, mainly to protect her extremely powerful wand, an object that still confuses her.
11m
Action & Adventure Animation Comedy Sci-Fi & Fantasy
8.
Carmen Sandiego (2019)
A master thief who uses her skills for good, Carmen Sandiego travels the world foiling V.I.L.E.'s evil plans -- with help from her savvy sidekicks.
22m
Animation Action & Adventure Crime Kids
9.
American Dragon: Jake Long (2005)
American Dragon is a coming of age comedy-action series about Jake Long, a 13-year-old Asian-American boy who strives to find balance in his life as a skateboard-grinding, New York 'tween while learning to master his mystical powers (in his secret identity) as the American Dragon, the protector and guardian of all magical creatures secretly living amidst the human world.
22m
Animation Comedy Action & Adventure Family
explore
Check out more list from our community