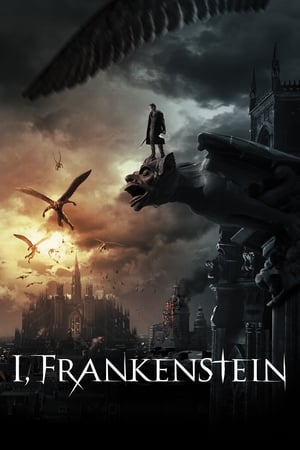 12 Best Movies Like I Frankenstein ...
If you liked this movie , you will definitely love these too! In this collection we highlight some of the best films that share a very similar mood to 'I, Frankenstein', and are worth checking out.
1.
Abraham Lincoln: Vampire Hunter (2012)
1h 34m Action Fantasy Horror
President Lincoln's mother is killed by a supernatural creature, which fuels his passion to crush vampires and their slave-owning helpers.
2.
The League of Extraordinary Gentlemen (2003)
1h 50m Fantasy Action Thriller Science Fiction
To prevent a world war from breaking out, famous characters from Victorian literature band together to do battle against a cunning villain.
1h 27m Horror Action Thriller
In an alternate world, humanity and vampires have warred for centuries. After the last Vampire War, the veteran Warrior Priest lives in obscurity with other humans inside one of the Church's walled cities. When the Priest's niece is kidnapped by vampires, the Priest breaks his vows to hunt them down. He is accompanied by the niece's boyfriend, who is a wasteland sheriff, and a former Warrior Priestess.
4.
Underworld: Awakening (2012)
1h 28m Fantasy Action Horror
Having escaped years of imprisonment, vampire warrioress Selene finds herself in a changed world where humans have discovered the existence of both Vampire and Lycan clans and are conducting an all-out war to eradicate both immortal species. Now Selene must battle the humans and a frightening new breed of super Lycans to ensure the death dealers' survival.
2h 3m Action Horror Fantasy
For years, Blade has fought against the vampires in the cover of the night. But now, after falling into the crosshairs of the FBI, he is forced out into the daylight, where he is driven to join forces with a clan of human vampire hunters he never knew existed—The Nightstalkers. Together with Abigail and Hannibal, two deftly trained Nightstalkers, Blade follows a trail of blood to the ancient creature that is also hunting him—the original vampire, Dracula.
6.
Hellboy II: The Golden Army (2008)
2h Action Adventure Mystery Fantasy
Hellboy must stop an elven prince from locating an ancient force that can destroy humanity: the all-powerful Golden Army.
7.
Conan the Barbarian (2011)
1h 53m Adventure Fantasy Action
A quest that begins as a personal vendetta for the fierce Cimmerian warrior soon turns into an epic battle against hulking rivals, horrific monsters, and impossible odds, as Conan (Jason Momoa) realizes he is the only hope of saving the great nations of Hyboria from an encroaching reign of supernatural evil.
8.
Thor: The Dark World (2013)
1h 52m Action Adventure Fantasy
Thor fights to restore order across the cosmos… but an ancient race led by the vengeful Malekith returns to plunge the universe back into darkness. Faced with an enemy that even Odin and Asgard cannot withstand, Thor must embark on his most perilous and personal journey yet, one that will reunite him with Jane Foster and force him to sacrifice everything to save us all.
1h 36m Fantasy Action Comedy Crime
A recently slain cop joins a team of undead police officers working for the Rest in Peace Department and tries to find the man who murdered him. Based on the comic by Peter M. Lenkov.
2h 2m Fantasy Action Thriller
Vampires and werewolves have waged a nocturnal war against each other for centuries. But all bets are off when a female vampire warrior named Selene, who's famous for her strength and werewolf-hunting prowess, becomes smitten with a peace-loving male werewolf, Michael, who wants to end the war.
2h 12m Horror Adventure Action
Famed monster slayer Gabriel Van Helsing is dispatched to Transylvania to assist the last of the Valerious bloodline in defeating Count Dracula. Anna Valerious reveals that Dracula has formed an unholy alliance with Dr. Frankenstein's monster and is hell-bent on exacting a centuries-old curse on her family.
1h 45m Action Horror Science Fiction
A team of space marines known as the Rapid Response Tactical Squad, led by Sarge, is sent to a science facility on Mars after somebody reports a security breach. There, they learn that the alert came after a test subject, a mass murderer purposefully injected with alien DNA, broke free and began killing people. Dr. Grimm, who is related to team member Reaper, informs them all that the chromosome can mutate humans into monsters -- and is highly infectious.
explore
Check out more list from our community