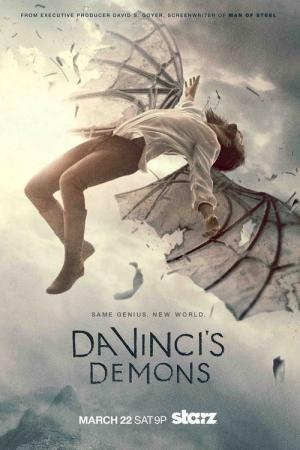 11 Best Shows Like Da Vinci ...
If you liked this movie , you will definitely love these too! In this list we highlight some of the best films that share a very similar premise to 'Da Vinci's Demons', and are worth checking out.
1.
Christopher Columbus (1985)
1h 30m Drama
After his proposal to sail west to the East Indies is rejected by Portugal, Columbus overcomes court intrigue in Spain to gain support for his expedition.
52m Action & Adventure Drama
Borgia is a French-German-Czech historical drama television series created by Tom Fontana. The show recounts the Borgia family's rise to power and subsequent domination of the Papal States during the Renaissance.
1h Action & Adventure Drama
An epic adventure that follows the early years of the famous explorer as he travels the exotic Silk Road to the great Kublai Khan's court. But Marco soon finds that navigating the Khan's world of greed, betrayal, sexual intrigue and rivalry will be his greatest challenge yet, even as he becomes a trusted companion to the Khan in his violent quest to become the Emperor of the World.
1h Drama Action & Adventure
Set in 17th century Paris, musketeers Athos, Porthos, Aramis and D'Artagnan are members of an elite band of soldiers who fight for what is just. They are heroes in the truest and most abiding sense – men that can be trusted and believed in to do the right thing, regardless of personal risk.
5.
A Series of Unfortunate Events (2017)
45m Action & Adventure Family Comedy Drama
The orphaned Baudelaire children face trials, tribulations and the evil Count Olaf, all in their quest to uncover the secret of their parents' death.
6.
Game of Thrones (2011)
1h Sci-Fi & Fantasy Drama Action & Adventure
Seven noble families fight for control of the mythical land of Westeros. Friction between the houses leads to full-scale war. All while a very ancient evil awakens in the farthest north. Amidst the war, a neglected military order of misfits, the Night's Watch, is all that stands between the realms of men and icy horrors beyond.
7.
Spartacus: War of the Damned (2010)
53m Drama
Torn from his homeland and the woman he loves, Spartacus is condemned to the brutal world of the arena where blood and death are primetime entertainment.
8.
The Last Kingdom (2015)
1h Action & Adventure Drama
A show of heroic deeds and epic battles with a thematic depth that embraces politics, religion, warfare, courage, love, loyalty and our universal search for identity. Combining real historical figures and events with fictional characters, it is the story of how a people combined their strength under one of the most iconic kings of history in order to reclaim their land for themselves and build a place they call home.
9.
Legend of the Seeker (2008)
42m Sci-Fi & Fantasy Action & Adventure
The adventures of woodsman Richard Cypher, who discovers that he was born to fulfill a prophecy of becoming a guardian hero to oppressed people. With the help of a mysterious woman named Kahlan and a wise old wizard named Zedd, he must stop a ruthless and bloodthirsty tyrant from unleashing an ancient evil and enslaving the world.
10.
Once Upon a Time (2011)
43m Drama Sci-Fi & Fantasy
There is a town in Maine where every story book character you've ever known is trapped between two worlds, victims of a powerful curse. Only one knows the truth and only one can break the spell.Emma Swan is a 28-year-old bail bonds collector who has been supporting herself since she was abandoned as a baby. Things change for her when her son Henry, whom she abandoned years ago, finds her and asks for her help explaining that she is from a different world where she is Snow White's missing daughter.
11.
Once Upon a Time in Wonderland (2013)
45m Sci-Fi & Fantasy Drama
In Victorian England, the young and beautiful Alice tells a tale of a strange new land that exists on the other side of a rabbit hole. Thinking Alice insane, her doctors aim to make her forget everything. While Alice is ready to put it all behind her, she knows this world is real. In the nick of time, the Knave of Hearts and the White Rabbit save her from a doomed fate. Together, the trio tumble down the rabbit hole to Wonderland, where nothing is impossible.
explore
Check out more list from our community