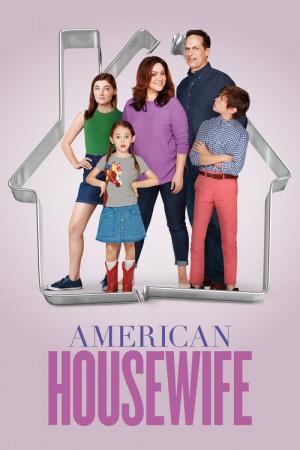 19 Best Shows Like American Housewife ...
If you liked this movie , you will definitely love these too! In this list we highlight some of the best films that share a very similar mood to '', and are worth checking out.
22m Comedy
The daily mishaps of a married woman and her semi-dysfunctional family and their attempts to survive life in general in the city of Orson, Indiana.
23m Comedy
Mackenzie "Mickey" Murphy is a hard-living, foul-mouthed, cigarette-smoking woman who moves to affluent Greenwich, CT to raise the spoiled kids of her wealthy sister who fled the country to avoid a federal indictment. She quickly learns what the rest of us already know - other people's children are awful.
23m Comedy
Comedy about one big happy family and their sometimes awkward, often hilarious and ultimately beautiful milestone moments as told by its various members. Of the three siblings, middle child Matt may have just found his true love, his co-worker, Colleen; his coddled youngest brother, Greg, and his wife, Jen, are overwhelmed by the birth of their first child; and the eldest, Heather, and her husband, Tim, are dreading their impending empty nest so much, they're considering having another baby. Their parents are Joan the family's adoring matriarch who would do anything for her kids - as long as she agrees with it - and John, the gregarious patriarch who's searching for ways to soften the blow of turning 70. As the family's lives unfold in four short stories each week, they try to savor these little pieces of time that flash by but stay with you forever, because these moments add up to what life's all about.
1h 41m Drama
The story of Singe and Kate, a couple from North Somerset, whose lives were turned upside down when Kate was diagnosed with an incurable breast cancer. Over her last few days, she created her list: writing her thoughts and memories down, to help the man she loved create the best life possible for their two sons, after she was gone.
7.
Grounded for Life (2001)
22m Comedy
Right out of high school, Sean Finnerty got his girlfriend Claudia pregnant. Now she's his wife, and at just 32, he's somehow found himself with 14-year-old daughter Lily, two little boys, and a constant struggle between his need to be responsible and his desperate desire to be irresponsible. His judgmental father Walt and devil-may-care brother Eddie are no help at all. When they all get together, stories always start to fly. Of course, Sean's family will never let him finish a story; they interrupt, they debate, they derail, they defend themselves; just like any good family would.
8.
Man with a Plan (2016)
22m Comedy
A dad finds out that parenting is harder than he thought after his wife goes back to work and he's left at home to take care of the kids.
9.
Last Man Standing (2011)
21m Comedy
A married father of three tries to maintain his manliness in a world increasingly dominated by women.
22m Comedy
Jessica Day is an offbeat and adorable girl in her late 20s who, after a bad breakup, moves in with three single guys. Goofy, positive, vulnerable and honest to a fault, Jess has faith in people, even when she shouldn't. Although she's dorky and awkward, she's comfortable in her own skin. More prone to friendships with women, she's not used to hanging with the boys—especially at home.
23m Comedy
This iconic family—Dan, Jackie, Darlene, Becky and D.J.—grapples with parenthood, dating, an unexpected pregnancy, financial pressures, aging and in-laws in working-class America.
12.
Your Family or Mine (2015)
30m Comedy
Oliver and Kelli are living proof of the old saying, "When you marry someone, you don't just marry them, you marry their whole family."
30m Comedy
Letterkenny follows Wayne, a good-ol' country boy in Letterkenny, Ontario trying to protect his homegrown way of life on the farm, against a world that is constantly evolving around him. The residents of Letterkenny belong to one of three groups: Hicks, Skids, and Hockey Players. The three groups are constantly feuding with each other over seemingly trivial matters; often ending with someone getting their ass kicked.
22m Comedy
A time in Mark Feuerstein's adult life when he lived in apartment 9K in the building he grew up in, sandwiched between his parents' apartment, 9J; and his brother, sister-in-law and their baby's apartment, 9L and his attempts to set boundaries with his intrusive but well-meaning family.
22m Comedy
Rob is an American comedy television series that premiered on CBS on January 12, 2012, at 8:30 pm as a midseason replacement for Rules of Engagement, and ended on March 1, 2012. The series stars Rob Schneider alongside Cheech Marin, Claudia Bassols, Diana Maria Riva, Eugenio Derbez, Ricky Rico, and Lupe Ontiveros. The show was produced by Two and a Half Men's The Tannenbaum Company and CBS Television Studios. On May 13, 2012, CBS canceled the series.
16.
The Jim Gaffigan Show (2015)
23m Comedy
Comedy about a husband and wife trying to raise their five kids in a New York two-bedroom apartment.
18.
The Goes Wrong Show (2019)
explore
Check out more list from our community