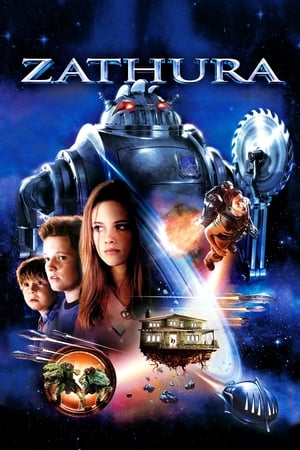 11 Best Movies Like Zathura ...
If you liked this movie , you will probably love these too! In this collection we highlight some of the best films that share a very similar premise to 'Zathura: A Space Adventure', and are worth checking out.
1.
Spy Kids 3-D: Game Over (2003)
1h 24m Action Adventure Comedy Family Science Fiction
Carmen's caught in a virtual reality game designed by the Kids' new nemesis, the Toymaker. It's up to Juni to save his sister, and ultimately the world.
2.
Journey 2: The Mysterious Island (2012)
1h 34m Adventure Action Science Fiction
Sean Anderson partners with his mom's boyfriend on a mission to find his grandfather, who is thought to be missing on a mythical island.
3.
Journey to the Center of the Earth (2008)
1h 33m Action Science Fiction Adventure Comedy Family
On a quest to find out what happened to his missing brother, a scientist, his nephew and their mountain guide discover a fantastic and dangerous lost world in the center of the earth.
1h 38m Adventure Family Science Fiction Action
The explorer craft USS Palomino is returning to Earth after a fruitless 18-month search for extra-terrestrial life when the crew comes upon a supposedly lost ship, the USS Cygnus, hovering near a black hole. The ship is controlled by Dr. Hans Reinhardt and his monstrous robot companion, but the initial wonderment and awe the Palomino crew feel for the ship and its resistance to the power of the black hole turn to horror as they uncover Reinhardt's plans.
6.
Race to Witch Mountain (2009)
1h 38m Adventure Family Fantasy Science Fiction Thriller Action
A taxi driver gets more than he bargained for when he picks up two teen runaways. Not only does the pair possess supernatural powers, but they're also trying desperately to escape people who have made them their targets.
1h 24m Comedy Adventure Drama Family
B-Dawg, Mudbud, Budderball, and all the rest of the Buddies are back, but this time, they're setting their sights even higher -- as in, the moon! With the help of their new pals Spudnick (voiced by Jason Earles) and Gravity, these pooches are go for launch. But to pull off their moon landing and make it home safely, our canine heroes will have to summon all their bravery and imagination...
8.
Ben 10: Race Against Time (2007)
1h 28m Action Comedy Family Adventure
Carmen and Juni think their parents are boring. Little do they know that in their day, Gregorio and Ingrid Cortez were the top secret agents from their respective countries. They gave up that life to raise their children. Now, the disappearances of several of their old colleagues forces the Cortez' return from retirement. What they didn't count on was Carmen and Juni joining the "family business."
11.
Aliens in the Attic (2009)
1h 26m Adventure Comedy Family Fantasy Science Fiction
A group of kids must protect their vacation home from invading aliens.
explore
Check out more list from our community