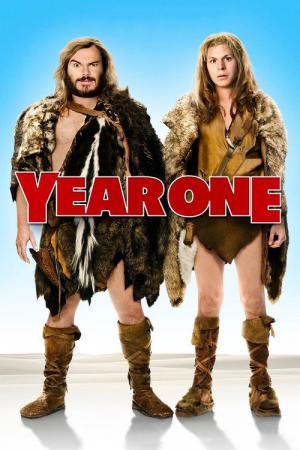 29 Best Movies Like Year One ...
If you liked this movie , you will definitely love these too! In this collection we highlight some of the best films that share a very similar premise to '', and are worth checking out.
1h 31m Comedy Adventure
In this comedy, Atouk becomes leader of the misfit cavemen. Disgraced and cast out of his tribe for lusting after Lana, the mate of tribe's head muscle man, Atouk stumbles along gathering other misfits and learning a bit about the world outside of his cave. Eventually he and friends Lar, and Tala learn the secrets of fire, cooked meat, and how to defend themselves from the brutal, yet very stupid
2.
Dumb and Dumber To (2014)
1h 50m Comedy
20 years since their first adventure, Lloyd and Harry go on a road trip to find Harry's newly discovered daughter, who was given up for adoption.
3.
Farce of the Penguins (2006)
4.
Dumb and Dumberer: When Harry Met Lloyd (2003)
1h 25m Comedy
This wacky prequel to the 1994 blockbuster goes back to the lame-brained Harry and Lloyd's days as classmates at a Rhode Island high school, where the unprincipled principal puts the pair in remedial courses as part of a scheme to fleece the school.
5.
The 41-Year-Old Virgin Who Knocked Up Sarah Marshall and Felt Superbad About It (2010)
1h 22m Comedy
Follows Andy, who needs to hook up with a hottie, pronto, because he hasn't had sex in... well, forever - and his luck isn't the only thing that's hard. His equally horny teenage roommates also need it superbad, and with the help of their nerdy pal, McAnalovin' and his fake I.D., they may tap more than just a keg.
6.
The Dukes of Hazzard (2005)
1h 44m Action Adventure Comedy
Cousins, Bo and Luke Duke, with the help of their eye-catching cousin, Daisy and moonshine-running Uncle Jesse, try and save the family farm from being destroyed by Hazzard County's corrupt commissioner, Boss Hogg. Their efforts constantly find the 'Duke Boys' eluding authorities in 'The General Lee', their 1969 orange Dodge Charger that keeps them one step ahead of the dimwitted antics of the small southern town's Sheriff, Roscoe P. Coltrane.
1h 35m Comedy
Bud and Doyle are two losers who are doing nothing with their lives. Both of their girlfriends are actively involved in saving the environment, but the two friends couldn't care less about saving the Earth. One day, when a group of scientists begin a mission to live inside a "Bio-Dome" for a year without outside contact, Bud and Doyle mistakenly become part of the project themselves.
1h 32m Comedy
Three manic idiots—a lawyer, cab driver and a handyman—team up to run a ballet company to fulfil the will of a millionaire. Stooge-like antics result as the trio try to outwit the rich widow and her scheming big-shot lawyer, who also wants to run the ballet.
9.
The Brothers Solomon (2007)
1h 33m Comedy
A pair of well-meaning, but socially inept brothers try to find their perfect mates in order to provide their dying father with a grandchild.
10.
The Gods Must Be Crazy II (1989)
1h 38m Action Comedy
Xixo is back again. This time, his children accidentally stow away on a fast-moving poachers' truck, unable to get off, and Xixo sets out to rescue them. Along the way, he encounters a couple of soldiers trying to capture each other and a pilot and passenger of a small plane, who are each having a few problems of their own.
11.
Dinner for Schmucks (2010)
1h 54m Comedy
Rising executive Tim Conrad works for a boss who hosts a monthly dinner in which the guest who brings the biggest buffoon gets a career-boost. Tim plans on not attending until he meets Barry, a man who builds dioramas using stuffed mice. Barry's blundering but good intentions send Tim's life into a downward spiral, threatening a major business deal and possibly scuttling Tim's engagement to his fiancee.
1h 30m Comedy
Sam and Dave are living the boring life until they are beckoned to Sam's uncle's Island. When they get there (still not quite sure how that worked) they are compelled by beautiful women and a dastardly enemy of the Island. After accidentally convincing Sam's uncle to sign away rights to his island, they must somehow fix the problem.
13.
Nothing But Trouble (1991)
1h 34m Comedy Adventure
While attempting to seduce gorgeous lawyer Diane Lightson, wealthy gadabout Chris Thorne agrees to drive her to Atlantic City, N.J. But, when some reckless driving draws the attention of a deeply critical cop, they and the flamboyant "Brazillionaires" who tagged along end up in the court of a grotesque and vengeful judge, who has a special vendetta against the wealthy and erudite.
14.
Special Correspondents (2009)
1h 33m Comedy
R2I, a famous news radio station, sends its best reporting duo to Iraq: Frank, journalist, and Poussin, sound engineer. Very quickly, millions of listeners follow their highly documented stories, reflecting the hot intensity of the fighting and the difficult survival of the population.
15.
Cheech & Chong's The Corsican Brothers (1984)
1h 22m Comedy
Two brothers who can feel each others' pain and pleasure mess up the French revolution.
1h 27m Comedy
Aspiring filmmakers Mel Funn, Marty Eggs and Dom Bell go to a financially troubled studio with an idea for a silent movie. In an effort to make the movie more marketable, they attempt to recruit a number of big name stars to appear, while the studio's creditors attempt to thwart them.
1h 36m Comedy Drama Romance
When Chicago firefighter Jack Moniker retires and moves to a small Caribbean island, he is befriended by the owner of a run-down resort. Together they renovate the resort and lure tourists to Club Paradise in an effort to fight off corrupt officials and businessmen who want to claim the resort as their own.
18.
The Wedding Ringer (2015)
1h 41m Comedy
Doug Harris is a loveable but socially awkward groom-to-be with a problem: he has no best man. With less than two weeks to go until he marries the girl of his dreams, Doug is referred to Jimmy Callahan, owner and CEO of Best Man, Inc., a company that provides flattering best men for socially challenged guys in need. What ensues is a hilarious wedding charade as they try to pull off the big con, and an unexpected budding bromance between Doug and his fake best man Jimmy.
1h 39m Comedy
A man becomes increasingly jealous of his friend's newfound success.
20.
The Hungover Games (2014)
1h 26m Comedy
It's a movie about Hungover guys that get lost in a death match game: Each year, drunk people are selected to participate in torturous games the morning after a big night out. There's no sunglasses, no water, and no headache medicine. "The Hungover Games," a film that manages to merge the premises of both "The Hunger Games" and "The Hangover" ... and throw in references to "Ted," "Django Unchained," "The Lord of the Rings," "Carrie," "The Real Housewives of Beverly Hills" and whatever else crossed the writers' fevered brains during the probably very drunken "development process."
21.
The Bogus Witch Project (2000)
1h 25m Comedy
A series of short films spoofing "The Blair Witch Project."
22.
30 Nights of Paranormal Activity with the Devil Inside the Girl with the Dragon Tattoo (2013)
1h 20m Comedy
After a stint in a psychiatric hospital, a young woman returns to the house where her father killed the entire cast of The Artist during his exorcism.
23.
Down Periscope (1996)
1h 32m Comedy
Bumbling Navy lieutenant Tom Dodge has been given one last chance to clean up his record. But Admiral Graham, his nemesis, assigns Dodge to the Stingray, a submarine that can barely keep afloat. To add insult to injury, the Stingray is to be the enemy flagship in the upcoming war games … and to make matters even worse, Dodge's crew is a band of idiots even more incompetent that he is!
24.
Be Kind Rewind (2008)
1h 42m Drama Comedy
A man whose brain becomes magnetized unintentionally destroys every tape in his friend's video store. In order to satisfy the store's most loyal renter, an aging woman with signs of dementia, the two men set out to remake the lost films.
1h 30m Comedy
A series of interconnected short films follows a washed-up producer as he pitches insane story lines featuring some of the biggest stars in Hollywood.
1h 28m Comedy Family
High school misfits Stoney and Dave discover a long-frozen primeval man buried in their back yard. But the thawed-out Link—as the boys have named him—quickly becomes a wild card in the teens' already zany southern California lives. After a shave and some new clothes, Link's presence at school makes the daily drudgery a lot more interesting.
27.
Still Waiting... (2009)
1h 30m Comedy
After Shenaniganz loses all its hottest waitresses to new competitor Ta-Ta's Wing Shack -- where the scantily clad wait staff earns bigger tips -- the Shenaniganz staff aims to give Ta-Ta's its just desserts.
28.
Looking for Comedy in the Muslim World (2005)
1h 38m Comedy
To improve its relations with Muslim countries, the United States government sends comedian Albert Brooks to south Asia to write a report on what makes followers of Islam laugh.
explore
Check out more list from our community