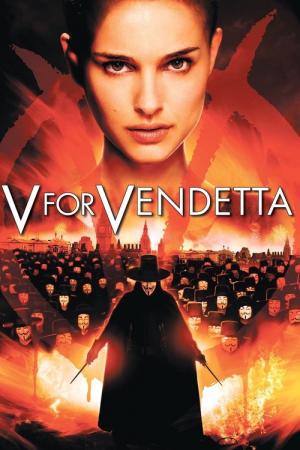 10 Best Movies Like V For Vendetta ...
If you liked this film , you will for sure love these too! In this collection we highlight some of the best films that share a very similar premise to 'V for Vendetta', and are worth checking out.
1.
The Dark Knight (2008)
2h 32m Drama Action Crime Thriller
Batman raises the stakes in his war on crime. With the help of Lt. Jim Gordon and District Attorney Harvey Dent, Batman sets out to dismantle the remaining criminal organizations that plague the streets. The partnership proves to be effective, but they soon find themselves prey to a reign of chaos unleashed by a rising criminal mastermind known to the terrified citizens of Gotham as the Joker.
2h 19m Action Adventure Science Fiction
In a world divided into factions based on personality types, Tris learns that she's been classified as Divergent and won't fit in. When she discovers a plot to destroy Divergents, Tris and the mysterious Four must find out what makes Divergents dangerous before it's too late.
3.
Law Abiding Citizen (2009)
1h 49m Drama Crime Thriller
A frustrated man decides to take justice into his own hands after a plea bargain sets one of his family's killers free. He targets not only the killer but also the district attorney and others involved in the deal.
1h 26m Science Fiction Action
A martial artist hunts a killer in a plague-infested urban dump of the future.
5.
Satyameva Jayate (2018)
2h 22m Action Thriller
DCP Shivansh has been tasked to catch Vir, the man behind police killings in the city. Both are eventually against the same enemy but divided by a fine line, the law.
1h 49m Science Fiction Action Drama Thriller
In the year 2159, two classes of people exist: the very wealthy who live on a pristine man-made space station called Elysium, and the rest, who live on an overpopulated, ruined Earth. Secretary Rhodes, a hard line government official, will stop at nothing to enforce anti-immigration laws and preserve the luxurious lifestyle of the citizens of Elysium. That doesn't stop the people of Earth from trying to get in, by any means they can. When unlucky Max is backed into a corner, he agrees to take on a daunting mission that, if successful, will not only save his life, but could bring equality to these polarized worlds.
2h 43m Action Mystery Science Fiction
In a gritty and alternate 1985 the glory days of costumed vigilantes have been brought to a close by a government crackdown, but after one of the masked veterans is brutally murdered, an investigation into the killer is initiated. The reunited heroes set out to prevent their own destruction, but in doing so uncover a sinister plot that puts all of humanity in grave danger.
1h 29m Science Fiction Action Thriller
Set in a futuristic world where humans live in isolation and interact through surrogate robots, a cop is forced to leave his home for the first time in years in order to investigate the murders of others' surrogates.
1h 49m Action Thriller Science Fiction
In the not-too-distant future the aging gene has been switched off. To avoid overpopulation, time has become the currency and the way people pay for luxuries and necessities. The rich can live forever, while the rest try to negotiate for their immortality. A poor young man who comes into a fortune of time, though too late to help his mother from dying. He ends up on the run from a corrupt police force known as 'time keepers'.
10.
The Hunger Games: Mockingjay - Part 1 (2014)
2h 3m Science Fiction Adventure Thriller
Katniss Everdeen reluctantly becomes the symbol of a mass rebellion against the autocratic Capitol.
explore
Check out more list from our community