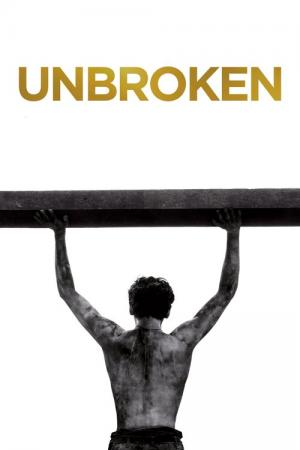 27 Best Movies Like Unbroken ...
If you liked this film , you will definitely love these too! In this list we highlight some of the best films that share a very similar premise to '', and are worth checking out.
1.
The Railway Man (2013)
2.
Unbroken: Path to Redemption (2018)
3.
Against the Sun (2014)
2h Adventure Drama War
A US Fighter pilot's epic struggle of survival after being shot down on a mission over Laos during the Vietnam War.
5.
To End All Wars (2001)
1h 48m Drama War Action
Based on a real-life story, this drama focuses on a small group of Allied soldiers in Burma who are held captive by the Japanese. Capt. Ernest Gordon (Ciaran McMenamin), Lt. Jim Reardon (Kiefer Sutherland) and Maj. Ian Campbell (Robert Carlyle) are among the military officers kept imprisoned and routinely beaten and deprived of food. While Campbell wants to rebel and attempt an escape, Gordon tries to take a more stoic approach, an attitude that proves to be surprisingly resonant.
6.
Saints and Soldiers: The Void (2014)
1h 36m War Action Drama
Germany, May 1945, deep in the Harz Mountains a U.S. tank crew discovers a platoon of Germans preparing to ambush U.S. supply trucks.
7.
Empire of the Sun (1987)
8.
American Sniper (2014)
2h 13m War Action
U.S. Navy SEAL Chris Kyle takes his sole mission—protect his comrades—to heart and becomes one of the most lethal snipers in American history. His pinpoint accuracy not only saves countless lives but also makes him a prime target of insurgents. Despite grave danger and his struggle to be a good husband and father to his family back in the States, Kyle serves four tours of duty in Iraq. However, when he finally returns home, he finds that he cannot leave the war behind.
9.
Flags of Our Fathers (2006)
2h 15m War Drama History
There were five Marines and one Navy Corpsman photographed raising the U.S. flag on Mt. Suribachi by Joe Rosenthal on February 23, 1945. This is the story of three of the six surviving servicemen - John 'Doc' Bradley, Pvt. Rene Gagnon and Pvt. Ira Hayes - who fought in the battle to take Iwo Jima from the Japanese.
2h 19m Drama History War
WWII American Army Medic Desmond T. Doss, who served during the Battle of Okinawa, refuses to kill people and becomes the first Conscientious Objector in American history to receive the Congressional Medal of Honor.
2h 13m Drama Adventure History
At the dawn of WWII, several men escape from a Russian gulag—to take a perilous and uncertain journey to freedom as they cross deserts, mountains and several nations.
12.
The Great Raid (2005)
2h 12m Action History War
As World War II rages, the elite Sixth Ranger Battalion is given a mission of heroic proportions: push 30 miles behind enemy lines and liberate over 500 American prisoners of war.
2h 2m War Drama History
A group of English, American, Dutch and Australian women creates a vocal orchestra while being imprisoned in a Japanese POW camp on Sumatra during World War II.
15.
The Bridge at Remagen (1969)
1h 57m History War Action
In March of 1945, as the War in Europe is coming to a close, fighting erupts between German and American troops at the last remaining bridgehead across the Rhine.
16.
Hart's War (2002)
2h 5m Drama War
Fourth-generation Army Col. William McNamara is imprisoned in a brutal German POW camp. Still, as the senior-ranking American officer, he commands his fellow inmates, keeping a sense of honor alive in a place where honor is easy to destroy, all under the dangerous eye of the Luftwafe vetran Col. Wilhelm Visser. Never giving up the fight to win the war, McNamara is silently planning, waiting for his moment to strike back at the enemy. A murder in the camp gives him the chance to set a risky plan in motion. With a court martial to keep Visser and the Germans distracted, McNamara orchestrates a cunning scheme to escape and destroy a nearby munitions plant, enlisting the unwitting help of young Lt. Tommy Hart. Together with his men, McNamara uses a hero's resolve to carry out his mission, ultimately forced to weigh the value of his life against the good of his country.
17.
Cinderella Man (2005)
2h 24m Romance Drama History
The true story of boxer Jim Braddock who, in the 1920's following his retirement, makes a surprise comeback in order to get him and his family out of a socially poor state.
2h 14m Drama War
When Singapore surrendered to the Japanese in 1942, the Allied POWs, mostly British but including a few Americans, were incarcerated in Changi prison. Among the American prisoners is Cpl. King, a wheeler dealer who has managed to established a pretty good life for himself in the camp. King soon forms a friendship with an upper class British officer who is fascinated with King's enthusiastic approach to life.
2h 5m Drama Action Adventure History War
The story of the Tuskegee Airmen, the first African-American pilots to fly in a combat squadron during World War II.
1h 47m Drama War Action
The "Memphis Belle" is a World War II bomber, piloted by a young crew on dangerous bombing raids into Europe. The crew only have to make one more bombing raid before they have finished their duty and can go home. In the briefing before their last flight, the crew discover that the target for the day is Dresden, a heavily-defended city that invariably causes many Allied casualties
21.
Kokoda: 39th Battalion (2006)
1h 32m Action Drama History
A bitter battle is fought between Australian and Japanese soldiers along the Kokoda trail in New Guinea during World War II.
2h 14m Drama History War
"Stalingrad" follows the progress of a German Platoon through the brutal fighting of the Battle of Stalingrad. After having half their number wiped out and after being placed under the command of a sadistic Captain, the Lieutenant of the platoon leads his men to desert. The men of the platoon attempt to escape from the city which is now surrounded by the Soviet Army.
23.
Fires on the Plain (2014)
1h 27m War Drama
In the final days of World War II, occupying Japanese forces in the Philippines face resistance from the local population and the American offensive. The dwindling Japanese soldiers attempt to survive through the horrors of war.
24.
The Devil's Brigade (1968)
1h 36m Horror
The powers of good are pitted against the forces of evil as the Duc de Richelieu wrestles with the charming but deadly Satanist, Mocata, for the soul of his friend. Mocata has the knowledge and the power to summon the forces of darkness and, as the Duc de Richelieu and his friends remain within the protected pentacle, they are subjected to ever-increasing horror until thundering hooves herald the arrival of the Angel of Death.
25.
Saints and Soldiers (2003)
1h 30m War Drama Action Adventure History
Five American soldiers fighting in Europe during World War II struggle to return to Allied territory after being separated from U.S. forces during the historic Malmedy Massacre.
26.
Tora! Tora! Tora! (1970)
2h 24m Drama History War
In the summer of 1941, the United States and Japan seem on the brink of war after constant embargos and failed diplomacy come to no end. "Tora! Tora! Tora!", named after the code words use by the lead Japanese pilot to indicate they had surprised the Americans, covers the days leading up to the attack on Pearl Harbor, which plunged America into the Second World War.
explore
Check out more list from our community