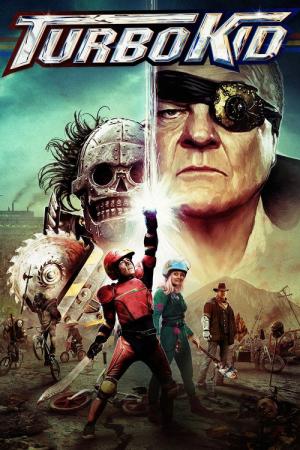 11 Best Movies Like Turbo Kid ...
If you liked this one , you will definitely love these too! In this selection we highlight some of the best films that share a very similar mood to 'Turbo Kid', and are worth checking out.
1.
Guardians of the Galaxy (2014)
2h 1m Action Science Fiction Adventure
Light years from Earth, 26 years after being abducted, Peter Quill finds himself the prime target of a manhunt after discovering an orb wanted by Ronan the Accuser.
2.
The Return of Swamp Thing (1989)
3.
Dance of the Dead (2008)
1h 27m Comedy Horror
With Prom only hours away, the usual suspects of Cosa High (Cheerleaders, geeks, bad boys and the happy-go-lucky student council alike) are preoccupied with the annual rituals of teendom. On the night of the big dance when the dead unexpectedly rise to eat the living, polar opposite groups will be forced to unite in their final chance to save the town from the zombies.
4.
Mad Max Beyond Thunderdome (1985)
1h 47m Action Adventure Science Fiction
Mad Max becomes a pawn in a decadent oasis of a technological society, and when exiled, becomes the deliverer of a colony of children.
5.
The Scorch Trials (2015)
2h 11m Science Fiction Action Thriller
Thomas and his fellow Gladers face their greatest challenge yet: searching for clues about the mysterious and powerful organization known as WCKD. Their journey takes them to the Scorch, a desolate landscape filled with unimaginable obstacles. Teaming up with resistance fighters, the Gladers take on WCKD's vastly superior forces and uncover its shocking plans for them all.
6.
Mad Max 2: The Road Warrior (1981)
1h 36m Adventure Action Thriller Science Fiction
Max Rockatansky returns as the heroic loner who drives the dusty roads of a postapocalyptic Australian Outback in an unending search for gasoline. Arrayed against him and the other scraggly defendants of a fuel-depot encampment are the bizarre warriors commanded by the charismatic Lord Humungus, a violent leader whose scruples are as barren as the surrounding landscape.
7.
The Toxic Avenger (1984)
1h 22m Science Fiction Action Comedy Horror
Tromaville has a monstrous new hero. The Toxic Avenger is born when mop boy Melvin Junko falls into a vat of toxic waste. Now evildoers will have a lot to lose.
1h 39m Action Adventure Comedy Science Fiction
When successful businessman Sam Treadwell finds that his android wife, Cherry model 2000 has blown a fuse, he hires sexy renegade tracker E. Johnson to find her exact duplicate. But as their journey to replace his perfect mate leads them into the treacherous and lawless region of 'The Zone', Treadwell learns the hard way that the perfect woman is made not of computer chips and diodes.
1h 28m Comedy Horror
Columbus has made a habit of running from what scares him. Tallahassee doesn't have fears. If he did, he'd kick their ever-living ass. In a world overrun by zombies, these two are perfectly evolved survivors. But now, they're about to stare down the most terrifying prospect of all: each other.
10.
Wyrmwood: Road of the Dead (2014)
1h 38m Horror Action Comedy
Barry is a talented mechanic and family man whose life is torn apart on the eve of a zombie apocalypse. His sister, Brooke, is kidnapped by a sinister team of gas-mask wearing soldiers & experimented on by a psychotic doctor. While Brooke plans her escape Barry goes out on the road to find her & teams up with Benny, a fellow survivor - together they must arm themselves and prepare to battle their way through hordes of flesh-eating monsters in a harsh Australian bushland.
1h 28m Science Fiction
A young boy searches a future world wasteland for a rumored cure for his dying mother.
explore
Check out more list from our community