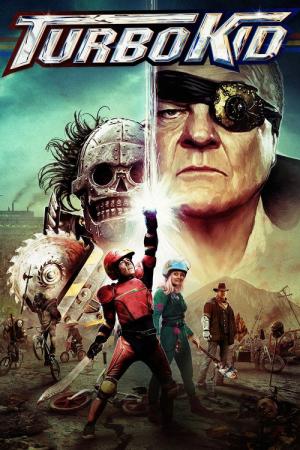 13 Best Movies Like Turbo Kid ...
If you liked this one , you will probably love these too! In this list we highlight some of the best films that share a very similar premise to 'Turbo Kid', and are worth checking out.
1.
Spacehunter: Adventures in the Forbidden Zone (1983)
Three women makes an emergency landing on a planet plagued with a fatal disease, but are captured by dictator Overdog. Adventurer Wolff goes there to rescue them and meets Niki, the only Earthling left from a medical expedition. Combining their talents, they try to rescue the women.
1h 30m
Director: Lamont Johnson
Screenplay: David Preston
Screenplay: Len Blum
Screenplay: Daniel Goldberg
Screenplay: Edith Rey
Story: Stewart Harding
Story: Jean LaFleur
Adventure Science Fiction
2.
Dance of the Dead (2008)
With Prom only hours away, the usual suspects of Cosa High (Cheerleaders, geeks, bad boys and the happy-go-lucky student council alike) are preoccupied with the annual rituals of teendom. On the night of the big dance when the dead unexpectedly rise to eat the living, polar opposite groups will be forced to unite in their final chance to save the town from the zombies.
1h 27m
Director: Gregg Bishop
Screenplay: Joe Ballarini
Comedy Horror
3.
Attack on Titan: Part 2 (2015)
4.
The Scorch Trials (2015)
Thomas and his fellow Gladers face their greatest challenge yet: searching for clues about the mysterious and powerful organization known as WCKD. Their journey takes them to the Scorch, a desolate landscape filled with unimaginable obstacles. Teaming up with resistance fighters, the Gladers take on WCKD's vastly superior forces and uncover its shocking plans for them all.
2h 11m
Director: Wes Ball
Novel: James Dashner
Screenplay: T.S. Nowlin
Science Fiction Action Thriller
In a futuristic world where the polar ice caps have melted and made Earth a liquid planet, a beautiful barmaid rescues a mutant seafarer from a floating island prison. They escape, along with her young charge, Enola, and sail off aboard his ship.
2h 15m
Director: Kevin Reynolds
Writer: David Twohy
Writer: Peter Rader
Adventure Action Science Fiction
6.
Guardians of the Galaxy (2014)
Light years from Earth, 26 years after being abducted, Peter Quill finds himself the prime target of a manhunt after discovering an orb wanted by Ronan the Accuser.
2h 1m
Director, Writer: James Gunn
Writer: Nicole Perlman
Action Science Fiction Adventure
7.
The Return of Swamp Thing (1989)
Based on the British cult comic-strip, our tank-riding anti-heroine fights a mega-corporation, which controls the world's water supply.
1h 38m
Director: Rachel Talalay
Screenplay: Tedi Sarafian
Writer: Alan Martin
Writer: Jamie Hewlett
Action Comedy Fantasy Science Fiction
In a post-apocalyptic world, a warrior wandering through the desert comes upon a group of settlers who are being menaced by a murderous gang that is after the water they control.
1h 37m
Director: Lance Hool
Writer: Doug Lefler
Action Adventure Science Fiction
10.
Mad Max: Fury Road (2015)
An apocalyptic story set in the furthest reaches of our planet, in a stark desert landscape where humanity is broken, and most everyone is crazed fighting for the necessities of life. Within this world exist two rebels on the run who just might be able to restore order.
2h 1m
Director, Writer: George Miller
Writer: Brendan McCarthy
Writer: Nick Lathouris
Action Adventure Science Fiction
In the 23rd century, inhabitants of a domed city freely experience all of life's pleasures- but no one is allowed to live past 30. Citizens can try for a chance at being 'renewed' in a civic ceremony on their 30th birthday. Escape is the only other option.
1h 59m
Director: Michael Anderson
Novel: William F. Nolan
Novel: George Clayton Johnson
Screenplay: David Zelag Goodman
Action Science Fiction
12.
Resident Evil: The Final Chapter (2016)
Picking up immediately after the events in Resident Evil: Retribution, Alice is the only survivor of what was meant to be humanity's final stand against the undead. Now, she must return to where the nightmare began - The Hive in Raccoon City, where the Umbrella Corporation is gathering its forces for a final strike against the only remaining survivors of the apocalypse.
1h 47m
Director, Writer: Paul W. S. Anderson
Action Horror Science Fiction
13.
Attack on Titan: Part 1 (2015)
100 years ago, titans suddenly appeared on Earth. Soon, human civilization veered on collapse due to the titans. Humans then built a giant wall to defend themselves. Within the giant walls, humans lived in peace, but, 100 years later, the giant wall is broken.
1h 38m
Director: Shinji Higuchi
Screenplay: Yusuke Watanabe
Screenplay: Tomohiro Machiyama
Horror Fantasy Drama Action Science Fiction
explore
Check out more list from our community