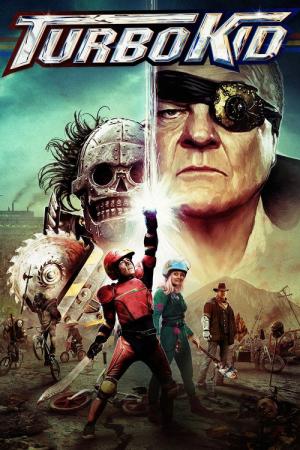 11 Best Movies Like Turbo Kid ...
If you liked this movie , you will definitely love these too! In this list we highlight some of the best films that share a very similar mood to 'Turbo Kid', and are worth checking out.
1h 48m Action Adventure Comedy
Deadpool tells the origin story of former Special Forces operative turned mercenary Wade Wilson, who after being subjected to a rogue experiment that leaves him with accelerated healing powers, adopts the alter ego Deadpool. Armed with his new abilities and a dark, twisted sense of humor, Deadpool hunts down the man who nearly destroyed his life.
2.
Mad Max: Fury Road (2015)
2h 1m Action Adventure Science Fiction
An apocalyptic story set in the furthest reaches of our planet, in a stark desert landscape where humanity is broken, and most everyone is crazed fighting for the necessities of life. Within this world exist two rebels on the run who just might be able to restore order.
3.
The Return of Swamp Thing (1989)
4.
The Toxic Avenger Part III: The Last Temptation of Toxie (1989)
1h 42m Comedy Horror Action Science Fiction
Toxie finds he has nothing to do as a superhero, as he has ridden his city of evil. So he decides to go to work for a major corporation, which he discovers may be the evilest of all his adversaries.
5.
Mad Max 2: The Road Warrior (1981)
1h 36m Adventure Action Thriller Science Fiction
Max Rockatansky returns as the heroic loner who drives the dusty roads of a postapocalyptic Australian Outback in an unending search for gasoline. Arrayed against him and the other scraggly defendants of a fuel-depot encampment are the bizarre warriors commanded by the charismatic Lord Humungus, a violent leader whose scruples are as barren as the surrounding landscape.
1h 31m Adventure Action Thriller Science Fiction
Taking place in a dystopian Australia in the near future, Mad Max tells the story of a highway patrolman cruising the squalid back roads that have become the breeding ground of criminals foraging for gasoline and scraps. After some grisly events at the hands of a motorcycle gang, Max sets out across the barren wastelands in search of revenge.
1h 37m Action Adventure Science Fiction
In a post-apocalyptic world, a warrior wandering through the desert comes upon a group of settlers who are being menaced by a murderous gang that is after the water they control.
8.
Resident Evil: Afterlife (2010)
1h 37m Action Adventure Horror Science Fiction
In a world ravaged by a virus infection, turning its victims into the Undead, Alice continues on her journey to find survivors and lead them to safety. Her deadly battle with the Umbrella Corporation reaches new heights, but Alice gets some unexpected help from an old friend. A new lead that promises a safe haven from the Undead takes them to Los Angeles, but when they arrive the city is overrun by thousands of Undead - and Alice and her comrades are about to step into a deadly trap.
9.
Mad Max Beyond Thunderdome (1985)
1h 47m Action Adventure Science Fiction
Mad Max becomes a pawn in a decadent oasis of a technological society, and when exiled, becomes the deliverer of a colony of children.
2h 15m Adventure Action Science Fiction
In a futuristic world where the polar ice caps have melted and made Earth a liquid planet, a beautiful barmaid rescues a mutant seafarer from a floating island prison. They escape, along with her young charge, Enola, and sail off aboard his ship.
11.
Dance of the Dead (2008)
1h 27m Comedy Horror
With Prom only hours away, the usual suspects of Cosa High (Cheerleaders, geeks, bad boys and the happy-go-lucky student council alike) are preoccupied with the annual rituals of teendom. On the night of the big dance when the dead unexpectedly rise to eat the living, polar opposite groups will be forced to unite in their final chance to save the town from the zombies.
explore
Check out more list from our community