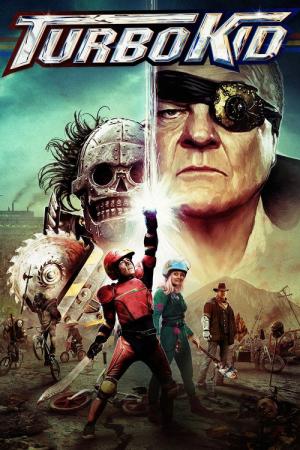 31 Best Movies Like Turbo Kid ...
If you liked this one , you will for sure love these too! In this selection we highlight some of the best films that share a very similar premise to '', and are worth checking out.
1h 39m Action Adventure Comedy Science Fiction
When successful businessman Sam Treadwell finds that his android wife, Cherry model 2000 has blown a fuse, he hires sexy renegade tracker E. Johnson to find her exact duplicate. But as their journey to replace his perfect mate leads them into the treacherous and lawless region of 'The Zone', Treadwell learns the hard way that the perfect woman is made not of computer chips and diodes.
1h 28m Comedy Horror
Columbus has made a habit of running from what scares him. Tallahassee doesn't have fears. If he did, he'd kick their ever-living ass. In a world overrun by zombies, these two are perfectly evolved survivors. But now, they're about to stare down the most terrifying prospect of all: each other.
3.
Mad Max Beyond Thunderdome (1985)
1h 47m Action Adventure Science Fiction
Mad Max becomes a pawn in a decadent oasis of a technological society, and when exiled, becomes the deliverer of a colony of children.
4.
Mad Max 2: The Road Warrior (1981)
1h 36m Adventure Action Thriller Science Fiction
Max Rockatansky returns as the heroic loner who drives the dusty roads of a postapocalyptic Australian Outback in an unending search for gasoline. Arrayed against him and the other scraggly defendants of a fuel-depot encampment are the bizarre warriors commanded by the charismatic Lord Humungus, a violent leader whose scruples are as barren as the surrounding landscape.
5.
Attack on Titan: Part 2 (2015)
6.
The Toxic Avenger Part II (1989)
1h 36m Comedy Horror Action
The Toxic Avenger is lured to Tokyo, Japan by the evil corporation Apocalypse Inc. So while the Toxic Avenger is fighting crime in Tokyo, Apocalypse Inc. spread evil in Tromaville.
7.
The Toxic Avenger Part III: The Last Temptation of Toxie (1989)
1h 42m Comedy Horror Action Science Fiction
Toxie finds he has nothing to do as a superhero, as he has ridden his city of evil. So he decides to go to work for a major corporation, which he discovers may be the evilest of all his adversaries.
2h 15m Adventure Action Science Fiction
In a futuristic world where the polar ice caps have melted and made Earth a liquid planet, a beautiful barmaid rescues a mutant seafarer from a floating island prison. They escape, along with her young charge, Enola, and sail off aboard his ship.
1h 38m Action Comedy Fantasy Science Fiction
Based on the British cult comic-strip, our tank-riding anti-heroine fights a mega-corporation, which controls the world's water supply.
10.
Attack on Titan: Part 1 (2015)
1h 38m Horror Fantasy Drama Action Science Fiction
100 years ago, titans suddenly appeared on Earth. Soon, human civilization veered on collapse due to the titans. Humans then built a giant wall to defend themselves. Within the giant walls, humans lived in peace, but, 100 years later, the giant wall is broken.
11.
Resident Evil: Afterlife (2010)
1h 37m Action Adventure Horror Science Fiction
In a world ravaged by a virus infection, turning its victims into the Undead, Alice continues on her journey to find survivors and lead them to safety. Her deadly battle with the Umbrella Corporation reaches new heights, but Alice gets some unexpected help from an old friend. A new lead that promises a safe haven from the Undead takes them to Los Angeles, but when they arrive the city is overrun by thousands of Undead - and Alice and her comrades are about to step into a deadly trap.
12.
Dance of the Dead (2008)
1h 27m Comedy Horror
With Prom only hours away, the usual suspects of Cosa High (Cheerleaders, geeks, bad boys and the happy-go-lucky student council alike) are preoccupied with the annual rituals of teendom. On the night of the big dance when the dead unexpectedly rise to eat the living, polar opposite groups will be forced to unite in their final chance to save the town from the zombies.
1h 37m Action Adventure Science Fiction
In a post-apocalyptic world, a warrior wandering through the desert comes upon a group of settlers who are being menaced by a murderous gang that is after the water they control.
14.
The Toxic Avenger (1984)
1h 22m Science Fiction Action Comedy Horror
Tromaville has a monstrous new hero. The Toxic Avenger is born when mop boy Melvin Junko falls into a vat of toxic waste. Now evildoers will have a lot to lose.
15.
Mad Max: Fury Road (2015)
2h 1m Action Adventure Science Fiction
An apocalyptic story set in the furthest reaches of our planet, in a stark desert landscape where humanity is broken, and most everyone is crazed fighting for the necessities of life. Within this world exist two rebels on the run who just might be able to restore order.
1h 48m Action Adventure Comedy
Deadpool tells the origin story of former Special Forces operative turned mercenary Wade Wilson, who after being subjected to a rogue experiment that leaves him with accelerated healing powers, adopts the alter ego Deadpool. Armed with his new abilities and a dark, twisted sense of humor, Deadpool hunts down the man who nearly destroyed his life.
17.
Wyrmwood: Road of the Dead (2014)
1h 38m Horror Action Comedy
Barry is a talented mechanic and family man whose life is torn apart on the eve of a zombie apocalypse. His sister, Brooke, is kidnapped by a sinister team of gas-mask wearing soldiers & experimented on by a psychotic doctor. While Brooke plans her escape Barry goes out on the road to find her & teams up with Benny, a fellow survivor - together they must arm themselves and prepare to battle their way through hordes of flesh-eating monsters in a harsh Australian bushland.
18.
Spacehunter: Adventures in the Forbidden Zone (1983)
1h 30m Adventure Science Fiction
Three women makes an emergency landing on a planet plagued with a fatal disease, but are captured by dictator Overdog. Adventurer Wolff goes there to rescue them and meets Niki, the only Earthling left from a medical expedition. Combining their talents, they try to rescue the women.
1h 56m Action Adventure Science Fiction
After an alien invasion threatens to annihilate the human race, a young Japanese girl, named Milly, travels back in time from 2084 to October 2002, and enlists the reluctant aid of skilled Tokyo gunman, named Miyamoto, to discover and prevent the start of the war. However, trouble ensues when the two protagonists are forced to deal with a Japanese mafia boss, named Mizoguchi, who is somehow involved in the start of the war by keeping the first alien spaceship and its alien pilot captive, while our two heroes race against the clock to find a way to stop the oncoming destruction from the vengeance-seeking alien invasion fleet on its way to Earth.
20.
Resident Evil: Extinction (2007)
1h 34m Horror Action Science Fiction
Years after the Racoon City catastrophe, survivors travel across the Nevada desert, hoping to make it to Alaska. Alice joins the caravan and their fight against hordes of zombies and the evil Umbrella Corp.
21.
Night of the Comet (1984)
1h 35m Comedy Horror Science Fiction
Two girls from the Valley wake up to find that a passing comet has eradicated their world and left behind a mysterious red-dust and a pack of cannibal mutants. With the help of a friendly truck driver, the girls save the earth from a villainous "think tank," karate chop their way through flesh-eating zombies, and, of course, find time to go to the mall.
22.
Defense Condition 4 (1985)
23.
Resident Evil: The Final Chapter (2016)
1h 47m Action Horror Science Fiction
Picking up immediately after the events in Resident Evil: Retribution, Alice is the only survivor of what was meant to be humanity's final stand against the undead. Now, she must return to where the nightmare began - The Hive in Raccoon City, where the Umbrella Corporation is gathering its forces for a final strike against the only remaining survivors of the apocalypse.
24.
The Return of Swamp Thing (1989)
25.
Logan's Run (1976)
1h 59m Action Science Fiction
In the 23rd century, inhabitants of a domed city freely experience all of life's pleasures- but no one is allowed to live past 30. Citizens can try for a chance at being 'renewed' in a civic ceremony on their 30th birthday. Escape is the only other option.
26.
The Scorch Trials (2015)
2h 11m Science Fiction Action Thriller
Thomas and his fellow Gladers face their greatest challenge yet: searching for clues about the mysterious and powerful organization known as WCKD. Their journey takes them to the Scorch, a desolate landscape filled with unimaginable obstacles. Teaming up with resistance fighters, the Gladers take on WCKD's vastly superior forces and uncover its shocking plans for them all.
1h 28m Science Fiction
A young boy searches a future world wasteland for a rumored cure for his dying mother.
28.
Guardians of the Galaxy (2014)
2h 1m Action Science Fiction Adventure
Light years from Earth, 26 years after being abducted, Peter Quill finds himself the prime target of a manhunt after discovering an orb wanted by Ronan the Accuser.
1h 25m Horror Science Fiction
Paul Dean has created a deadly parasite that is now attached to his stomach. He and his female companion, Patricia Welles, must find a way to destroy it while also trying to avoid Ricus, his rednecks, and an evil government agent named Merchant.
1h 31m Adventure Action Thriller Science Fiction
Taking place in a dystopian Australia in the near future, Mad Max tells the story of a highway patrolman cruising the squalid back roads that have become the breeding ground of criminals foraging for gasoline and scraps. After some grisly events at the hands of a motorcycle gang, Max sets out across the barren wastelands in search of revenge.
explore
Check out more list from our community