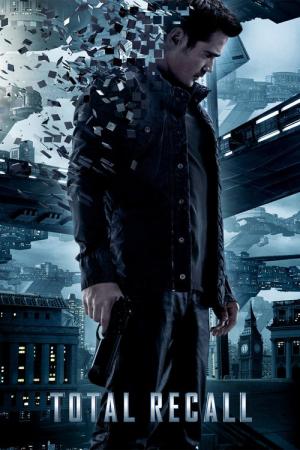 32 Best Movies Like Total Recall ...
If you liked this film , you will for sure love these too! In this list we highlight some of the best films that share a very similar premise to '', and are worth checking out.
1h 53m Action Adventure Science Fiction
Construction worker Douglas Quaid discovers a memory chip in his brain during a virtual-reality trip. He also finds that his past has been invented to conceal a plot of planetary domination. Soon, he's off to Mars to find out who he is and who planted the chip.
2h 1m Action Science Fiction Adventure Thriller
Welcome to Rekall, the company that can turn your dreams into real memories. For a factory worker named Douglas Quaid, even though he's got a beautiful wife who he loves, the mind-trip sounds like the perfect vacation from his frustrating life - real memories of life as a super-spy might be just what he needs. But when the procedure goes horribly wrong, Quaid becomes a hunted man. Finding himself on the run from the police - controlled by Chancellor Cohaagen, the leader of the free world - Quaid teams up with a rebel fighter to find the head of the underground resistance and stop Cohaagen. The line between fantasy and reality gets blurred and the fate of his world hangs in the balance as Quaid discovers his true identity, his true love, and his true fate.
2h 16m Action Science Fiction
Set in the 22nd century, The Matrix tells the story of a computer hacker who joins a group of underground insurgents fighting the vast and powerful computers who now rule the earth.
1h 57m Science Fiction Drama Thriller
In the smog-choked dystopian Los Angeles of 2019, blade runner Rick Deckard is called out of retirement to terminate a quartet of replicants who have escaped to Earth seeking their creator for a way to extend their short life spans.
2h 16m Action Thriller Science Fiction Adventure
In 2019, Lincoln Six-Echo is a resident of a seemingly "Utopian" but contained facility. Like all of the inhabitants of this carefully-controlled environment, Lincoln hopes to be chosen to go to The Island — reportedly the last uncontaminated location on the planet. But Lincoln soon discovers that everything about his existence is a lie.
2h 3m Science Fiction Mystery Action
Futuristic action about a man who meets a clone of himself and stumbles into a grand conspiracy about clones taking over the world.
1h 55m Crime Action Science Fiction
Simon Phoenix, a violent criminal cryogenically frozen in 1996, escapes during a parole hearing in 2032 in the utopia of San Angeles. Police are incapable of dealing with his violent ways and turn to his captor, who had also been cryogenically frozen after being wrongfully accused of killing 30 innocent people while apprehending Phoenix.
1h 59m Action Adventure Mystery Science Fiction Thriller
Michael Jennings is a genius who's hired – and paid handsomely – by high-tech firms to work on highly sensitive projects, after which his short-term memory is erased so he's incapable of breaching security. But at the end of a three-year job, he's told he isn't getting a paycheck and instead receives a mysterious envelope. In it are clues he must piece together to find out why he wasn't paid – and why he's now in hot water.
9.
The Running Man (1987)
1h 41m Science Fiction Action Thriller
By 2017, the global economy has collapsed and U.S. society has become a totalitarian police state, censoring all cultural activity. The government pacifies the populace by broadcasting a number of game shows in which convicted criminals fight for their lives, including the gladiator-style The Running Man, hosted by the ruthless Damon Killian, where "runners" attempt to evade "stalkers" and certain death for a chance to be pardoned and set free.
10.
The Terminator (1984)
1h 48m Action Thriller Science Fiction
In the post-apocalyptic future, reigning tyrannical supercomputers teleport a cyborg assassin known as the "Terminator" back to 1984 to kill Sarah Connor, whose unborn son is destined to lead insurgents against 21st century mechanical hegemony. Meanwhile, the human-resistance movement dispatches a lone warrior to safeguard Sarah. Can he stop the virtually indestructible killing machine?
1h 40m Action Thriller Science Fiction
A brutal mugging leaves Grey Trace paralyzed in the hospital and his beloved wife dead. A billionaire inventor soon offers Trace a cure — an artificial intelligence implant called STEM that will enhance his body. Now able to walk, Grey finds that he also has superhuman strength and agility — skills he uses to seek revenge against the thugs who destroyed his life.
12.
Minority Report (2002)
2h 25m Action Thriller Science Fiction Mystery
John Anderton is a top 'Precrime' cop in the late-21st century, when technology can predict crimes before they're committed. But Anderton becomes the quarry when another investigator targets him for a murder charge.
1h 47m Action Science Fiction Thriller
In a dystopian future, a totalitarian regime maintains peace by subduing the populace with a drug, and displays of emotion are punishable by death. A man in charge of enforcing the law rises to overthrow the system.
1h 55m Action Science Fiction
In 2035, where robots are commonplace and abide by the three laws of robotics, a technophobic cop investigates an apparent suicide. Suspecting that a robot may be responsible for the death, his investigation leads him to believe that humanity may be in danger.
1h 58m Science Fiction Action
In RoboCop, the year is 2028 and multinational conglomerate OmniCorp is at the center of robot technology. Overseas, their drones have been used by the military for years, but have been forbidden for law enforcement in America. Now OmniCorp wants to bring their controversial technology to the home front, and they see a golden opportunity to do it. When Alex Murphy – a loving husband, father and good cop doing his best to stem the tide of crime and corruption in Detroit – is critically injured, OmniCorp sees their chance to build a part-man, part-robot police officer. OmniCorp envisions a RoboCop in every city and even more billions for their shareholders, but they never counted on one thing: there is still a man inside the machine.
1h 35m Thriller Science Fiction
An unsuspecting, disenchanted man finds himself working as a spy in the dangerous, high-stakes world of corporate espionage. Quickly getting way over-his-head, he teams up with a mysterious femme fatale.
1h 40m Mystery Science Fiction
A man struggles with memories of his past, including a wife he cannot remember, in a nightmarish world with no sun and run by beings with telekinetic powers who seek the souls of humans.
18.
Mad Max: Fury Road (2015)
2h 1m Action Adventure Science Fiction
An apocalyptic story set in the furthest reaches of our planet, in a stark desert landscape where humanity is broken, and most everyone is crazed fighting for the necessities of life. Within this world exist two rebels on the run who just might be able to restore order.
2h 25m Crime Drama Science Fiction Thriller
Set in the year 1999 during the last days of the old millennium, the movie tells the story of Lenny Nero, an ex-cop who now deals with data-discs containing recorded memories and emotions. One day he receives a disc which contains the memories of a murderer killing a prostitute. Lenny investigates and is pulled deeper and deeper in a whirl of blackmail, murder and rape. Will he survive and solve the case?
1h 35m Action Thriller Science Fiction
In the future, the inmates of a private underground prison are computer-controlled with cameras, dream readers, and devices that can cause pain or death. John (Christopher Lambert) and his illegally pregnant wife Karen (Loryn Locklin) are locked inside "The Fortress" but are determined to escape before the birth of their baby.
1h 46m Action Crime Science Fiction Thriller
The Law Enforcement Technology Advancement Centre (LETAC) has developed SID version 6.7: a Sadistic, Intelligent, and Dangerous virtual reality entity which is synthesized from the personalities of more than 150 serial killers, and only one man can stop him.
1h 50m Science Fiction
Time-traveling bounty hunters find a doomed race-car driver in the past and bring him to 2009 New York, where his mind will be replaced with that of a terminally ill billionaire.
1h 57m Action Adventure Crime Science Fiction Thriller
After a successful deployment of the Robocop Law Enforcement unit, OCP sees its goal of urban pacification come closer and closer, but as this develops, a new narcotic known as "Nuke" invades the streets led by God-delirious leader Cane. As this menace grows, it may prove to be too much for Murphy to handle. OCP tries to replicate the success of the first unit, but ends up with failed prototypes with suicidal issues... until Dr. Faxx, a scientist straying away from OCP's path, uses Cane as the new subject for the Robocop 2 project, a living God.
24.
Universal Soldier (1992)
1h 42m Thriller Action Science Fiction Crime
An American soldier who had been killed during the Vietnam War is revived 25 years later by the military as a semi-android, UniSols, a high-tech soldier of the future. After the failure of the initiative to erase all the soldier's memories, he begins to experience flashbacks that are forcing him to recall his past.
1h 38m Science Fiction
Year 2038: The mineral resources of the earth are drained, in space there are fights for the last deposits on other planets and satellites. This is the situation when one of the bigger mining corporations has lost all but one mineral moons and many of their fully automatic mining robots are disappearing on their flight home. Since nobody else wants the job, they send prisoners to defend the mining station. Among them undercover agent Stone, who shall clear the whereabouts of the expensive robots. In an atmosphere of corruption, fear and hatred he gets between the fronts of rivaling groups.
26.
The Maze Runner (2014)
1h 53m Action Mystery Science Fiction Thriller
Set in a post-apocalyptic world, young Thomas is deposited in a community of boys after his memory is erased, soon learning they're all trapped in a maze that will require him to join forces with fellow "runners" for a shot at escape.
1h 42m Action Thriller Science Fiction
In a violent, near-apocalyptic Detroit, evil corporation Omni Consumer Products wins a contract from the city government to privatize the police force. To test their crime-eradicating cyborgs, the company leads street cop Alex Murphy into an armed confrontation with crime lord Boddicker so they can use his body to support their untested RoboCop prototype. But when RoboCop learns of the company's nefarious plans, he turns on his masters.
1h 36m Science Fiction
In a dystopian future, Dredd, the most famous judge (a cop with instant field judiciary powers) is convicted for a crime he did not commit while his murderous counterpart escapes.
1h 49m Science Fiction Action Drama Thriller
In the year 2159, two classes of people exist: the very wealthy who live on a pristine man-made space station called Elysium, and the rest, who live on an overpopulated, ruined Earth. Secretary Rhodes, a hard line government official, will stop at nothing to enforce anti-immigration laws and preserve the luxurious lifestyle of the citizens of Elysium. That doesn't stop the people of Earth from trying to get in, by any means they can. When unlucky Max is backed into a corner, he agrees to take on a daunting mission that, if successful, will not only save his life, but could bring equality to these polarized worlds.
1h 37m Action Thriller Science Fiction Horror
A game designer on the run from assassins must play her latest virtual reality creation with a marketing trainee to determine if the game has been damaged.
1h 51m Action Science Fiction Thriller Crime
In the future, medical technology has advanced to the point where people can buy artificial organs to extend their lives. But if they default on payments, an organization known as the Union sends agents to repossess the organs. Remy is one of the best agents in the business, but when he becomes the recipient of an artificial heart, he finds himself in the same dire straits as his many victims.
explore
Check out more list from our community