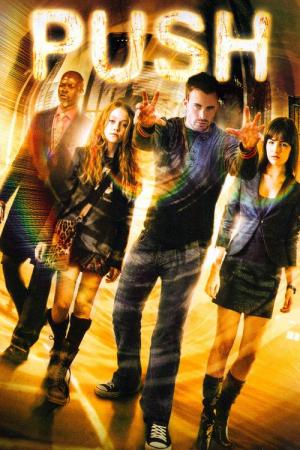 12 Best Movies Like Push ...
If you liked this film , you will for sure love these too! In this selection we highlight some of the best films that share a very similar mood to 'Push', and are worth checking out.
1.
I Am Number Four (2011)
1h 49m Action Thriller Science Fiction Adventure
A teenage fugitive with an incredible secret races to stay one step ahead of the mysterious forces seeking destroy him in this sci-fi action thriller. With three dead and one on the run, the race to find the elusive Number Four begins. Outwardly normal teen John Smith never gets too comfortable in the same identity, and along with his guardian, Henri, he is constantly moving from town to town. With each passing day, John gains a stronger grasp on his extraordinary new powers, and his bond to the beings that share his fantastic fate grows stronger.
2.
Black Lightning (2009)
1h 42m Action
Black Lightning is a Russian superhero film about a Moscow University student who discovers that his otherwise unremarkable car can fly. After his father is attacked, he decides to use the car to fight crime and becomes the city's defender against an evil millionaire.
43m Sci-Fi & Fantasy Drama Action & Adventure
Five ordinary people with superhuman physical and mental abilities are brought together to form one extraordinary team of Alphas. Operating within the U.S. Department of Defense, the team investigates cases that point to others with Alpha abilities.
1h 28m Action Adventure Science Fiction
David Rice is a man who knows no boundaries, a Jumper, born with the uncanny ability to teleport instantly to anywhere on Earth. When he discovers others like himself, David is thrust into a dangerous and bloodthirsty war while being hunted by a sinister and determined group of zealots who have sworn to destroy all Jumpers. Now, David's extraordinary gift may be his only hope for survival!
6.
The Tomorrow People (2013)
1h Drama Sci-Fi & Fantasy
The story of several young people from around the world who represent the next stage in human evolution, possessing special powers, including the ability to teleport and communicate with each other telepathically. Together they work to defeat the forces of evil.
7.
Cyborg 2: Glass Shadow (1993)
1h 39m Action Adventure Science Fiction
In the year 2074, the cybernetics market is dominated by two rival companies: USA's Pinwheel Robotics and Japan's Kobayashi Electronics. Cyborgs are commonplace, used for anything from soldiers to prostitutes. Casella Reese is a prototype cyborg developed for corporate espionage and assassination. She is filled with a liquid explosive called Glass Shadow. Pinwheel plans to eliminate the entire Kobayashi board of directors by using Casella
1h 29m Action Science Fiction
A woman, accidentally caught in a dark deal, turns the tables on her captors and transforms into a merciless warrior evolved beyond human logic.
1h 37m Thriller Action Science Fiction
A former soldier is taken captive and awakens in the back of a van where he learns that he only has less than 10 minutes to figure out how he got there.
1h 36m Action Science Fiction Thriller
Las Vegas showroom magician Cris Johnson has a secret which torments him: he can see a few minutes into the future. Sick of the examinations he underwent as a child and the interest of the government and medical establishment in his power, he lies low under an assumed name in Vegas, performing cheap tricks and living off small-time gambling "winnings." But when a terrorist group threatens to detonate a nuclear device in Los Angeles, government agent Callie Ferris must use all her wiles to capture Cris and convince him to help her stop the cataclysm.
explore
Check out more list from our community