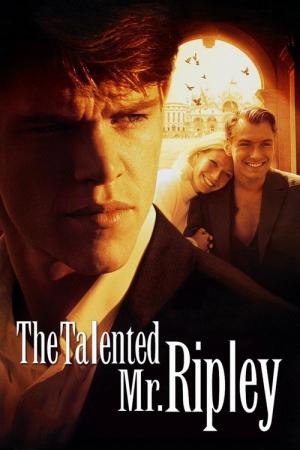 31 Best Movies Like The Talented Mr Ripley ...
If you liked this one , you will definitely love these too! In this list we highlight some of the best films that share a very similar premise to '', and are worth checking out.
1h 53m Thriller
A husband is on trial for the attempted murder of his wife, in what is seemingly an open/shut case for the ambitious district attorney trying to put him away. However, there are surprises for both around every corner, and, as a suspenseful game of cat-and-mouse is played out, each must manipulate and outwit the other.
1h 48m Drama Thriller Crime Romance
Based on a true story. . . . In the late 1940s, Martha Beck and Raymond Fernandez were America's notorious "Lonely Hearts Killers." Their lethal scam was simple; they would swindle and then viciously murder lovelorn war widows who would answer their personal ads in which Ray would describe himself as a sexy Latin lover.
1h 39m Thriller
Wimpy young executive, Michael is about to get pulverised by a jealous boyfriend in a bar when a handsome, mysterious stranger steps in—and then disappears. Later that night, Michael runs into a stranger on a pier, who wheedles his way into Michael's life and turns it upside down.
4.
Best Laid Plans (1999)
1h 32m Drama Thriller Crime
Rich, successful Bryce meets beautiful Lissa at a bar one night and invites her back to his house, not suspecting for a moment that Lissa isn't really who she seems. What unfolds next is a dangerous, tangled web of double-crosses and seduction.
5.
The Silence of the Lambs (1991)
1h 59m Crime Drama Thriller Horror
Clarice Starling is a top student at the FBI's training academy. Jack Crawford wants Clarice to interview Dr. Hannibal Lecter, a brilliant psychiatrist who is also a violent psychopath, serving life behind bars for various acts of murder and cannibalism. Crawford believes that Lecter may have insight into a case and that Starling, as an attractive young woman, may be just the bait to draw him out.
7.
The Comfort of Strangers (1990)
1h 47m Romance Drama
An Italian diplomat's son follows and seduces English lovers in Venice.
2h 11m Crime Drama Thriller Horror
After having successfully eluded the authorities for years, Hannibal peacefully lives in Italy in disguise as an art scholar. Trouble strikes again when he's discovered leaving a deserving few dead in the process. He returns to America to make contact with now disgraced Agent Clarice Starling, who is suffering the wrath of a malicious FBI rival as well as the media.
1h 35m Thriller Mystery
Someone does a nasty hatchet job on a San Francisco big shot and the Assistant D.A. takes charge of the investigation. Through a web of blackmail and prostitution involving the Governor, an old lover of the law man emerges as a prime suspect and he has to deal with his personal feelings as well as the case.
10.
Kiss the Girls (1997)
1h 55m Drama Mystery Thriller Crime
Forensic psychologist Alex Cross travels to North Carolina and teams with escaped kidnap victim Kate McTiernan to hunt down "Casanova," a serial killer who abducts strong-willed women and forces them to submit to his demands. The trail leads to Los Angeles, where the duo discovers that the psychopath may not be working alone.
2h 37m Crime Drama Mystery Thriller
The true story of the investigation of the "Zodiac Killer", a serial killer who terrified the San Francisco Bay Area, taunting police with his ciphers and letters. The case becomes an obsession for three men as their lives and careers are built and destroyed by the endless trail of clues.
2h 4m Crime Thriller Mystery Horror
Former FBI Agent Will Graham, who was once almost killed by the savage Hannibal 'The Cannibal' Lecter, now has no choice but to face him again, as it seems Lecter is the only one who can help Graham track down a new serial killer.
2h 7m Crime Mystery Thriller
Two homicide detectives are on a desperate hunt for a serial killer whose crimes are based on the "seven deadly sins" in this dark and haunting film that takes viewers from the tortured remains of one victim to the next. The seasoned Det. Sommerset researches each sin in an effort to get inside the killer's mind, while his novice partner, Mills, scoffs at his efforts to unravel the case.
14.
Along Came a Spider (2001)
1h 44m Crime Mystery Thriller Action
After the harrowing death of his partner, detective and best-selling author Alex Cross has retreated to the peace of retirement. But when a brilliant criminal kidnaps a senator's young daughter, Alex is lured back into action. Teamed with the Secret Service agent assigned to protect the missing girl, Alex follows a serpentine trail of clues that leads him to a stunning discovery - the kidnapper wants more than just ransom.
1h 36m Mystery Thriller
FBI agent Joel Campbell, burnt-out and shell-shocked after years spent chasing serial killers, flees L.A. to begin a new life for himself in Chicago. But five months later, Joel's best laid plans are abruptly cut short when his new hometown becomes the setting for some particularly gruesome murders--murders that could only have been committed by one man: David Allen Griffin. One of Joel's most elusive and cunning nemeses, Griffin has followed his former pursuer to Chicago in order to play a sadistic game of cat and mouse. Taunting Joel with photographs of his intended victims and leaving his crime scenes meticulously free of clues in order to keep the police at bay, Griffin derives as much pleasure out of watching Joel react to every movement as watching his victims die. But when Griffin moves into Joel's inner circle, Joel must quickly find some way to stop him before someone close to him becomes the next one to die.
1h 56m Mystery Thriller
A chess grandmaster is in a big tournament, and when his lover is found painted up and the blood drained out of her body he becomes a chief suspect. After he gets a call from the killer urging him to try and figure out the game, he cooperates with police and a psychologist to try and catch the killer, but doubts linger about the grandmaster's innocence as the string of grisly murders continues.
1h 53m Drama Crime Mystery Romance Thriller
Seen-it-all New York detective Frank Keller is unsettled - he has done twenty years on the force and could retire, and he hasn't come to terms with his wife leaving him for a colleague. Joining up with an officer from another part of town to investigate a series of murders linked by the lonely hearts columns he finds he is getting seriously and possibly dangerously involved with Helen, one of the main suspects.
1h 28m Crime Drama Thriller
Lew is a small time loser with a troubled past and a very big secret. Overhearing a couple plan a kidnapping, Lew is tempted to come up with a scheme of his own. He decides to get to the victim first and then blackmail the real criminals. His plan soon spins out of control.
1h 37m Thriller
A 16 year old girl takes up with a charming young man who quickly shows his colors when he beats a friend simply for walking with her and then goes totally ballistic after she tries to break up with him.
2h Crime Thriller
A psychological thriller about a man who is sometimes controlled by his murder-and-mayhem-loving alter ego.
1h 37m Crime Drama Thriller
The owner of a seedy small-town Texas bar discovers that one of his employees is having an affair with his wife. A chaotic chain of misunderstandings, lies and mischief ensues after he devises a plot to have them murdered.
22.
Never Talk to Strangers (1995)
1h 26m Thriller Romance
Sarah Taylor, a police psychologist, meets a mysterious and seductive young man, Tony Ramirez, and falls in love with him. As a cause of this relationship, she changes her personality when she begins to receive anonymous telephone calls.
1h 42m Mystery Thriller
Federal agent Alexandra Barnes believes that Catherine Petersen is a serial killer who marries rich men and then murders them for their money. But since Catherine is seemingly a master of disguise and has multiple identities, Alexandra can't prove anything with conventional detective work. With no other option, she goes undercover, pursuing the same man as Catherine, and hoping that Catherine will slip up and reveal her true identity.
24.
A Perfect Murder (1998)
1h 47m Crime Thriller Drama
Millionaire industrialist Steven Taylor is a man who has everything but what he craves most: the love and fidelity of his wife. A hugely successful player in the New York financial world, he considers her to be his most treasured acquisition. But she needs more than simply the role of dazzling accessory.
1h 46m Thriller Crime Drama
A woman turns to prescription medication as a way of handling her anxiety concerning her husband's upcoming release from prison.
26.
Unlawful Entry (1992)
1h 57m Crime Thriller Mystery
After a break-in at their house, a couple gets help from one of the cops that answered their call. He helps them install the security system, and begins dropping by on short notice and unofficial patrol, and spends a lot of time discussing the couple's problems with the wife. The husband begins wondering if they're getting too much help.
1h 26m Drama Thriller Mystery
On his sprawling country estate, an aging writer matches wits with the struggling actor who has stolen his wife's heart.
28.
The Boston Strangler (1968)
1h 56m Crime Drama Mystery Thriller
Boston is being terrorized by a series of seemingly random murders of women. Based on the true story, the film follows the investigators path through several leads before introducing the Strangler as a character. It is seen almost exclusively from the point of view of the investigators who have very few clues to build a case upon.
1h 47m Drama Thriller
One day in 1984, Todd Bowden, a brilliant high school boy fascinated by the history of Nazism, stumbles across an old man whose appearance resembles that of Kurt Dussander, a wanted Nazi war criminal. A month later, Todd decides to knock on his door.
2h 3m Crime Drama Mystery Thriller
A police chief about to retire pledges to help a woman find her daughter's killer.
explore
Check out more list from our community