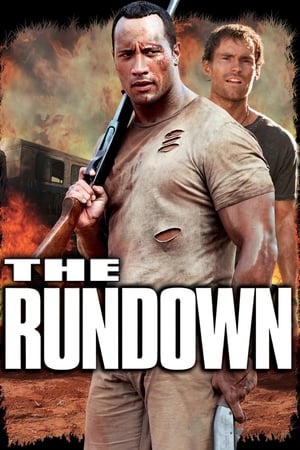 30 Best Movies Like The Rundown ...
If you liked this movie , you will probably love these too! In this list we highlight some of the best films that share a very similar premise to '', and are worth checking out.
2h 4m Action Adventure Comedy Drama Mystery
Scouring the ocean depths for treasure-laden shipwrecks is business as usual for a thrill-seeking underwater adventurer and his wisecracking buddy. But when these two cross paths with a beautiful doctor, they find themselves on the ultimate treasure hunt.
2.
Lara Croft: Tomb Raider (2001)
1h 40m Adventure Fantasy Action Thriller
English aristocrat Lara Croft is skilled in hand-to-hand combat and in the middle of a battle with a secret society. The shapely archaeologist moonlights as a tomb raider to recover lost antiquities and meets her match in the evil Powell, who's in search of a powerful relic.
3.
National Treasure (2004)
2h 11m Adventure Action Thriller Mystery
Modern treasure hunters, led by archaeologist Ben Gates, search for a chest of riches rumored to have been stashed away by George Washington, Thomas Jefferson and Benjamin Franklin during the Revolutionary War. The chest's whereabouts may lie in secret clues embedded in the Constitution and the Declaration of Independence, and Gates is in a race to find the gold before his enemies do.
4.
Romancing the Stone (1984)
1h 46m Adventure Action Comedy Romance
Though she can spin wild tales of passionate romance, novelist Joan Wilder has no life of her own. Then one day adventure comes her way in the form of a mysterious package. It turns out that the parcel is the ransom she'll need to free her abducted sister, so Joan flies to South America to hand it over. But she gets on the wrong bus and winds up hopelessly stranded in the jungle.
5.
Fool's Gold (2008)
1h 50m Drama
An aging Hollywood star, Joe Scott, lives a life of narcissistic hedonism, observed by his laconic personal assistant, Ophelia. The death of his childhood best friend, Boots, takes our protagonist, and the movie, into an extended flashback to a sea-side town in 1970's Britain.
6.
Jumanji: The Next Level (2019)
2h 3m Adventure Comedy Fantasy
As the gang return to Jumanji to rescue one of their own, they discover that nothing is as they expect. The players will have to brave parts unknown and unexplored in order to escape the world's most dangerous game.
7.
National Treasure: Book of Secrets (2007)
2h 4m Action Adventure Mystery Thriller
Benjamin Franklin Gates and Dr. Abigail Chase re-team with Riley Poole and, now armed with a stack of long-lost pages from John Wilkes Booth's diary, Ben must follow a clue left there to prove his ancestor's innocence in the assassination of Abraham Lincoln.
8.
Indiana Jones and the Kingdom of the Crystal Skull (2008)
2h 2m Adventure Action
Set during the Cold War, the Soviets—led by sword-wielding Irina Spalko—are in search of a crystal skull which has supernatural powers related to a mystical Lost City of Gold. Indy is coerced to head to Peru at the behest of a young man whose friend—and Indy's colleague—Professor Oxley has been captured for his knowledge of the skull's whereabouts.
9.
Bulletproof Monk (2003)
1h 44m Action Comedy Fantasy
A mysterious and immortal Tibetan kung fu master, who has spent the last 60 years traveling around the world protecting the ancient Scroll of the Ultimate, mentors a selfish street kid in the ancient intricacies of kung fu.
10.
Raiders of the Lost Ark (1981)
1h 55m Adventure Action
When Dr. Indiana Jones – the tweed-suited professor who just happens to be a celebrated archaeologist – is hired by the government to locate the legendary Ark of the Covenant, he finds himself up against the entire Nazi regime.
11.
Fast & Furious Presents: Hobbs & Shaw (2019)
2h 17m Action Adventure Comedy
Ever since US Diplomatic Security Service Agent Hobbs and lawless outcast Shaw first faced off, they just have traded smack talk and body blows. But when cyber-genetically enhanced anarchist Brixton's ruthless actions threaten the future of humanity, they join forces to defeat him.
12.
Indiana Jones and the Temple of Doom (1984)
1h 58m Adventure Action
After arriving in India, Indiana Jones is asked by a desperate village to find a mystical stone. He agrees – and stumbles upon a secret cult plotting a terrible plan in the catacombs of an ancient palace.
13.
Missing in Action (1984)
1h 47m Comedy
Prison guard Reggio lets Moltes have a weekly lottery ticket in exchange for his suave relationship advice. When Moltes learns that he has a winning lottery ticket, he breaks out of jail to claim his money. However, Reggio's girlfriend, Pauline , has the ticket with her in Africa. The action involves the odd couple teaming up to find the ticket while being chased by Det. Youssouf , along with the vengeful Turk and the Giant.
15.
Armour of God 2: Operation Condor (1991)
16.
Allan Quatermain and the Lost City of Gold (1986)
1h 39m Adventure Action Comedy
After his brother Robeson disappears without a trace while exploring Africa in search of a legendary 'white tribe', Allan Quatermain decides to follow in his footsteps to learn what became of him. Soon after arriving, he discovers the Lost City of Gold, controlled by the evil lord Agon, and mined by his legions of white slaves.
2h 17m Action Thriller
Deckard Shaw seeks revenge against Dominic Toretto and his family for his comatose brother.
1h 28m Adventure Action Comedy
Jackie Chan stars as Asian Hawk, an Indiana Jones-style adventurer looking to make a fortune in exotic antiquities. After Hawk discovers a mysterious sword in Africa, a band of Satan-worshipping monks kidnap his ex-girlfriend Lorelei, demanding the sword as ransom as well as other pieces of the legendary Armour of God - a magical outfit dating back to the Crusades.
19.
The Jewel of the Nile (1985)
1h 46m Adventure Action Comedy Romance
Joan Wilder is thrust back into a world of murder, chases, foreign intrigue... and love. This time out she's duped by a duplicitous Arab dignitary who brings her to the Middle East, ostensibly to write a book about his life. Of course he's up to no good, and Joan is just another pawn in his wicked game. But Jack Colton and his sidekick Ralph show up to help our intrepid heroine save the day.
20.
The Expendables 2 (2012)
1h 43m Action Adventure Thriller
Mr. Church reunites the Expendables for what should be an easy paycheck, but when one of their men is murdered on the job, their quest for revenge puts them deep in enemy territory and up against an unexpected threat.
21.
The Eliminator (2004)
1h 29m Action Thriller
Former LAPD cop, Dakota Varley, enters a power boat race seeking the prize of $250,000, but immediately discovers, first hand, that this race's risk matches the prize: one racer is killed, 3 others seriously injured in multiple action-packed crashes and explosions. Varley tries to leave the lake and collect his prize money but is drugged and kidnapped by Dawson and thrown into a different world: a world where survival means everything and no-one follows the rules. Surrounded by heavily-armed men, he soon learns that he and six other victims have been assembled to be contestants in the ultimate survival game: they will be hunted nightly by hunters with rifles until there is one remaining survivor, who will win a $10,000,000 cash prize!
22.
Anacondas: The Hunt for the Blood Orchid (2004)
1h 36m Adventure Action Horror Thriller
The blood orchid - a rare flower that could hold the secret of eternal life and be worth a fortune to the company that finds it. Led by a pharmaceutical research team, a scientific expedition sets out to explore deep into the jungles of Borneo to locate and bring back samples of the legendary plant. Battling through rainstorms to make their way upriver, the group encounters poisonous insects and a ferocious crocodile, only to discover they're being stalked by an even greater danger: a gathering of giant anacondas! Heat-sensing, fifty-foot-long flesh-eaters that'll go after anyone that crosses their path!
23.
The Transporter (2002)
1h 32m Action Crime Thriller
Former Special Forces officer, Frank Martin will deliver anything to anyone for the right price, and his no-questions-asked policy puts him in high demand. But when he realizes his latest cargo is alive, it sets in motion a dangerous chain of events. The bound and gagged Lai is being smuggled to France by a shady American businessman, and Frank works to save her as his own illegal activities are uncovered by a French detective.
24.
King Solomon's Mines (1985)
1h 40m Action Adventure Comedy
Ever in search of adventure, explorer Allan Quatermain agrees to join the beautiful Jesse Huston on a mission to locate her archaeologist father, who has been abducted for his knowledge of the legendary mines of King Solomon. As the kidnappers, led by sinister German military officer Bockner, journey into the wilds of Africa, Allan and Jesse track the party and must contend with fierce natives and dangerous creatures, among other perils.
2h 10m Action Thriller Crime
Former cop Brian O'Conner partners with ex-con Dom Toretto on the opposite side of the law. Since Brian and Mia Toretto broke Dom out of custody, they've blown across many borders to elude authorities. Now backed into a corner in Rio de Janeiro, they must pull one last job in order to gain their freedom.
26.
Street Fighter (1994)
27.
Fast & Furious 6 (2013)
2h 11m Action Thriller Crime
Hobbs has Dominic and Brian reassemble their crew to take down a team of mercenaries: Dominic unexpectedly gets convoluted also facing his presumed deceased girlfriend, Letty.
1h 37m Action Adventure Comedy Thriller
When the Switchblade, the most sophisticated prototype stealth fighter created yet, is stolen from the U.S. government, one of the United States' top spies, Alex Scott, is called to action. What he doesn't expect is to get teamed up with a cocky civilian, World Class Boxing Champion Kelly Robinson, on a dangerous top secret espionage mission. Their assignment: using equal parts skill and humor, catch Arnold Gundars, one of the world's most successful arms dealers.
29.
The Mummy Returns (2001)
2h 10m Adventure Action Fantasy
Rick and Evelyn O'Connell, along with their 8-year-old son Alex, discover the key to the legendary Scorpion King's might: the fabled Bracelet of Anubis. Unfortunately, a newly resurrected Imhotep has designs on the bracelet as well, and isn't above kidnapping its new bearer, Alex, to gain control of Anubis's otherworldly army.
explore
Check out more list from our community