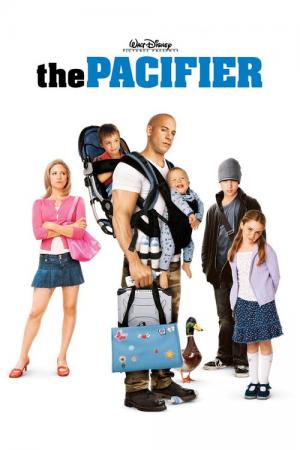 28 Best Movies Like The Pacifier ...
If you liked this one , you will definitely love these too! In this collection we highlight some of the best films that share a very similar mood to '', and are worth checking out.
1.
The Spy Next Door (2010)
1h 34m Action Comedy Family
Former CIA spy Bob Ho takes on his toughest assignment to date: looking after his girlfriend's three kids, who haven't exactly warmed to their mom's beau. And when one of the youngsters accidentally downloads a top-secret formula, Bob's longtime nemesis, a Russian terrorist, pays a visit to the family.
1h 41m Comedy Family
Some say that to be the leader of a country is one of the loneliest jobs in the world. But being the child of a world leader can be doubly so. Constantly surrounded by security officers, restricted in movements and having almost every waking moment carefully monitored makes normalcy an impossibility. No one knows this better than young Luke Davenport, the son of U.S. President Davenport. He vents his loneliness, frustration and feelings of isolation from family and friends by being a brat to his private Secret Service agent. When the agent snaps from the strain in front of the First Lady, a new agent is assigned to Luke. He turns out to be the enormous Sam Simms, a bit of a rogue who managed to rise through the ranks by sheer determination rather than strict adherence to Secret-Service protocol. At first, Luke tries all his old tricks upon Sam. But instead of getting angry, Sam seems to actually understand.
3.
Alexander and the Terrible, Horrible, No Good, Very Bad Day (2014)
1h 21m Family Comedy
Alexander's day begins with gum stuck in his hair, followed by more calamities. Though he finds little sympathy from his family and begins to wonder if bad things only happen to him, his mom, dad, brother, and sister all find themselves living through their own terrible, horrible, no good, very bad day.
1h 42m Comedy Family
9-year-old Alex Pruitt is home alone with the chicken pox. Turns out, due to a mix-up among nefarious spies, Alex was given a toy car concealing a top-secret microchip. Now Alex must fend off the spies as they try break into his house to get it back.
1h 35m Comedy Family
Billionaire heir Richie Rich has it all, including Reggie Jackson as a batting coach and Claudia Schiffer as a personal trainer -- but no playmates. What's more, scoundrel Laurence Van Dough is scheming to take over the family empire. Uh-oh! Enter faithful butler Cadbury to save the day.
7.
Are We There Yet? (2005)
1h 35m Adventure Comedy Family Romance
The fledgling romance between Nick, a playboy bachelor, and Suzanne, a divorced mother of two, is threatened by a particularly harrowing New Years Eve. When Suzanne's work keeps her in Vancouver for the holiday, Nick offers to bring her kids to the city from Portland, Oregon. The kids, who have never liked any of the men their mom dates, are determined to turn the trip into a nightmare for Nick.
8.
Spy Kids 2: Island of Lost Dreams (2002)
1h 40m Action Adventure Family Comedy
Exploring the further adventures of Carmen and Juni Cortez, who have now joined the family spy business as Level 2 OSS agents. Their new mission is to save the world from a mad scientist living on a volcanic island populated by an imaginative menagerie of creatures. On this bizarre island, none of the Cortez's gadgets work and they must rely on their wits--and each other--to survive and save the day.
9.
Baby's Day Out (1994)
10.
Dennis the Menace (1993)
25m Animation Comedy
Based upon one of the most successful and evergreen comic strips ever published (and inspiration for the hit live action movie), Hank Ketcham's classic "Dennis The Menace," this series stars the irrepressible Dennis and his unwilling best friend, the grumpy Mr. Wilson. This heartwarming and hilarious series depicts the adult world from a child's perspective.
1h 25m Comedy Family TV Movie
Harry Habert, owner of a rent office has an original idea: To rent babies from a nearby orphanage to the local families. He rents the Ward brothers to his first customers...
12.
3 Men and a Baby (1987)
1h 42m Family Comedy
Three bachelors find themselves forced to take care of a baby left by one of the guy's girlfriends.
1h 34m Action Comedy Crime Family
A drug sniffing agent canine is a target for an assassin boss so the FBI calls Witness Protection to send him somewhere else. Meanwhile a single Mom puts her 6 year old boy James in the care of her irresponsible, mailman, neighbor, Gordon, when the babysitter bails on her. Meanwhile, an assassin mob boss hires 2 goons to kill Agent 11. But when 11 escapes from the van when they tried to kill him, he hides in Gordon's Mailtruck that James is in too. And guess what they name him. Spot.
14.
Daddy Day Care (2003)
1h 32m Comedy Family
Two men get laid off and have to become stay-at-home dads when they can't find jobs, which inspires them to open their own day-care center.
15.
Catch That Kid (2004)
1h 32m Family Action Adventure
Athletic 12-year-old Maddy (Kristen Stewart) shares an enthusiasm for mountain climbing with her father, Tom (Sam Robards). Unfortunately, Tom suffers a spinal injury while scaling Mount Everest, and his family is unable to afford the surgery that can save him. Maddy decides to get the money for her father's operation by robbing a high-security bank. She relies on her climbing skills and help from her geeky friends (Max Thieriot, Corbin Bleu) to pull it off successfully.
16.
3 Ninjas: High Noon at Mega Mountain (1998)
1h 33m Family Action Comedy
Three young boys, Rocky, Colt and Tum Tum together with their neighbor girl, computer whiz Amanda are visiting Mega Mountain amusement park when it is invaded by an army of ninjas led by evil Medusa, who wants to take over the park and hold the owners for ransom. Kids and retired TV star Dave Dragon, who made his farewell appearance at the park at the time the ninjas appeared, have to break Medusa's vicious plans.
17.
Cats & Dogs (2001)
1h 27m Family Comedy
When a professor develops a vaccine that eliminates human allergies to dogs, he unwittingly upsets the fragile balance of power between cats and dogs and touches off an epic battle for pet supremacy. The fur flies as the feline faction, led by Mr. Tinkles, squares off against wide-eyed puppy Lou and his canine cohorts.
18.
Yours, Mine & Ours (2005)
1h 30m Comedy Family Romance
Admiral Frank Beardsley returns to New London to run the Coast Guard Academy, his last stop before a probable promotion to head the Guard. A widower with eight children, he runs a loving but tight ship, with charts and salutes. The kids long for a permanent home. Helen North is a free spirit, a designer whose ten children live in loving chaos, with occasional group hugs. Helen and Frank, high school sweethearts, reconnect at a reunion, and it's love at first re-sighting. They marry on the spot. Then the problems start as two sets of kids, the free spirits and the disciplined preppies, must live together. The warring factions agree to work together to end the marriage.
1h 28m Action Comedy Family Adventure
Carmen and Juni think their parents are boring. Little do they know that in their day, Gregorio and Ingrid Cortez were the top secret agents from their respective countries. They gave up that life to raise their children. Now, the disappearances of several of their old colleagues forces the Cortez' return from retirement. What they didn't count on was Carmen and Juni joining the "family business."
20.
Babysitters Beware (2009)
1h 11m Drama Comedy Family
Seven-year-old Danny Parker is a good kid who loves his parents. But they have to go out on business dinners all the time, leaving him stuck with a sitter. It's not so bad when it's his favorite babysitter, Janelle but he also gets stuck with sitters like Ms. Greene who won't let him have any fun. Danny just wants to spend more time with his Mom and Dad.
1h 24m Adventure Comedy Family
An eccentric socialite raises a gorilla as her son.
22.
Barney's Great Adventure (1998)
1h 16m Family
Mom and dad dump son Cody, daughter Abby, her best friend Marcella and a baby on the farm with Grandpa and Grandma. Purple dinosaur Barney soon appears to entertain kids, and when a large colorful egg deposited on a farm by a shooting star is accidentally carted off, Barney and kids start their chase for it
23.
3 Ninjas Knuckle Up (1993)
24.
A Modern Twain Story: The Prince and the Pauper (2007)
1h 32m Comedy Drama Family
A modern day telling of the Mark Twain classic, The Prince and the Pauper.
25.
Parental Guidance (2012)
1h 44m Comedy
Artie and Diane agree to look after their three grandkids when their type-A helicopter parents need to leave town for work. Problems arise when the kids' 21st-century behavior collides with Artie and Diane's old-school methods.
26.
The Baby-Sitters Club (1995)
1h 34m Comedy Drama Family
It's the story about seven very different best friends, and one summer that will bring them together like never before.
27.
Suburban Commando (1991)
1h 28m Action Comedy Family Science Fiction
Shep Ramsey is an interstellar hero, righting wrongs, etc. His ship is damaged after a fight with an interstellar nasty and he must hide out on Earth until it can recharge. He leaves his power suit at home, but still finds himself unable to allow wrongs to go unrighted and so mixes it up with bad drivers, offensive paperboys, muggers and the like.
explore
Check out more list from our community