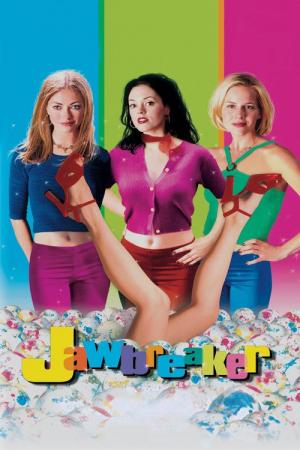 13 Best Movies Like Jawbreaker ...
If you liked this film , you will definitely love these too! In this list we highlight some of the best films that share a very similar mood to 'Jawbreaker', and are worth checking out.
1.
2 Days in the Valley (1996)
1h 44m Comedy Crime Thriller
In a sleepy bedroom community of LA's San Fernando Valley, the murder of a professional athlete by two hit men sets into motion a chain of events that puts the mundane lives of a dozen residents on a collision course. This clever tale tells the story of two hit men, a mistress, a nurse, a vindictive ex-wife, a wealthy art dealer and his lovelorn assistant, a suicidal writer and his dog, and a bitter cop and his partner.
1h 41m Drama Comedy
Five best friends from college reunite 10 years later for a wild bachelorette weekend in Miami. Their hard partying takes a hilariously dark turn when they accidentally kill a male stripper. Amidst the craziness of trying to cover it up, they're ultimately brought closer together when it matters most.
1h 37m Comedy
Cady Heron is a hit with The Plastics, the A-list girl clique at her new school, until she makes the mistake of falling for Aaron Samuels, the ex-boyfriend of alpha Plastic Regina George.
1h 43m Comedy Crime
A girl who halfheartedly tries to be part of the "in crowd" of her school meets a rebel who teaches her a more devious way to play social politics: by killing the popular kids.
5.
Teaching Mrs. Tingle (1999)
1h 36m Comedy Crime
Leanne is salutatorian when she needs to be valedictorian to get her scholarship to Harvard. The only class she is worse than the leader in is history, taught by Mrs. Tingle, and the teacher hates her. When an attempt to get ahead in Mrs. Tingle's class goes awry, mayhem ensues and friendships, loyalties and trust are tested by the teacher's intricate mind-games.
1h 46m Drama Comedy Crime
Suzanne Stone wants to be a world-famous news anchor and she is willing to do anything to get what she wants. What she lacks in intelligence, she makes up for in cold determination and diabolical wiles. As she pursues her goal with relentless focus, she is forced to destroy anything and anyone that may stand in her way, regardless of the ultimate cost or means necessary.
1h 24m Horror Comedy Crime
Set in and around a small town high school in Kansas, Beth is a naive senior student who asks her two new friends, the slick and outgoing Julie, and her boyfriend Scott to help her cover up the accidental killing of the hated school principal. But they are observed by Terra, a student nominated for prom queen, who blackmails them into rigging the election in her favor. Undaunted, Beth, Julie and Scott turn to the most popular/hated student Cherry to kill Terra for them. Cherry agrees to the hit, but only if she gets Terra's nomination for prom queen and the crown as well which sets off more complications for all involved.
8.
The Last Supper (1995)
1h 32m Comedy Thriller Crime Drama
A group of idealistic, but frustrated, liberals succumb to the temptation of murdering rightwing pundits for their political beliefs.
1h 35m Comedy Romance
At a high-school party, four friends find that losing their collective virginity isn't as easy as they had thought. But they still believe that they need to do so before college. To motivate themselves, they enter a pact to all "score" by their senior prom.
1h 37m Comedy Romance
Shallow, rich and socially successful Cher is at the top of her Beverly Hills high school's pecking scale. Seeing herself as a matchmaker, Cher first coaxes two teachers into dating each other. Emboldened by her success, she decides to give hopelessly klutzy new student Tai a makeover. When Tai becomes more popular than she is, Cher realizes that her disapproving ex-stepbrother was right about how misguided she was -- and falls for him.
42m Comedy
A pitch-black comedy anthology set in the present day, as our heroine Veronica Sawyer deals with a very different but equally vicious group of Heathers. Based on the 1988 cult classic film.
1h 40m Romance Comedy
Bianca's universe turns upside down when she learns that her high school refers to her as a 'DUFF' (Designated Ugly Fat Friend). Hoping to erase that label, she enlists the help of a charming jock and her favorite teacher. Together they'll face the school's mean girl and remind everyone that we are all someone's DUFF… and that's totally fine.
13.
Bang Bang You're Dead (2002)
explore
Check out more list from our community