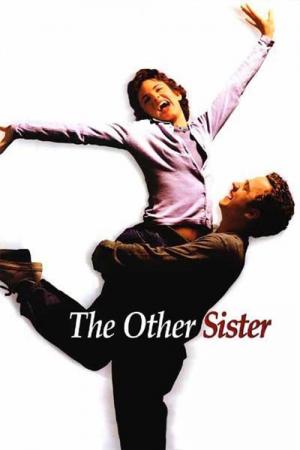 14 Best Movies Like The Other Sister ...
If you liked this movie , you will definitely love these too! In this collection we highlight some of the best films that share a very similar premise to 'The Other Sister', and are worth checking out.
1h 47m Drama Romance
Angie lives in the Bensonhurst section of Brooklyn, N.Y. and dreams of a better life than everyone she knows. When she finds that she is pregnant by her boyfriend Vinnie, she decides that she will have the baby, but not Vinnie as a husband. This turns the entire neighborhood upside down and starts her on a journey of self discovery. This journey includes her family, a new lover and her life. Even her best friend Tina has trouble understanding Angie. Written by Tony Fontana
2.
Something's Gotta Give (2003)
2h 8m Drama Comedy Romance
Harry Sanborn is an aged music industry exec with a fondness for younger women like Marin, his latest trophy girlfriend. Things get a little awkward when Harry suffers a heart attack at the home of Marin's mother, Erica. Left in the care of Erica and his doctor, a love triangle starts to take shape.
3.
Benny & Joon (1993)
1h 38m Comedy Drama
A mentally ill young woman finds her love in an eccentric man who models himself after Buster Keaton.
4.
Father of the Bride (1991)
1h 45m Comedy Romance
George Banks is an ordinary, middle-class man whose 22 year-old daughter Annie has decided to marry a man from an upper-class family, but George can't think of what life would be like without his daughter. His wife tries to make him happy for Annie, but when the wedding takes place at their home and a foreign wedding planner takes over the ceremony, he becomes slightly insane.
1h 55m Comedy Drama Romance
Renata Bella feels like a failure at life and career. But when Renata attends a seminar on selling real estate, she finally finds True Love. Sam Sharpe, while a top-notch, successful salesman, is much older than Renata. She is swept away by his excessively flamboyant style and irrepressible nature. The very traits she finds romantic, however, lead to repeated conflict with her family, especially her beloved father Joe, leaving Renata trapped in the middle.
6.
Music from Another Room (1998)
1h 44m Comedy Drama Romance
Music From Another Room is a romantic comedy that follows the exploits of Danny, a young man who grew up believing he was destined to marry the girl he helped deliver as a five year old boy when his neighbor went into emergency labor. Twenty-five years later, Danny returns to his hometown and finds the irresistible Anna Swann but she finds it easy to resist him since she is already engaged to dreamboat Eric, a very practical match. In pursuit of Anna, Danny finds himself entangled with each of the eccentric Swanns including blind, sheltered Nina, cynical sister Karen, big brother Bill and dramatic mother Grace as he fights to prove that fate should never be messed with and passion should never be practical.
8.
The Evening Star (1996)
2h 9m Drama Romance Family Comedy
Continuing the story of Aurora Greenway in her latter years. After the death of her daughter, Aurora struggled to keep her family together, but has one grandson in jail, a rebellious granddaughter, and another grandson living just above the poverty line.
9.
Because I Said So (2007)
1h 42m Comedy Romance
In an effort to prevent family history from repeating itself, meddlesome mom Daphne Wilder attempts to set up her youngest daughter, Milly, with Mr. Right. Meanwhile, her other daughters try to keep their mom's good intentions under control.
10.
Sleepless in Seattle (1993)
1h 45m Comedy Drama Romance
Desperate to find his dad Sam a date, a young boy calls into a radio show and catches the attention of Annie, a journalist who wants to meet Sam atop the Empire State Building.
11.
She's Having a Baby (1988)
1h 59m Drama Comedy Romance
Helen Harris has a glamorous, big-city life working for one of New York's hottest modeling agencies. But suddenly her free-spirited life gets turned upside down when she must chose between the life she's always loved, and the new loves of her life!
13.
Darling Companion (2012)
1h 43m Drama Romance
The story of a woman who loves her dog more than her husband. And then her husband loses the dog.
14.
The Mirror Has Two Faces (1996)
2h 6m Comedy Drama Romance
Rose Morgan, who still lives with her mother, is a professor of Romantic Literature who desperately longs for passion in her life. Gregory Larkin, a mathematics professor, has been burned by passionate relationships and longs for a sexless union based on friendship and respect.
explore
Check out more list from our community