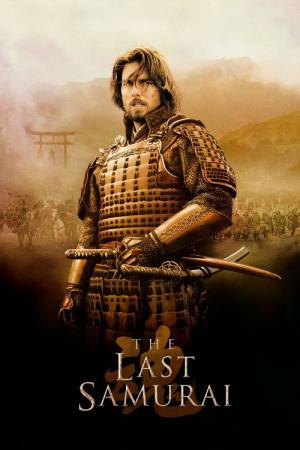 30 Best Movies Like The Last Samurai ...
If you liked this movie , you will definitely love these too! In this selection we highlight some of the best films that share a very similar premise to '', and are worth checking out.
2h 35m Action Drama Adventure
In the year 180, the death of emperor Marcus Aurelius throws the Roman Empire into chaos. Maximus is one of the Roman army's most capable and trusted generals and a key advisor to the emperor. As Marcus' devious son Commodus ascends to the throne, Maximus is set to be executed. He escapes, but is captured by slave traders. Renamed Spaniard and forced to become a gladiator, Maximus must battle to the death with other men for the amusement of paying audiences.
2h 58m Action Drama History War
Enraged at the slaughter of Murron, his new bride and childhood love, Scottish warrior William Wallace slays a platoon of the local English lord's soldiers. This leads the village to revolt and, eventually, the entire country to rise up against English rule.
3.
Kingdom of Heaven (2005)
2h 24m Drama Action Adventure History War
After his wife dies, a blacksmith named Balian is thrust into royalty, political intrigue and bloody holy wars during the Crusades.
2h 45m Drama History War Action
After proving himself on the field of battle in the French and Indian War, Benjamin Martin wants nothing more to do with such things, preferring the simple life of a farmer. But when his son Gabriel enlists in the army to defend their new nation, America, against the British, Benjamin reluctantly returns to his old life to protect his son.
5.
Dances with Wolves (1990)
3h 1m Adventure Drama Western
Wounded Civil War soldier, John Dunbar tries to commit suicide—and becomes a hero instead. As a reward, he's assigned to his dream post, a remote junction on the Western frontier, and soon makes unlikely friends with the local Sioux tribe.
1h 59m Drama Action Adventure Fantasy
Kai—an outcast—joins Oishi, the leader of 47 outcast samurai. Together they seek vengeance upon the treacherous overlord who killed their master and banished their kind. To restore honour to their homeland, the warriors embark upon a quest that challenges them with a series of trials that would destroy ordinary warriors.
1h 37m Adventure Action Drama
Britain, A.D. 117. Quintus Dias, the sole survivor of a Pictish raid on a Roman frontier fort, marches north with General Virilus' legendary Ninth Legion, under orders to wipe the Picts from the face of the Earth and destroy their leader, Gorlacon.
8.
Saving Private Ryan (1998)
2h 49m Drama History War
As U.S. troops storm the beaches of Normandy, three brothers lie dead on the battlefield, with a fourth trapped behind enemy lines. Ranger captain John Miller and seven men are tasked with penetrating German-held territory and bringing the boy home.
2h 43m Adventure History War
In year 1250 B.C. during the late Bronze age, two emerging nations begin to clash. Paris, the Trojan prince, convinces Helen, Queen of Sparta, to leave her husband Menelaus, and sail with him back to Troy. After Menelaus finds out that his wife was taken by the Trojans, he asks his brother Agamemnom to help him get her back. Agamemnon sees this as an opportunity for power. So they set off with 1,000 ships holding 50,000 Greeks to Troy. With the help of Achilles, the Greeks are able to fight the never before defeated Trojans.
2h 55m War History Action Adventure Drama Romance
Alexander, the King of Macedonia, leads his legions against the giant Persian Empire. After defeating the Persians, he leads his army across the then known world, venturing farther than any westerner had ever gone, all the way to India.
11.
Tae Guk Gi: The Brotherhood of War (2004)
2h 29m Action Adventure Drama History War
When two brothers are forced to fight in the Korean War, the elder decides to take the riskiest missions if it will help shield the younger from battle.
12.
The Lord of the Rings: The Return of the King (2003)
3h 21m Adventure Fantasy Action
Aragorn is revealed as the heir to the ancient kings as he, Gandalf and the other members of the broken fellowship struggle to save Gondor from Sauron's forces. Meanwhile, Frodo and Sam take the ring closer to the heart of Mordor, the dark lord's realm.
3h 27m History Drama Action
The story tells of a group of samurai who were left leaderless (becoming ronin) after their daimyo (feudal lord) was forced to commit seppuku (ritual suicide) for assaulting a court official named Kira Yoshinaka, whose title was Kōzuke no suke. The ronin avenged their master's honor after patiently waiting and planning for over a year to kill Kira. In turn, the ronin were themselves forced to commit seppuku for committing the crime of murder.
30m Animation Comedy
Class of 3000 is an American animated television series on Cartoon Network that was created by, was executively produced by, and starred André 3000 of the Hip Hop group OutKast as superstar and music teacher Sunny Bridges, set at Atlanta, Georgia's Westley School of Performing Arts. Mr. Bridges is a jazz and blues artist who occasionally lectures in Atlanta's Little Five Points residential area. It was produced by Tom Lynch Company, Moxie Turtle and Cartoon Network Studios.As of September 25, 2011, it's currently the last Cartoon Network series to be given a TV-Y7 rating without the Fantasy Violence side rating to accompany it as an ironic result. It is also the final Cartoon Network show which aired at the time Jim Samples had been in charge of Cartoon Network.
16.
Letters from Iwo Jima (2006)
2h 21m Action Drama War
The story of the battle of Iwo Jima between the United States and Imperial Japan during World War II, as told from the perspective of the Japanese who fought it.
3h Action Drama History War
Akira Kurosawa's lauded feudal epic presents the tale of a petty thief who is recruited to impersonate Shingen, an aging warlord, in order to avoid attacks by competing clans. When Shingen dies, his generals reluctantly agree to have the impostor take over as the powerful ruler. He soon begins to appreciate life as Shingen, but his commitment to the role is tested when he must lead his troops into battle against the forces of a rival warlord.
18.
300: Rise of an Empire (2014)
1h 42m Action Drama
Greek general Themistokles attempts to unite all of Greece by leading the charge that will change the course of the war. Themistokles faces the massive invading Persian forces led by mortal-turned-god, Xerxes and Artemesia, the vengeful commander of the Persian navy.
19.
Kenshin Samurai X (2012)
2h 14m Drama Action History War
Joe Enders is a gung-ho Marine assigned to protect a "windtalker" - one of several Navajo Indians who were used to relay messages during World War II because their spoken language was indecipherable to Japanese code breakers.
4h 31m Drama History War
In the summer of 1863, General Robert E. Lee leads the Confederate Army of Northern Virginia into Gettysburg, Pennsylvania with the goal of marching through to Washington, D.C. The Union Army of the Potomac, under the command of General George G. Meade, forms a defensive position to confront the rebel forces in what will prove to be the decisive battle of the American Civil War.
22.
Lone Wolf and Cub: Baby Cart to Hades (1972)
1h 29m Drama Action
In the third film of the Lone Wolf and Cub series, Ogami Itto volunteers to be tortured by Yakuza to save a prostitute and is hired by their leader to kill an evil chamberlain.
2h 30m Action Adventure Drama War
In 208 A.D., in the final days of the Han Dynasty, shrewd Prime Minster Cao convinced the fickle Emperor Han the only way to unite all of China was to declare war on the kingdoms of Xu in the west and East Wu in the south. Thus began a military campaign of unprecedented scale. Left with no other hope for survival, the kingdoms of Xu and East Wu formed an unlikely alliance.
24.
Flags of Our Fathers (2006)
2h 15m War Drama History
There were five Marines and one Navy Corpsman photographed raising the U.S. flag on Mt. Suribachi by Joe Rosenthal on February 23, 1945. This is the story of three of the six surviving servicemen - John 'Doc' Bradley, Pvt. Rene Gagnon and Pvt. Ira Hayes - who fought in the battle to take Iwo Jima from the Japanese.
2h 21m Adventure Drama Action
A bravado period action film set at the end of Japan's feudal era in which a group of unemployed samurai are enlisted to bring down a sadistic lord and prevent him from ascending to the throne and plunging the country into a war-torn future.
26.
Band of Brothers (2001)
1h Drama War & Politics
Drawn from interviews with survivors of Easy Company, as well as their journals and letters, Band of Brothers chronicles the experiences of these men from paratrooper training in Georgia through the end of the war. As an elite rifle company parachuting into Normandy early on D-Day morning, participants in the Battle of the Bulge, and witness to the horrors of war, the men of Easy knew extraordinary bravery and extraordinary fear - and became the stuff of legend. Based on Stephen E. Ambrose's acclaimed book of the same name.
1h 46m Drama Action History
A semi-biographical account of Yip Man, the first martial arts master to teach the Chinese martial art of Wing Chun. The film focuses on events surrounding Ip that took place in the city of Foshan between the 1930s to 1940s during the Second Sino-Japanese War. Directed by Wilson Yip, the film stars Donnie Yen in the lead role, and features fight choreography by Sammo Hung.
28.
To End All Wars (2001)
1h 48m Drama War Action
Based on a real-life story, this drama focuses on a small group of Allied soldiers in Burma who are held captive by the Japanese. Capt. Ernest Gordon (Ciaran McMenamin), Lt. Jim Reardon (Kiefer Sutherland) and Maj. Ian Campbell (Robert Carlyle) are among the military officers kept imprisoned and routinely beaten and deprived of food. While Campbell wants to rebel and attempt an escape, Gordon tries to take a more stoic approach, an attitude that proves to be surprisingly resonant.
29.
The Sword of Doom (1966)
2h 2m Action Drama
Ryunosuke, a gifted swordsman plying his trade during the turbulent final days of Shogunate rule, has no moral code and kills without remorse. It's a way of life that leads to madness.
explore
Check out more list from our community