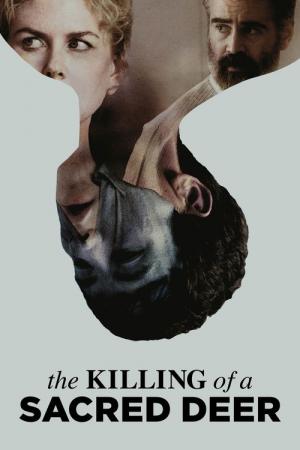 29 Best Movies Like The Killing Of A Sacred Deer ...
If you liked this one , you will probably love these too! In this selection we highlight some of the best films that share a very similar premise to '', and are worth checking out.
1h 58m Comedy Drama Romance
In a dystopian near future, single people, according to the laws of The City, are taken to The Hotel, where they are obliged to find a romantic partner in forty-five days or are transformed into beasts and sent off into The Woods.
2h 7m Horror Mystery Thriller
When Ellen, the matriarch of the Graham family, passes away, her daughter's family begins to unravel cryptic and increasingly terrifying secrets about their ancestry.
7m Animation
A man escapes from prison and meets a boy who has run away from school.
1h 50m Horror Thriller Mystery
Found footage helps a true-crime novelist realize how and why a family was murdered in his new home, though his discoveries put his entire family in the path of a supernatural entity.
2h 33m Drama Thriller Crime
Keller Dover faces a parent's worst nightmare when his 6-year-old daughter, Anna, and her friend go missing. The only lead is an old motorhome that had been parked on their street. The head of the investigation, Detective Loki, arrests the driver, but a lack of evidence forces Loki to release his only suspect. Dover, knowing that his daughter's life is at stake, decides that he has no choice but to take matters into his own hands.
2h 1m Drama Horror Mystery
A couple's relationship is tested when uninvited guests arrive at their home, disrupting their tranquil existence.
1h 38m Drama
Three teenagers are confined to an isolated country estate that could very well be on another planet. The trio spend their days listening to endless homemade tapes that teach them a whole new vocabulary. Any word that comes from beyond their family abode is instantly assigned a new meaning. Hence 'the sea' refers to a large armchair and 'zombies' are little yellow flowers. Having invented a brother whom they claim to have ostracized for his disobedience, the uber-controlling parents terrorize their offspring into submission.
8.
Don't Say a Word (2001)
1h 38m Horror Thriller
A woman is involuntarily committed to a mental institution where she is confronted by her greatest fear.
1h 31m Thriller Mystery
Juliet, a beautiful doctor, has found the perfect New York apartment to start a new life after separating from her husband. It's got spacious rooms, a spectacular view, and a handy, handsome landlord. But there are secrets behind every wall and terror in every room as Juliet gets the unnerving feeling that she is not alone.
2h 2m Horror Action Thriller Fantasy
The Shadow Mountains, 1983. Red and Mandy lead a loving and peaceful existence; but when their pine-scented haven is savagely destroyed, Red is catapulted into a phantasmagoric journey filled with bloody vengeance and laced with fire.
1h 48m Drama Horror Thriller
A grieving couple retreats to their cabin 'Eden' in the woods, hoping to repair their broken hearts and troubled marriage. But nature takes its course and things go from bad to worse.
15.
Before I Go to Sleep (2014)
1h 32m Mystery Thriller
A woman wakes up every day, remembering nothing as a result of a traumatic accident in her past. One day, new terrifying truths emerge that force her to question everyone around her.
16.
The Taking of Deborah Logan (2014)
1h 30m Horror Mystery Thriller
What starts as a poignant medical documentary about Deborah Logan's descent into Alzheimer's disease and her daughter's struggles as caregiver degenerates into a maddening portrayal of dementia at its most frightening, as hair-raising events begin to plague the family and crew and an unspeakable malevolence threatens to tear the very fabric of sanity from them all.
1h 48m Horror Drama Thriller
Three college students set out to document what other people dread the most. However, one of the three turns out to secretly be a sadistic psychopath who uses this knowledge to gruesomely torture the subjects.
19.
I Am Not a Serial Killer (2016)
1h 53m Thriller Drama Horror Science Fiction
A quadriplegic man is given a trained monkey help him with every day activities, until the little monkey begins to develop feelings, and rage, against its new master and those who get too close to him.
1h 27m Horror Thriller Mystery
A young woman fights the spirit that is slowly taking possession of her.
1h 42m Crime Drama Horror Thriller
Four teenagers at a British private school secretly uncover and explore the depths of a sealed underground hole created decades ago as a possible bomb shelter.
23.
The Loved Ones (2009)
1h 24m Horror
Lola Stone asked Brent Mitchell to the prom, but Brent said no, and now he's screwed. What happens when Lola doesn't get what she wants? She enlists Daddy's help to throw a prom of her own, where she is queen and Brent is king -- whether he likes it or not.
1h 29m Horror Thriller Mystery
A masked killer, wearing World War II U.S. Army fatigues, stalks a small New Jersey town bent on reliving a 35-year-old double murder by focusing on a group of college kids holding an annual Spring Dance.
26.
The Stepfather (1987)
1h 29m Horror Thriller
A seemingly mild mannered man -- who has just murdered his entire family -- quickly adopts a new identity and leaves town. After building a new relationship with a widow and her teenage daughter, he struggles to hide his true identity and maintain a grip on reality.
1h 39m Drama Horror Thriller
When 54 high school girls throw themselves in front of a subway train it appears to be only the beginning of a string of suicides around the country. Does the new all-girl group Desert have anything to do with it? Detective Kuroda tries to find the answer, which isn't as simple as he had hoped.
1h 21m Horror Thriller
A young woman studying the habits of webcam chat users from the apparent safety of her apartment witnesses a brutal murder online and is quickly immersed in a nightmare in which she and her loved ones are targeted for the same grisly fate as the first victim.
explore
Check out more list from our community