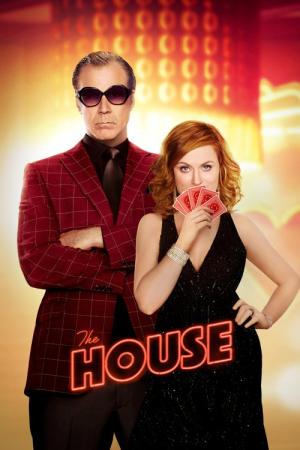 26 Best Movies Like The House ...
If you liked this movie , you will for sure love these too! In this list we highlight some of the best films that share a very similar mood to '', and are worth checking out.
1.
Dirty Rotten Scoundrels (1988)
1h 50m Crime Comedy
Two con men try to settle their rivalry by betting on who can be the first to swindle a young American heiress out of $50,000.
1h 40m Comedy
When obscenely rich hedge-fund manager James is convicted of fraud and sentenced to a stretch in San Quentin, the judge gives him one month to get his affairs in order. Knowing that he won't survive more than a few minutes in prison on his own, James desperately turns to Darnell-- a black businessman who's never even had a parking ticket -- for help. As Darnell puts James through the wringer, both learn that they were wrong about many things, including each other.
1h 24m Comedy Crime
Takeoff on the Godfather with the son of a mafia king taking over for his dying father.
4.
The World Is Yours (2018)
5.
Splitting Heirs (1993)
1h 28m Comedy Crime
Two untalented singers are mistaken for a pair of major league safe crackers in Providence, Rhode Island. The two are pressed into service by the local hoodlums and quickly find themselves in conflict with their professional colleagues. Romantic interest is added by the daughter of the underworld leader who won't date the men she knows are gangsters.
1h 23m Drama Action Comedy
Maurice and Dave sell high-end cuts of beef, but after hitting a patch of no sales, they're facing being fired. Maurice needs money to enroll in his final semester of acupuncture school, and the recently-separated Dave needs money for his daughter's birthday gift. Their final client card—a beautiful woman—is attracted to Maurice, but a desperate call from a suicidal friend interrupts her signing the contract. Still hoping to close the sale, they offer to drive her to the friend's house—where their troubles multiply.
1h 37m Comedy
A couple with a newborn baby face unexpected difficulties after they are forced to live next to a fraternity house.
1h 34m Comedy
Two female scam artists, one low rent and the other high class, compete to swindle a naïve tech prodigy out of his fortune. A remake of the 1988 comedy "Dirty Rotten Scoundrels."
1h 38m Crime Comedy Thriller
Grocery store clerk Simon occasionally sells drugs from his cash register at work, so when soap opera actors Adam and Zack come looking for Ecstasy on a quiet Christmas Eve, they are surprised to find Ronna covering his shift. Desperate for money, Ronna decides to become an impromptu drug dealer, unaware that Adam and Zack are secretly working for obsessed narcotics officer Burke.
1h 35m Comedy Crime
Three mischievous employees of a bank in a small deserted town all make plans to rob it at the same time, however none of them knows about the others.
2h 9m Comedy Crime Drama
Set in the 1930s this intricate caper deals with an ambitious small-time crook and a veteran con man who seek revenge on a vicious crime lord who murdered one of their gang.
15.
How to Beat the High Co$t of Living (1980)
1h 40m Comedy Crime
Harry Valentini and Moe Dickstein are both errand boys for the Mob. When they lose $250,000, they are set up to kill each other. But they run off to Atlantic City and comedy follows.
17.
The Whole Nine Yards (2000)
1h 38m Comedy Crime
After a mobster agrees to cooperate with an FBI investigation in order to stay out of prison, he's relocated by the authorities to a life of suburban anonymity as part of a witness protection program. It's not long before a couple of his new neighbours figure out his true identity and come knocking to see if he'd be up for one more hit—suburban style.
1h 26m Action Comedy Crime
Corky Romano is a bumbling, simpleton, veterinarian and the youngest, outcast son of an aging gangster, named Pops Romano, who calls upon Corky to infiltrate the local FBI and retrieve and destroy evidence being used to incriminate Pops for racketeering charges.
20.
Going in Style (2017)
1h 36m Crime Comedy
Desperate to pay the bills and come through for their loved ones, three lifelong pals risk it all by embarking on a daring bid to knock off the very bank that absconded with their money.
21.
Fun with Dick and Jane (2005)
1h 30m Comedy
After Dick Harper loses his job at Globodyne in an Enron-esque collapse, he and his wife, Jane, turn to crime in order to handle the massive debt they now face. Two intelligent people, Dick and Jane actually get pretty good at robbing people and even enjoy it -- but they have second thoughts when they're reminded that crime can hurt innocent people. When the couple hears that Globodyne boss Jack McCallister actually swindled the company, they plot revenge.
22.
Vegas Vacation (1997)
1h 33m Comedy
The Griswold family hits the road again for a typically ill-fated vacation, this time to the glitzy mecca of slots and showgirls—Las Vegas.
1h 28m Comedy
Three friends attempt to recapture their glory days by opening up a fraternity near their alma mater.
24.
Big Money Hustlas (2000)
explore
Check out more list from our community