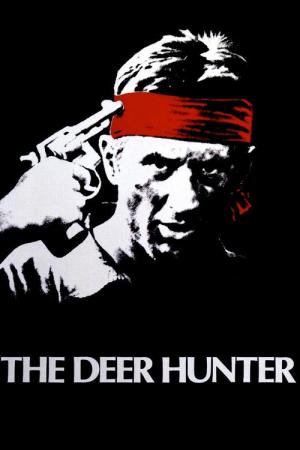 25 Best Movies Like The Deer Hunter ...
If you liked this one , you will probably love these too! In this selection we highlight some of the best films that share a very similar premise to '', and are worth checking out.
1.
Full Metal Jacket (1987)
1h 57m Drama War
A pragmatic U.S. Marine observes the dehumanizing effects the U.S.-Vietnam War has on his fellow recruits from their brutal boot camp training to the bloody street fighting in Hue.
2h 27m Drama War
At the height of the Vietnam war, Captain Benjamin Willard is sent on a dangerous mission that, officially, "does not exist, nor will it ever exist." His goal is to locate - and eliminate - a mysterious Green Beret Colonel named Walter Kurtz, who has been leading his personal army on illegal guerrilla missions into enemy territory.
3.
Born on the Fourth of July (1989)
2h 25m Drama War
The biography of Ron Kovic. Paralyzed in the Vietnam war, he becomes an anti-war and pro-human rights political activist after feeling betrayed by the country he fought for.
4.
The Thin Red Line (1998)
2h 51m Drama History War
The story of a group of men, an Army Rifle company called C-for-Charlie, who change, suffer, and ultimately make essential discoveries about themselves during the fierce World War II battle of Guadalcanal. It follows their journey, from the surprise of an unopposed landing, through the bloody and exhausting battles that follow, to the ultimate departure of those who survived.
2h Drama War Action
As a young and naive recruit in Vietnam, Chris Taylor faces a moral crisis when confronted with the horrors of war and the duality of man.
2h Adventure Drama War
A US Fighter pilot's epic struggle of survival after being shot down on a mission over Laos during the Vietnam War.
2h 12m Drama Action History War
It is 1943, and the German army—ravaged and demoralised—is hastily retreating from the Russian front. In the midst of the madness, conflict brews between the aristocratic yet ultimately pusillanimous Captain Stransky and the courageous Corporal Steiner. Stransky is the only man who believes that the Third Reich is still vastly superior to the Russian army. However, within his pompous persona lies a quivering coward who longs for the Iron Cross so that he can return to Berlin a hero. Steiner, on the other hand is cynical, defiantly non-conformist and more concerned with the safety of his own men rather than the horde of military decorations offered to him by his superiors.
8.
Hart's War (2002)
2h 5m Drama War
Fourth-generation Army Col. William McNamara is imprisoned in a brutal German POW camp. Still, as the senior-ranking American officer, he commands his fellow inmates, keeping a sense of honor alive in a place where honor is easy to destroy, all under the dangerous eye of the Luftwafe vetran Col. Wilhelm Visser. Never giving up the fight to win the war, McNamara is silently planning, waiting for his moment to strike back at the enemy. A murder in the camp gives him the chance to set a risky plan in motion. With a court martial to keep Visser and the Germans distracted, McNamara orchestrates a cunning scheme to escape and destroy a nearby munitions plant, enlisting the unwitting help of young Lt. Tommy Hart. Together with his men, McNamara uses a hero's resolve to carry out his mission, ultimately forced to weigh the value of his life against the good of his country.
9.
Beasts of No Nation (2015)
2h 17m Drama War
A drama based on the experiences of Agu, a child fighting in the civil war of an unnamed, fictional West African country. Follows the journey of Agu as he's forced to join a group of soldiers. While Agu fears his commander and many of the men around him, his fledgling childhood has been brutally shattered by the war raging through his country, and he is at first torn between conflicting revulsion and fascination. Depicts the mechanics of war and does not shy away from explicit, visceral detail, painting a complex, difficult picture of Agu as a child soldier.
1h 42m Drama
A conflict develops between a troubled Vietnam veteran and the sister he lives with when she becomes involved romantically with the army buddy who reminds him of the tragic battle they both survived.
11.
Johnny Got His Gun (1971)
1h 51m War Drama
Joe, a young American soldier, is hit by a mortar shell on the last day of World War I. He lies in a hospital bed with a fate worse than death as a quadruple amputee who has lost his arms, legs, eyes, ears, mouth and nose. Unbeknown to his doctors, he remains conscious and able to think, thereby reliving his life through strange dreams and memories.
1h 47m Action War Drama
Santos attempts to lead a people's revolt in Colombia to overthrow the Presidente. When his revolt fails and he is killed, his sister Christina goes to New York to find McBain, a lieutenant Santos rescued during the Vietnam War. McBain agrees to help, recruits his old war buddies, raises some cash by killing a few drug dealers, then leads an attack to topple the Colombian government.
13.
We Were Soldiers (2002)
2h 18m Action History War
The story of the first major battle of the American phase of the Vietnam War and the soldiers on both sides that fought it.
14.
Hamburger Hill (1987)
1h 52m War Action Drama
The men of Bravo Company are facing a battle that's all uphill… up Hamburger Hill. Fourteen war-weary soldiers are battling for a mud-covered mound of earth so named because it chews up soldiers like chopped meat. They are fighting for their country, their fellow soldiers and their lives. War is hell, but this is worse. Hamburger Hill tells it the way it was, the way it really was. It's a raw, gritty and totally unrelenting dramatic depiction of one of the fiercest battles of America's bloodiest war. This happened. Hamburger Hill - war at its worst, men at their best.
15.
Platoon Leader (1988)
1h 37m Drama War
West Point graduate lieutenant Jeff Knight meets cynicism when taking command of sergeant Michael McNamara's tour veterans platoon in a Vietnamese trench camp. Unlike his predecessor, who hid till the end of his tour, Jeff takes charge, experiences the manual doesn't allow coping with all realities and gets wounded. He returns, now fully respect by men and superiors. Besides the Vietcong, the platoon wrestles with the inscrutable villagers, which the G.I.'s officially protect, but also fear as some collaborate with them, other covertly with the Cong, either way subject to bloody reprisals.
16.
Dead Presidents (1995)
1h 59m Action Drama Crime
On the streets they call cash dead presidents. And that's just what a Vietnam veteran is after when he returns home from the war only to find himself drawn into a life of crime. With the aid of his fellow vets he plans the ultimate heist -- a daring robbery of an armored car filled with unmarked U.S. currency!
17.
Merry Christmas Mr. Lawrence (1983)
2h 4m Drama History War
Island of Java, 1942, during World War II. British Major Jack Celliers arrives at a Japanese prison camp, run by the strict Captain Yonoi. Colonel John Lawrence, who has a profound knowledge of Japanese culture, and Sergeant Hara, brutal and simpleton, will witness the struggle of wills between two men from very different backgrounds who are tragically destined to clash.
18.
Heaven's Gate (1980)
19.
Tae Guk Gi: The Brotherhood of War (2004)
2h 29m Action Adventure Drama History War
When two brothers are forced to fight in the Korean War, the elder decides to take the riskiest missions if it will help shield the younger from battle.
20.
Heartbreak Ridge (1986)
2h 10m Action Comedy Drama War
A hard-nosed, hard-living Marine gunnery sergeant clashes with his superiors and his ex-wife as he takes command of a spoiled recon platoon with a bad attitude.
21.
Missing in Action 2: The Beginning (1985)
1h 40m Action War
Prequel to the first Missing In Action, set in the early 1980s it shows the capture of Colonel Braddock during the Vietnam war in the 1970s, and his captivity with other American POWs in a brutal prison camp, and his plans to escape.
30m Comedy
Mike Trainor seemingly has it all—he's a good-looking, wealthy and recently retired NFL player living the high-life in New York City, but he's about to get sidelined. When his mom learns that Mike's business manager took off with all his money, she orchestrates a plan to keep Mike in Houston, save his brother Chill's restaurant and bring the dysfunctional family back together under one roof again.
23.
The Siege of Firebase Gloria (1989)
1h 37m Action War
A Marine patrol stops at Firebase Gloria at the start of the Tet Offensive during the Vietnam war. With the firebase attacked, the patrol remains to help defend it. The Marines barely hold off the VC (Viet Cong), but in the end, hold the base.
24.
Rules of Engagement (2000)
2h 8m Action Adventure Drama History War
Part war movie, part courtroom thriller, this gripping drama finds a war hero put on trial for a rescue mission gone terribly wrong with only his doubtful friend and fellow marine to represent him.
explore
Check out more list from our community