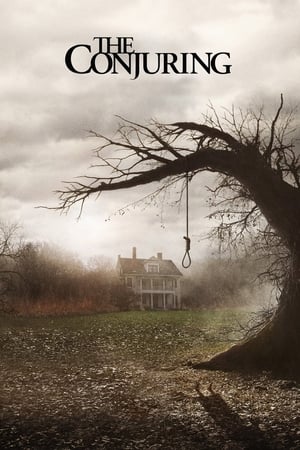 14 Best Movies Like The Conjuring ...
If you liked this film , you will definitely love these too! In this list we highlight some of the best films that share a very similar mood to 'The Conjuring', and are worth checking out.
1.
The Amityville Haunting (2011)
1h 26m Horror
This movie is a 'found-footage' film about the Benson family who move in to the infamous house where the DeFeo family were murdered in the 1970s over 30 years earlier. Things start happening to anyone who visits this house, and whoever lives there. This is the footage retrieved from the camera.
1h 39m Horror
John Form has found the perfect gift for his expectant wife, Mia - a beautiful, rare vintage doll in a pure white wedding dress. But Mia's delight with Annabelle doesn't last long. On one horrific night, their home is invaded by members of a satanic cult, who violently attack the couple. Spilled blood and terror are not all they leave behind. The cultists have conjured an entity so malevolent that nothing they did will compare to the sinister conduit to the damned that is now... Annabelle.
1h 44m Horror
A man who specializes in debunking paranormal occurrences checks into the fabled room 1408 in the Dolphin Hotel. Soon after settling in, he confronts genuine terror.
1h 54m Horror
Steve Freeling lives with his wife, Diane, and their three children, Dana, Robbie, and Carol Anne, in Southern California where he sells houses for the company that built the neighborhood. It starts with just a few odd occurrences, such as broken dishes and furniture moving around by itself. However, when he realizes that something truly evil haunts his home, Steve calls in a team of parapsychologists led by Dr. Lesh to help before it's too late.
2h 2m Horror
12-year-old Regan MacNeil begins to adapt an explicit new personality as strange events befall the local area of Georgetown. Her mother becomes torn between science and superstition in a desperate bid to save her daughter, and ultimately turns to her last hope: Father Damien Karras, a troubled priest who is struggling with his own faith.
6.
Annabelle Comes Home (2019)
1h 46m Horror Thriller Mystery
Determined to keep Annabelle from wreaking more havoc, demonologists Ed and Lorraine Warren bring the possessed doll to the locked artifacts room in their home, placing her "safely" behind sacred glass and enlisting a priest's holy blessing. But an unholy night of horror awaits as Annabelle awakens the evil spirits in the room, who all set their sights on a new target—the Warrens' ten-year-old daughter, Judy, and her friends.
1h 41m Horror Drama Mystery Thriller
Grace is a religious woman who lives in an old house kept dark because her two children, Anne and Nicholas, have a rare sensitivity to light. When the family begins to suspect the house is haunted, Grace fights to protect her children at any cost in the face of strange events and disturbing visions.
8.
The Amityville Horror (2005)
1h 30m Horror
This hair-raising remake of the 1979 horror hit depicts the ordeal of the Lutz clan, whose new home has a gory past and a legacy of demons. Before long, the family patriarch is plagued by nightmares and his daughter is seeing phantoms.
9.
The Conjuring: The Devil Made Me Do It (2021)
1h 51m Horror Mystery Thriller
Paranormal investigators Ed and Lorraine Warren encounter what would become one of the most sensational cases from their files. The fight for the soul of a young boy takes them beyond anything they'd ever seen before, to mark the first time in U.S. history that a murder suspect would claim demonic possession as a defense.
10.
Insidious: Chapter 2 (2013)
1h 46m Horror Thriller
The haunted Lambert family seeks to uncover the mysterious childhood secret that has left them dangerously connected to the spirit world.
11.
Insidious: Chapter 3 (2015)
1h 37m Horror Drama Thriller
A twisted new tale of terror begins for a teenage girl and her family, and revealing more mysteries of the otherworldly realm, 'The Further'.
1h 43m Horror Thriller
A family discovers that dark spirits have invaded their home after their son inexplicably falls into an endless sleep. When they reach out to a professional for help, they learn things are a lot more personal than they thought.
1h 45m Horror Drama Thriller
A woman brings her family back to her childhood home, which used to be an orphanage, intent on reopening it. Before long, her son starts to communicate with a new invisible friend.
1h 55m Horror Mystery
It sounded like just another urban legend: A videotape filled with nightmarish images, leading to a phone call foretelling the viewer's death in exactly seven days. As a newspaper reporter, Rachel Keller was naturally skeptical of the story, until four teenagers all met with mysterious deaths exactly one week after watching just such a tape. Allowing her investigative curiosity to get the better of her, Rachel tracks down the video... and watches it. Now she has just seven days to unravel the mystery of the Ring.
explore
Check out more list from our community