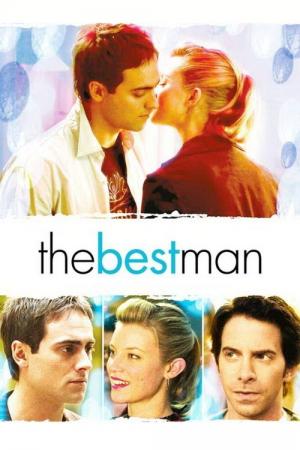 28 Best Movies Like The Best Man ...
If you liked this movie , you will for sure love these too! In this collection we highlight some of the best films that share a very similar mood to '', and are worth checking out.
2h Drama Comedy
Harper, a writer who's about to explode into the mainstream leaves behind his girlfriend Robin and heads to New York City to serve as best man for his friend Lance's wedding. Once there, he reunites with the rest of his college circle.
1h 44m Comedy Drama Romance
Darius Lovehall is a young black poet in Chicago who starts dating Nina Moseley, a beautiful and talented photographer. While trying to figure out if they've got a "love thing" or are just "kicking it," they hang out with their friends, talking about love and sex. Then Nina tests the strength of Darius' feelings and sets a chain of romantic complications into motion.
3.
The Best Man Holiday (2013)
2h 3m Comedy
When college friends reunite after 15 years over the Christmas holidays, they discover just how easy it is for long-forgotten rivalries and romances to be reignited.
1h 37m Comedy Drama
A group of childhood friends, now in their thirties, reunite at Camp Tamakwa. Only a few of the original campers show up, but they still have a good time reminiscing. The people share experiences and grow while at the camp. They are dismayed to discover that the camp's owner, Unca Lou, is going to close the camp down.
1h 49m Comedy Romance
Friends since childhood, a magazine editor and a hip-hop record executive stumble into romantic territory.
1h 40m Comedy Drama
When childhood friends Al, Dennis and Eliot get together for Ray's wedding, which may or may not happen, they end up on a roller-coaster ride through reality. During one tumultuous, crazy weekend, they face adulthood and each other with new found maturity and discover what Queens Logic is all about. This comedy takes a look at friendship, loyalty, and love.
1h 46m Comedy Drama Romance
This is the story of four African-American "yuppies" (a banker, a doctor, a lawyer, and a "playboy") who call themselves "The Brothers". When the playboy gets engaged, the other three friends find themselves having to come to terms with their own issues of commitment and honesty...
8.
The Story of Us (1999)
1h 35m Comedy Drama Romance
Ben and Katie Jordan are a married couple who go through hard times in fifteen years of marriage.
9.
How Stella Got Her Groove Back (1998)
2h 4m Comedy Drama Romance
Through good times and bad, Stella and Delilah have always had each other. Now, Stella's so busy building a life that she's forgotten how to really live. But Delilah is about to change all that. What starts as a quick trip to Jamaica, end as an exhilarating voyage of self discovery as Stella learns to open her heart and find love - even if it's with a man 20 years her junior.
1h 47m Drama Romance
Angie lives in the Bensonhurst section of Brooklyn, N.Y. and dreams of a better life than everyone she knows. When she finds that she is pregnant by her boyfriend Vinnie, she decides that she will have the baby, but not Vinnie as a husband. This turns the entire neighborhood upside down and starts her on a journey of self discovery. This journey includes her family, a new lover and her life. Even her best friend Tina has trouble understanding Angie. Written by Tony Fontana
1h 46m Comedy Drama Romance
In the panicky, uncertain hours before his wedding, a groom with prenuptial jitters and his two best friends reminisce about growing up together in the middle-class African-American neighborhood of Inglewood, California. Flashing back to the twenty-something trio's childhood exploits, the memories capture the mood and nostalgia of the '80s era.
13.
Breakin' All the Rules (2004)
1h 25m Comedy Romance
Inspired by his fiancée (who dumped him), a man publishes a break-up handbook for men, becoming a bestselling author in the process.
2h 3m Comedy Drama
Lilah Krytsick is a mother and housewife who's always believed she could be a stand-up comedian. Steven Gold is an experienced stand-up seemingly on the cusp of success. When the two meet, they form an unlikely friendship, and Steven tries to help the untried Lilah develop her stage act. Despite the objections of her family and some very wobbly beginnings, Lilah improves, and soon she finds herself competing with Steven for a coveted television spot.
15.
Frankie and Johnny (1991)
1h 58m Drama Romance Comedy
When Johnny is released from prison following a forgery charge, he quickly lands a job as a short-order cook at a New York diner. Following a brief fling with waitress Cora, Frankie develops an attraction for Cora's friend and fellow waitress Frankie. While Frankie resists Johnny's charms initially, she eventually relents when her best friend, Tim, persuades her to give Johnny a chance.
16.
Friends & Lovers (1999)
4m Animation Comedy
This action and adventure comedy is drawn in simple appearance and combines cute forest animals with extreme graphic violence. Each episode revolves around the characters enduring accidental events of bloodshed, pain, dismemberment and/or death.
1h 30m Drama Romance
An aloof, struggling food photographer thinks he has found true love with a fiery grade-school teacher. At first, the relationship is all wine and roses, but as they realize they have little in common besides great sex, the romance wanes, and they struggle through a succession of break-ups and reunions as they try to work things out.
18.
Friends with Kids (2011)
19.
The Brothers McMullen (1995)
1h 38m Comedy Drama Romance
Deals with the lives of the three Irish Catholic McMullen brothers from Long Island, New York, over three months, as they grapple with basic ideas and values — love, sex, marriage, religion and family — in the 1990s. Directed, written, produced by and starring Edward Burns.
20.
How to Make an American Quilt (1995)
1h 56m Drama Romance
Soon-to-be-wed graduate student Finn Dodd develops cold feet when she suspects her fiancé is cheating on her. In order to clear her head, Finn visits her grandmother, Hy, and great aunt, Glady Joe Cleary, in Grasse, Calif. There, Finn learns that Hy and Glady Joe are members of a group of passionate quilters, and over the course of her visit she is regaled with tales of love and life by women who have collected rich experiences and much wisdom.
21.
About Last Night... (1986)
1h 53m Comedy Drama Romance
A man and woman meet and try to have a romantic affair, despite their personal problems and the interference of their disapproving friends.
22.
Keeping the Faith (2000)
1h 38m Comedy Romance
Blue-collar Paulie prepares for fatherhood and his forthcoming wedding to Sue by hanging out with his groomsmen. Brother Jimbo, cousin Mike, and his pals fill the reunion with drinking, boys-will-be-boys antics and a few unexpected personal confessions. But, when the bonding devolves into accusations and regret, Paulie has to decide whether he's ready to tie the knot and take this big step into adulthood.
24.
The Buddy System (1984)
25.
Two Family House (2000)
1h 44m Drama Romance
Buddy Visalo (Michael Rispoli) is a factory worker, a frustrated crooner who once had a shot at the big time. Buddy's dreams of greatness have been reduced to an endless series of failed moneymaking schemes. His latest is buying a two-family house for him and his wife, Estelle (Katherine Narducci) and converting the ground floor into a neighborhood bar where he can perform. The wrench in the works is that he also inherits the upstairs tenants, Mary,a pregnant Irish girl fresh off the boat (Kelly Macdonald) and her abusive, alcoholic husband, Jim (Kevin Conway). As Buddy's gang of Italians tries to handle the situation, the girl goes into labor, and a baby is born, forcing them all to confront the limits of their tolerance and compassion.
1h 23m Drama Romance
Max is a trendy, pretty, young lesbian, who is having trouble finding love. A friend sets her up with Ely, whom Max likes, but Ely is frumpy, homely, and older. Nor do they have much in common. Can Max learn to look past the packaging?
1h 44m Comedy Drama Romance
Three teenage girls come of age while working at a pizza parlor in Mystic, Connecticut.
explore
Check out more list from our community