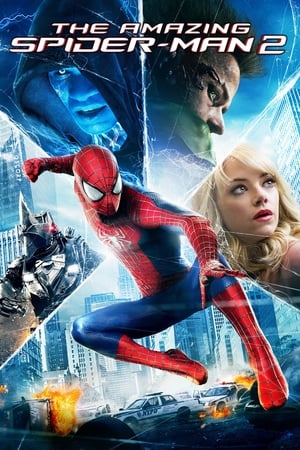 14 Best Movies Like The Amazing Spider Man ...
If you liked this one , you will for sure love these too! In this list we highlight some of the best films that share a very similar premise to 'The Amazing Spider-Man 2', and are worth checking out.
2h 10m Action Adventure Science Fiction
When Tony Stark's world is torn apart by a formidable terrorist called the Mandarin, he starts an odyssey of rebuilding and retribution.
1h 54m Adventure Action Thriller Science Fiction
For centuries, a small but powerful force of warriors called the Green Lantern Corps has sworn to keep intergalactic order. Each Green Lantern wears a ring that grants him superpowers. But when a new enemy called Parallax threatens to destroy the balance of power in the Universe, their fate and the fate of Earth lie in the hands of the first human ever recruited.
2h 23m Science Fiction Action Adventure
When an unexpected enemy emerges and threatens global safety and security, Nick Fury, director of the international peacekeeping agency known as S.H.I.E.L.D., finds himself in need of a team to pull the world back from the brink of disaster. Spanning the globe, a daring recruitment effort begins!
4.
Transformers: Revenge of the Fallen (2009)
2h 29m Science Fiction Action Adventure
Sam Witwicky leaves the Autobots behind for a normal life. But when his mind is filled with cryptic symbols, the Decepticons target him and he is dragged back into the Transformers' war.
1h 46m Action Adventure Fantasy Science Fiction
During a space voyage, four scientists are altered by cosmic rays: Reed Richards gains the ability to stretch his body; Sue Storm can become invisible; Johnny Storm controls fire; and Ben Grimm is turned into a super-strong … thing. Together, these "Fantastic Four" must now thwart the evil plans of Dr. Doom and save the world from certain destruction.
2h 19m Fantasy Action Adventure
The seemingly invincible Spider-Man goes up against an all-new crop of villains—including the shape-shifting Sandman. While Spider-Man's superpowers are altered by an alien organism, his alter ego, Peter Parker, deals with nemesis Eddie Brock and also gets caught up in a love triangle.
7.
X-Men: Days of Future Past (2014)
2h 12m Action Adventure Fantasy Science Fiction
The ultimate X-Men ensemble fights a war for the survival of the species across two time periods as they join forces with their younger selves in an epic battle that must change the past – to save our future.
2h 7m Science Fiction Action Adventure
Three escaped criminals from the planet Krypton test the Man of Steel's mettle. Led by General Zod, the Kryptonians take control of the White House and partner with Lex Luthor to destroy Superman and rule the world. But Superman, who attempts to make himself human in order to get closer to Lois, realizes he has a responsibility to save the planet.
9.
Captain America: The First Avenger (2011)
2h 4m Action Adventure Science Fiction
During World War II, Steve Rogers is a sickly man from Brooklyn who's transformed into super-soldier Captain America to aid in the war effort. Rogers must stop the Red Skull – Adolf Hitler's ruthless head of weaponry, and the leader of an organization that intends to use a mysterious device of untold powers for world domination.
44m Drama Sci-Fi & Fantasy
After a particle accelerator causes a freak storm, CSI Investigator Barry Allen is struck by lightning and falls into a coma. Months later he awakens with the power of super speed, granting him the ability to move through Central City like an unseen guardian angel. Though initially excited by his newfound powers, Barry is shocked to discover he is not the only "meta-human" who was created in the wake of the accelerator explosion -- and not everyone is using their new powers for good. Barry partners with S.T.A.R. Labs and dedicates his life to protect the innocent. For now, only a few close friends and associates know that Barry is literally the fastest man alive, but it won't be long before the world learns what Barry Allen has become...The Flash.
22m Documentary
While Senator Kelly addresses a senate committee about the supposed mutant menace, we learn about the making of the movie, X-Men.
2h 4m Adventure Action Science Fiction
With the world now aware of his dual life as the armored superhero Iron Man, billionaire inventor Tony Stark faces pressure from the government, the press and the public to share his technology with the military. Unwilling to let go of his invention, Stark, with Pepper Potts and James 'Rhodey' Rhodes at his side, must forge new alliances – and confront powerful enemies.
23m Action & Adventure Animation Family Sci-Fi & Fantasy
Transformers Animated is an Japanese/American animated television series based on the Transformers toy line. The series debuted on Cartoon Network on December 26, 2007, and has been shown on NickToons in the UK since February 2008. It is produced by Cartoon Network Studios and animated by The Answer Studio, MOOK DLE., and Studio 4°C . The series has 42 episodes across three seasons. The European Jetix began to air the series on September 10, 2008. The series began its broadcast in Japan on April 3, 2010, on both TV Aichi and TV Tokyo. The Japanese version of the cartoon was slightly rewritten to tie into Michael Bay's Transformers trilogy.The show's continuity is separate from any other previous Transformers series, despite using footage from the first series in its first episode as a historical film. Despite being a Cartoon Network original series, the show was aired on Nicktoons in the UK, Jetix/Disney XD in the rest of Europe and finally, back in the states on The Hub in high definition.
14.
Avengers: Infinity War (2018)
2h 29m Adventure Action Science Fiction
As the Avengers and their allies have continued to protect the world from threats too large for any one hero to handle, a new danger has emerged from the cosmic shadows: Thanos. A despot of intergalactic infamy, his goal is to collect all six Infinity Stones, artifacts of unimaginable power, and use them to inflict his twisted will on all of reality. Everything the Avengers have fought for has led up to this moment - the fate of Earth and existence itself has never been more uncertain.
explore
Check out more list from our community