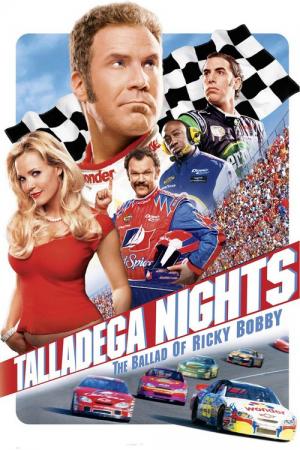 10 Best Movies Like Talladega Nights ...
If you liked this movie , you will probably love these too! In this selection we highlight some of the best films that share a very similar premise to 'Talladega Nights: The Ballad of Ricky Bobby', and are worth checking out.
1h 54m Comedy
After bowler Roy Munson swindles the wrong crowd and is left with a hook for a hand, he settles into impoverished obscurity. That is, until he uncovers the next big thing: an Amish kid named Ishmael. So, the corrupt and the hopelessly naïve hit the circuit intent on settling an old score with Big Ern.
2.
Anchorman 2: The Legend Continues (2013)
1h 59m Comedy
With the 70s behind him, San Diego's top rated newsman, Ron Burgundy, returns to take New York's first 24-hour news channel by storm.
3.
Blades of Glory (2007)
1h 33m Comedy
When a much-publicized ice-skating scandal strips them of their gold medals, two world-class athletes skirt their way back onto the ice via a loophole that allows them to compete together as a pairs team.
4.
The Benchwarmers (2006)
1h 20m Comedy
A trio of guys try and make up for missed opportunities in childhood by forming a three-player baseball team to compete against standard little league squads.
1h 34m Comedy
Pressured by a greedy uncle and a pile of debt, lovable loser Steve Barker resorts to an unthinkable, contemptible, just-crazy-enough-to-work scheme. He pretends to be mentally challenged to rig the upcoming Special Olympics and bring home the gold. But when Steve's fellow competitors get wise to the con, they inspire him to rise to the greatest challenge of all: becoming a better person.
1h 25m Comedy
Two rival politicians compete to win an election to represent their small North Carolina congressional district in the United States House of Representatives.
1h 38m Comedy
Brennan Huff and Dale Doback might be grown men. But that doesn't stop them from living at home and turning into jealous, competitive stepbrothers when their single parents marry. Brennan's constant competition with Dale strains his mom's marriage to Dale's dad, leaving everyone to wonder whether they'll ever see eye to eye.
1h 28m Comedy
Three friends attempt to recapture their glory days by opening up a fraternity near their alma mater.
43m TV Movie Comedy
A fictional documentary-style expose on the rivalry between two tennis stars who battled it out in a 1999 match that lasted seven days.
10.
Kicking & Screaming (2005)
1h 35m Comedy Family
Phil Weston has been unathletic his entire life. In college he failed at every sport that he tried out for. It looks like his 10-year old son, Sam, is following in his footsteps. But when Phil's hyper-competitive dad benches Sam, Phil decides to transfer his son to a new team which needs a coach. Phil steps in to be the temporary coach and immediately begins to butt heads with this dad over this new competition in their lives.
explore
Check out more list from our community