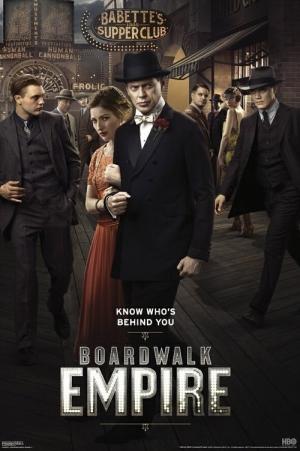 14 Best Shows Like Boardwalk Empire ...
If you liked this film , you will probably love these too! In this collection we highlight some of the best films that share a very similar mood to 'Boardwalk Empire', and are worth checking out.
1.
Once Upon a Time in America (1984)
3h 49m Drama Crime
A former Prohibition-era Jewish gangster returns to the Lower East Side of Manhattan over thirty years later, where he once again must confront the ghosts and regrets of his old life.
1h Crime Drama
A successful New York entrepreneur lives a double life as the head of a drug empire that serves only the rich and influential, all while wanting to escape the underworld and keep his family safe.
50m Drama
Set in 1959 Miami, Florida shortly after the Cuban Revolution, Magic City tells the story of Ike Evans, the owner of Miami's most glamorous hotel, the Miramar Playa. Evans is forced to make an ill-fated deal with Miami mob boss Ben Diamond to ensure the success of his glitzy establishment.
4.
The Godfather: Part II (1974)
3h 22m Drama Crime
In the continuing saga of the Corleone crime family, a young Vito Corleone grows up in Sicily and in 1910s New York. In the 1950s, Michael Corleone attempts to expand the family business into Las Vegas, Hollywood and Cuba.
45m Drama
When Walter White, a New Mexico chemistry teacher, is diagnosed with Stage III cancer and given a prognosis of only two years left to live. He becomes filled with a sense of fearlessness and an unrelenting desire to secure his family's financial future at any cost as he enters the dangerous world of drugs and crime.
2h 55m Drama Crime
Spanning the years 1945 to 1955, a chronicle of the fictional Italian-American Corleone crime family. When organized crime family patriarch, Vito Corleone barely survives an attempt on his life, his youngest son, Michael steps in to take care of the would-be killers, launching a campaign of bloody revenge.
50m Crime Drama
Based on Robert Saviano's bestselling book, this gritty Italian crime drama paints a portrait of the brutal Neapolitan crime organisation the Camorra, as seen through the eyes of Ciro Di Marzo, the obedient and self- confident right-hand man of the clan's godfather, Pietro Savastano.
2h Crime Drama
In this world power isn't everything, it's the only thing. Best selling author of Mario 'The Godfather' Puzo's blockbuster new novel comes to life in this epic saga of America's most powerful crime family.
50m Drama
Set in the sprawling mecca of the rich and famous, Ray Donovan does the dirty work for LA's top power players, and makes their problems disappear. His father's unexpected release from prison sets off a chain of events that shakes the Donovan family to its core.
1h 55m Crime Drama Western
Set in the Depression-era Franklin County, Virginia, a bootlegging gang is threatened by authorities who want a cut of their profits.
1h Drama
The story of New Jersey-based Italian-American mobster Tony Soprano and the difficulties he faces as he tries to balance the conflicting requirements of his home life and the criminal organization he heads. Those difficulties are often highlighted through his ongoing professional relationship with psychiatrist Jennifer Melfi. The show features Tony's family members and Mafia associates in prominent roles and story arcs, most notably his wife Carmela and his cousin and protégé Christopher Moltisanti.
2h 50m Action Crime Drama Thriller
After getting a green card in exchange for assassinating a Cuban government official, Tony Montana stakes a claim on the drug trade in Miami. Viciously murdering anyone who stands in his way, Tony eventually becomes the biggest drug lord in the state, controlling nearly all the cocaine that comes through Miami. But increased pressure from the police, wars with Colombian drug cartels and his own drug-fueled paranoia serve to fuel the flames of his eventual downfall.
13.
Pablo Escobar, The Drug Lord (2012)
45m Crime Drama
Pablo Escobar: El Patrón del Mal is a 2012 Colombian television series produced and broadcast on Caracol TV, about the life of Pablo Escobar. It is only available in Spanish. There is a version available with English subtitles. It is also available on Netflix in multiple languages.The Netflix version has combined some episodes and that is why that version only has 74 episodes whilst the original has 113 episodes.
2h 59m Crime Drama
In early-1970s Las Vegas, low-level mobster Sam "Ace" Rothstein gets tapped by his bosses to head the Tangiers Casino. At first, he's a great success in the job, but over the years, problems with his loose-cannon enforcer Nicky Santoro, his ex-hustler wife Ginger, her con-artist ex Lester Diamond and a handful of corrupt politicians put Sam in ever-increasing danger.
explore
Check out more list from our community