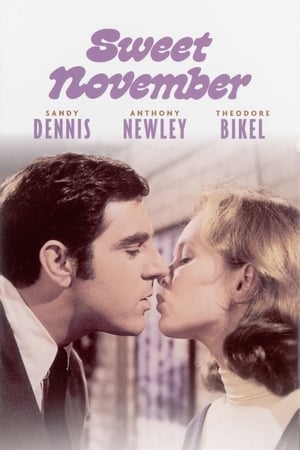 10 Best Movies Like Sweet November ...
If you liked this one , you will probably love these too! In this collection we highlight some of the best films that share a very similar premise to 'Sweet November', and are worth checking out.
1.
P.S. I Love You (2007)
2h 6m Drama Romance
A young widow discovers that her late husband has left her 10 messages intended to help ease her pain and start a new life.
30m Documentary Comedy
Keith Lemon's Very Brilliant World Tour is a travel-style comedy series hosted by Keith Lemon, a character portrayed by comedian Leigh Francis. The series was first announced during an appearance by Lemon on the Big Brother companion show Big Brother's Big Mouth in 2007. The series featured Lemon travelling around the world on a shark-shaped flight plan, visiting six different countries, and meeting various celebrity guests, including Spice Girls Mel B and Mel C, along the way.During the series, Paddy McGuinness played the role of Lemon's cousin Gary. The show premiered on 11 March 2008, attracting 565,000 viewers, and concluded on 15 April 2008.In May 2008, Francis announced that he would not be filming a second series in the near future, as he would be busy filming his panel show Celebrity Juice commencing in August 2008. The show was released on DVD on 3 November 2008. Francis announced in May 2011 that he would like to write and record a second series, but said he would struggle to find the time to do so.
3.
Message in a Bottle (1999)
2h 11m Romance Drama
A woman finds a romantic letter in a bottle washed ashore and tracks down the author, a widowed shipbuilder whose wife died tragically early. As a deep and mutual attraction blossoms, the man struggles to make peace with his past so that he can move on and find happiness.
1h 55m Drama Romance War
While Sergeant John Tyree is home on two weeks leave from Germany, he meets Savannah after he dives into the ocean to retrieve Savannah's purse that had fallen off a pier. John eventually falls in love with Savannah, who promises to write to him until he returns from overseas.
5.
The Age of Adaline (2015)
1h 52m Fantasy Drama Romance
After 29-year-old Adaline recovers from a nearly lethal accident, she inexplicably stops growing older. As the years stretch on and on, Adaline keeps her secret to herself until she meets a man who changes her life.
1h 39m Drama Romance
Harvard Law student Oliver Barrett IV and music student Jennifer Cavilleri share a chemistry they cannot deny - and a love they cannot ignore. Despite their opposite backgrounds, the young couple put their hearts on the line for each other. When they marry, Oliver's wealthy father threatens to disown him. Jenny tries to reconcile the Barrett men, but to no avail.
1h 54m Drama Romance Comedy
Birdee Pruitt has been humiliated on live television by her best friend, Connie, who's been sleeping with Birdee's husband, Bill. Birdee tries starting over with her daughter, Bernice, by returning to her small Texas hometown, but she's faced with petty old acquaintances who are thrilled to see Birdee unhappy -- except for her friend Justin. As he helps Birdee get back on her feet, love begins to blossom.
1h 43m Drama Romance
A privileged girl and a charismatic boy's instant desire sparks a love affair made only more reckless by parents trying to keep them apart.
1h 50m Drama Romance
A small town girl is caught between dead-end jobs. A high-profile, successful man becomes wheelchair bound following an accident. The man decides his life is not worth living until the girl is hired for six months to be his new caretaker. Worlds apart and trapped together by circumstance, the two get off to a rocky start. But the girl becomes determined to prove to the man that life is worth living and as they embark on a series of adventures together, each finds their world changing in ways neither of them could begin to imagine.
1h 53m Drama Romance
Still reeling from a heartbreaking family event and his parents' subsequent divorce, Tyler Hawkins discovers a fresh lease on life when he meets Ally Craig, a gregarious beauty who witnessed her mother's death. But as the couple draws closer, the fallout from their separate tragedies jeopardizes their love.
explore
Check out more list from our community