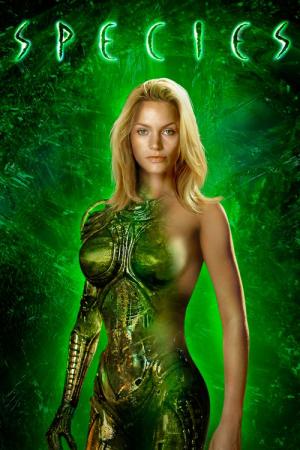 29 Best Movies Like Species ...
If you liked this movie , you will for sure love these too! In this list we highlight some of the best films that share a very similar mood to '', and are worth checking out.
1h 33m Science Fiction Action Horror
Having just returned from a mission to Mars, Commander Ross isn't exactly himself. He's slowly becoming a terrifying alien entity with one goal -- to procreate with human women! When countless women suffer gruesome deaths after bearing half-alien offspring, scientist Laura Baker and hired assassin Press Lennox use Eve, a more tempered alien clone, to find Ross and his brood. Before long Eve escapes to mate with Ross.
1h 51m Science Fiction Action Horror
After she delivers her child in an ambulance, alien Eve is killed by a half-breed. Fortunately, Dr. Abbot scoops up the baby alien and escapes. In time, the baby grows into a gorgeous blonde named Sara and begins her quest to find a worthy mate. But Sara is also savage and leaves a trail of deaths in her wake. This carnage makes chemistry student Dean question whether to help her race or not.
1h 42m Horror Science Fiction Thriller
A space shuttle mission investigating Halley's Comet brings back a malevolent race of space vampires who transform most of London's population into zombies. The only survivor of the expedition and British authorities attempt to capture a mysterious but beautiful alien woman who appears responsible.
4.
Species: The Awakening (2007)
1h 38m Horror Science Fiction Thriller
A scientist, Dr Holander, takes his niece Miranda to Mexico in an attempt to reverse the effects of the alien DNA he used to create her. However the treatment goes horribly wrong, and sets Miranda on a killing spree as she sets out to find a mate.
1h 30m Science Fiction Horror
After an experiment to make the ultimate weapon goes wrong, a team of commandos is sent into a genetic research lab and end up getting stalked by a creature that looks a lot like the Predator
1h 43m Horror Science Fiction Mystery Thriller
When paleontologist Kate Lloyd travels to an isolated outpost in Antarctica for the expedition of a lifetime, she joins an international team that unearths a remarkable discovery. Their elation quickly turns to fear as they realize that their experiment has freed a mysterious being from its frozen prison. Paranoia spreads like an epidemic as a creature that can mimic anything it touches will pit human against human as it tries to survive and flourish in this spine-tingling thriller.
1h 44m Horror Thriller Science Fiction
Elsa and Clive, two young rebellious scientists, defy legal and ethical boundaries and forge ahead with a dangerous experiment: splicing together human and animal DNA to create a new organism. Named "Dren", the creature rapidly develops from a deformed female infant into a beautiful but dangerous winged human-chimera, who forges a bond with both of her creators - only to have that bond turn deadly.
1h 45m Action Horror Science Fiction
A team of space marines known as the Rapid Response Tactical Squad, led by Sarge, is sent to a science facility on Mars after somebody reports a security breach. There, they learn that the alert came after a test subject, a mass murderer purposefully injected with alien DNA, broke free and began killing people. Dr. Grimm, who is related to team member Reaper, informs them all that the chromosome can mutate humans into monsters -- and is highly infectious.
1h 44m Action Horror Science Fiction Thriller
Captain Saxon, and agent for the top secret Omega agency, has been given the assignment of tracking down and either capturing or killing the crew members of a secret space mission who returned to Earth against orders. It seems that they were all infected with an alien parasite, and they were trying to bring its eggs back to Earth. The eggs were lost in an accident, and both Saxon and the astronauts are trying to locate them. What could the government want them for?
1h 25m Horror Science Fiction Thriller
It's the end of yet another night at Hastings Supermarket, a grocery store in Buck Lake, Arizona. But just before closing, a group of masked and armed to the teeth militants invades the store and take everyone hostage
1h 25m Horror Science Fiction
Paul Dean has created a deadly parasite that is now attached to his stomach. He and his female companion, Patricia Welles, must find a way to destroy it while also trying to avoid Ricus, his rednecks, and an evil government agent named Merchant.
12.
Tremors II: Aftershocks (1996)
1h 40m Action Horror Comedy Science Fiction Thriller
Those supersucking desert creatures are back --- and this time they're south of the border. As the creatures worm their way through the oil fields of Mexico, the only people who can wrangle them are veteran Earl Bassett and survivalist Burt Gummer. Add to that team a young punk out for cash and a fearless scientist, and the critters don't stand a chance.
1h 39m Horror Action Science Fiction
When the crew of an American tugboat boards an abandoned Russian research vessel, the alien life form aboard regards them as a virus which must be destroyed.
1h 57m Horror Science Fiction
During its return to the earth, commercial spaceship Nostromo intercepts a distress signal from a distant planet. When a three-member team of the crew discovers a chamber containing thousands of eggs on the planet, a creature inside one of the eggs attacks an explorer. The entire crew is unaware of the impending nightmare set to descend upon them when the alien parasite planted inside its unfortunate host is birthed.
1h 47m Science Fiction Action Thriller
A mercenary reluctantly leads a motley crew of warriors who soon come to realize they've been captured and deposited on an alien planet by an unknown nemesis. With the exception of a peculiar physician, they are all cold-blooded killers, convicts, death squad members... hunters who have now become the hunted.
16.
Village of the Damned (1995)
1h 39m Thriller Horror Science Fiction
An American village is visited by some unknown life form which leaves the women of the village pregnant. Nine months later, the babies are born, and they all look normal, but it doesn't take the "parents" long to realize that the kids are not human or humane.
17.
Possessed by the Night (1994)
1h 30m Thriller Horror
A horror writer buys an odd looking mutant embryo creature, pickled in a jar, from a shop in Chinatown, hoping it will be a creative inspiration for his work. Instead, the odd mutation provokes a rage of violence and lust to envelop the suburban villa where the writer lives with his wife and sexy secretary.
1h 36m Horror Science Fiction Thriller
When average, law-abiding citizens suddenly turn to a life of hedonistic behavior and violent crime, Detective Tom Beck (Michael Nouri) is tasked with helping young FBI agent Lloyd Gallagher (Kyle MacLachlan) determine the cause in this tense, sci-fi thriller.
1h 30m Science Fiction Thriller Horror
An alien microbe lands in remote Siberia in the 1950's. In the year 2004, US scientist working at a top secret underground lab in Alaska clone the microbe. A garbled distress signal is heard from the lab just before a complete lock down of the facility. This is the last word sent out from the scientists. A team of scientists and military personnel are in charge of finding out what went wrong.
1h 48m Thriller Science Fiction Action
When their ship crash-lands on a remote planet, the marooned passengers soon learn that escaped convict Riddick isn't the only thing they have to fear. Deadly creatures lurk in the shadows, waiting to attack in the dark, and the planet is rapidly plunging into the utter blackness of a total eclipse. With the body count rising, the doomed survivors are forced to turn to Riddick with his eerie eyes to guide them through the darkness to safety. With time running out, there's only one rule: Stay in the light.
1h 31m Horror Action Thriller Science Fiction
After the mysterious death of scientist, Dr. Devin Villiers, Det. Frank Turner and his partner are assigned to protect Villiers' colleague, who revealed that a veteran soldier was subjected to an experiment with the objective of creating the ultimate national security weapon... an undetectable soldier. The experiment failed – with disastrous side effects.
1h 48m Action Horror Mystery Science Fiction Thriller
Two crew members wake up on an abandoned spacecraft with no idea who they are, how long they've been asleep, or what their mission is. The two soon discover they're actually not alone – and the reality of their situation is more horrifying than they could have imagined.
23.
The Puppet Masters (1994)
1h 49m Horror Science Fiction Thriller
The Earth is invaded by alien parasites—aka 'slugs'—that ride on people's backs and control their minds
1h 59m Science Fiction Action Thriller
Betrayed by his own kind and left for dead on a desolate planet, Riddick fights for survival against alien predators and becomes more powerful and dangerous than ever before. Soon bounty hunters from throughout the galaxy descend on Riddick only to find themselves pawns in his greater scheme for revenge. With his enemies right where he wants them, Riddick unleashes a vicious attack of vengeance before returning to his home planet of Furya to save it from destruction.
25.
Anaconda: The Offspring (2008)
1h 31m Action Horror Thriller
Cancer-terminal tycoon Peter Murdoch's secret Wexel Hall Pharmaceuticals lab has developed a blood orchid extract cure. To examine why it works optimally in snakes, they also bread a super-anaconda strain. But the original pair escapes, leaving a bloody trail of corpses. Murdoch runs, instructing his staff to clean up. They keep failing and being eaten like unsuspecting locals, some alive, even after enlisting ruthless big game hunter Hammett. The fast-growing pregnant monster sheds its skin, thus disabling the only tracking device.
1h 35m Horror Action Science Fiction
A blood virus infects a small group of hunters turning a father & son trip into a fight for survival.
27.
Resident Evil: Apocalypse (2004)
1h 34m Horror Action Science Fiction
As the city is locked down under quarantine, Alice finds out that the people that died from the previous incident at the Umbrella Corporation have turned into zombies. She then joins a small band of elite soldiers, who are enlisted to rescue the missing daughter of the creator of the mutating T-virus. Once lack of luck and resources happen, they begin to wage an exhilarating battle to survive and escape before the Umbrella Corporation erases its experiment from the face of the earth.
1h 30m Horror Science Fiction Thriller Action Adventure Comedy
When a young ski team training for the Olympics arrives at the remote and isolated Lost Mountain Ski Resort to focus on training, they're thrilled to find a retired Olympic skier is there to help them train. But their plans are halted when a scientist working at a nearby government lab arrives with the horrifying news that a top secret Government project has produced giant spiders and they have escaped, killing and eating everything in sight.
explore
Check out more list from our community