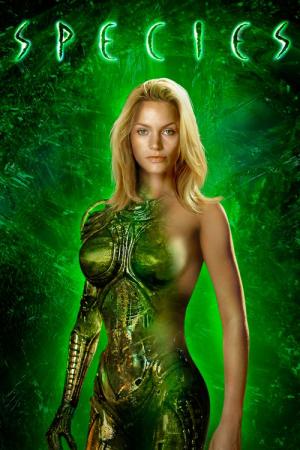 12 Best Movies Like Species ...
If you liked this movie , you will for sure love these too! In this list we highlight some of the best films that share a very similar mood to 'Species', and are worth checking out.
Paul Dean has created a deadly parasite that is now attached to his stomach. He and his female companion, Patricia Welles, must find a way to destroy it while also trying to avoid Ricus, his rednecks, and an evil government agent named Merchant.
1h 25m
Director: Charles Band
Writer: Michael Shoob
Writer: Alan J. Adler
Horror Science Fiction
2.
Village of the Damned (1995)
An American village is visited by some unknown life form which leaves the women of the village pregnant. Nine months later, the babies are born, and they all look normal, but it doesn't take the "parents" long to realize that the kids are not human or humane.
1h 39m
Director: John Carpenter
Novel: John Wyndham
Screenplay: David Himmelstein
Thriller Horror Science Fiction
A team of space marines known as the Rapid Response Tactical Squad, led by Sarge, is sent to a science facility on Mars after somebody reports a security breach. There, they learn that the alert came after a test subject, a mass murderer purposefully injected with alien DNA, broke free and began killing people. Dr. Grimm, who is related to team member Reaper, informs them all that the chromosome can mutate humans into monsters -- and is highly infectious.
1h 45m
Director: Andrzej Bartkowiak
Screenplay: Dave Callaham
Screenplay: Wesley Strick
Action Horror Science Fiction
4.
The Puppet Masters (1994)
The Earth is invaded by alien parasites—aka 'slugs'—that ride on people's backs and control their minds
1h 49m
Director: Stuart Orme
Novel: Robert A. Heinlein
Screenplay: David S. Goyer
Screenplay: Ted Elliott
Screenplay: Terry Rossio
Horror Science Fiction Thriller
5.
Species: The Awakening (2007)
A scientist, Dr Holander, takes his niece Miranda to Mexico in an attempt to reverse the effects of the alien DNA he used to create her. However the treatment goes horribly wrong, and sets Miranda on a killing spree as she sets out to find a mate.
1h 38m
Author: Ben Ripley
Characters: Dennis Feldman
Director: Nick Lyon
Horror Science Fiction Thriller
6.
Possessed by the Night (1994)
A horror writer buys an odd looking mutant embryo creature, pickled in a jar, from a shop in Chinatown, hoping it will be a creative inspiration for his work. Instead, the odd mutation provokes a rage of violence and lust to envelop the suburban villa where the writer lives with his wife and sexy secretary.
1h 30m
Director: Fred Olen Ray
Screenplay: Mark Thomas McGee
Thriller Horror
Captain Saxon, and agent for the top secret Omega agency, has been given the assignment of tracking down and either capturing or killing the crew members of a secret space mission who returned to Earth against orders. It seems that they were all infected with an alien parasite, and they were trying to bring its eggs back to Earth. The eggs were lost in an accident, and both Saxon and the astronauts are trying to locate them. What could the government want them for?
1h 44m
Director: Richard Pepin
Writer: Richard Preston
Action Horror Science Fiction Thriller
When a young ski team training for the Olympics arrives at the remote and isolated Lost Mountain Ski Resort to focus on training, they're thrilled to find a retired Olympic skier is there to help them train. But their plans are halted when a scientist working at a nearby government lab arrives with the horrifying news that a top secret Government project has produced giant spiders and they have escaped, killing and eating everything in sight.
1h 30m
Director: Tibor Takács
Screenplay: Eric Miller
Horror Science Fiction Thriller Action Adventure Comedy
A space shuttle mission investigating Halley's Comet brings back a malevolent race of space vampires who transform most of London's population into zombies. The only survivor of the expedition and British authorities attempt to capture a mysterious but beautiful alien woman who appears responsible.
1h 42m
Director: Tobe Hooper
Novel: Colin Wilson
Screenplay: Dan O'Bannon
Screenplay: Olaf Pooley
Screenplay: Michael Armstrong
Screenplay: Don Jakoby
Horror Science Fiction Thriller
It's the end of yet another night at Hastings Supermarket, a grocery store in Buck Lake, Arizona. But just before closing, a group of masked and armed to the teeth militants invades the store and take everyone hostage
1h 25m
Director: Ben Rock
Screenplay: Julia Fair
Writer: David Simkins
Horror Science Fiction Thriller
11.
Resident Evil: Apocalypse (2004)
As the city is locked down under quarantine, Alice finds out that the people that died from the previous incident at the Umbrella Corporation have turned into zombies. She then joins a small band of elite soldiers, who are enlisted to rescue the missing daughter of the creator of the mutating T-virus. Once lack of luck and resources happen, they begin to wage an exhilarating battle to survive and escape before the Umbrella Corporation erases its experiment from the face of the earth.
1h 34m
Director: Alexander Witt
Screenplay: Paul W. S. Anderson
Horror Action Science Fiction
After she delivers her child in an ambulance, alien Eve is killed by a half-breed. Fortunately, Dr. Abbot scoops up the baby alien and escapes. In time, the baby grows into a gorgeous blonde named Sara and begins her quest to find a worthy mate. But Sara is also savage and leaves a trail of deaths in her wake. This carnage makes chemistry student Dean question whether to help her race or not.
1h 51m
Author: Ben Ripley
Characters: Dennis Feldman
Director: Brad Turner
Science Fiction Action Horror
explore
Check out more list from our community