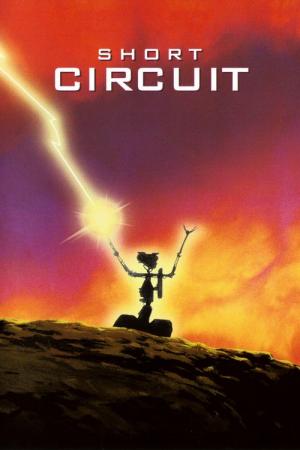 26 Best Movies Like Short Circuit ...
If you liked this movie , you will definitely love these too! In this list we highlight some of the best films that share a very similar mood to '', and are worth checking out.
1.
E.T. the Extra-Terrestrial (1982)
1h 55m Science Fiction Adventure Family Fantasy
After a gentle alien becomes stranded on Earth, the being is discovered and befriended by a young boy named Elliott. Bringing the extraterrestrial into his suburban California house, Elliott introduces E.T., as the alien is dubbed, to his brother and his little sister, Gertie, and the children decide to keep its existence a secret. Soon, however, E.T. falls ill, resulting in government intervention and a dire situation for both Elliott and the alien.
2.
Short Circuit 2 (1988)
1h 50m Comedy Family Science Fiction Drama
Robot Johnny 5 moves to the city to help his friend Ben Jahrvi with his toy manufacturing enterprise, only to be manipulated by criminals who want to use him for their own nefarious purposes.
3.
*batteries not included (1987)
1h 46m Science Fiction Comedy Family Fantasy
In a soon to be demolished block of apartments, the residents resist the criminal methods used to force them to leave so a greedy tycoon can build his new skyscraper. When tiny mechanical aliens land for a recharge, they decide to stay and help out.
4.
The Cat from Outer Space (1978)
1h 44m Comedy Family Science Fiction
A UFO is stranded on earth and impounded by the US government. Its pilot, a cat with a collar that gives it special powers, including the ability to communicate with humans, has eluded the authorities and seeks the help of a scientist in order to reclaim and repair his ship and get back home.
5.
Bicentennial Man (1999)
2h 11m Science Fiction Comedy Drama
Richard Martin buys a gift, a new NDR-114 robot. The product is named Andrew by the youngest of the family's children. "Bicentennial Man" follows the life and times of Andrew, a robot purchased as a household appliance programmed to perform menial tasks. As Andrew begins to experience emotions and creative thought, the Martin family soon discovers they don't have an ordinary robot.
6.
3 Men and a Baby (1987)
1h 42m Family Comedy
Three bachelors find themselves forced to take care of a baby left by one of the guy's girlfriends.
7.
Not Quite Human II (1989)
1h 31m TV Movie
Chip, the android boy is back. This time, he is off to college, suffering from a computer virus and in love with Roberta, another android. Will there be a happy ending?
8.
Honey, I Shrunk the Kids (1989)
1h 33m Adventure Comedy Family Science Fiction
The scientist father of a teenage girl and boy accidentally shrinks his and two other neighborhood teens to the size of insects. Now the teens must fight diminutive dangers as the father searches for them.
9.
Flight of the Navigator (1986)
1h 30m Family Science Fiction Adventure
12-year-old David is accidentally knocked out in the forest near his home, but when he awakens eight years have passed. His family is overjoyed to have him back, but is just as perplexed as he is that he hasn't aged. When a NASA scientist discovers a UFO nearby, David gets the chance to unravel the mystery and recover the life he lost.
1h 40m Action Adventure Comedy Family
In a depressed Texas town, British foreign exchange teacher Anna attempts to inject some life into her hopeless kids by introducing them to soccer. They're terrible at first, but Anna and her football-hero assistant whip them into shape. As they work overtime, the pair help kids build their self-esteem and also get involved in solving family squabbles.
11.
Hotel for Dogs (2009)
1h 40m Comedy Family
Placed in a foster home that doesn't allow pets, 16-year-old Andi and her younger brother, Bruce, turn an abandoned hotel into a home for their dog. Soon other strays arrive, and the hotel becomes a haven for every orphaned canine in town. But the kids have to do some quick thinking to keep the cops off their tails.
1h 40m Comedy Drama Family
Buck Russell, a lovable but slovenly bachelor, suddenly becomes the temporary caretaker of his nephew and nieces after a family emergency. His freewheeling attitude soon causes tension with his older niece Tia, loyal girlfriend Chanice and just about everyone else who crosses his path.
13.
Larger Than Life (1996)
1h 33m Comedy
Motivational Speaker Jack Corcoran is determined to get his career off the ground, but the biggest gigs he can get are the ones nobody wants. Then one day, he receives a telegram that his circus clown father has passed away, and has left a "huge" inheritance. When he gets there, he finds that his inheritance has come in the form of an elephant that was his father's pride and joy in circus acts. His main intention is to sell the pachyderm off. Jack must choose between loud and rude zookeeper Mo or attractive animal show owner Terry. As the two treks through the country Jack and the elephant develop a bond, and it changes his approach on life for the better.
14.
How to Build a Better Boy (2014)
1h 30m Family Science Fiction TV Movie
Mae and Gabby are two friends who go everywhere together but they are not very popular in their school. Their classmates always pressure because they have not had a boyfriend so to avoid further setbacks, the girls put in place a plan to create the perfect boyfriend. Both believe that it will be easy to create their perfect guy using the military team building; machinery owned by the father of Mae, the machine works through a wireless keyboard. The machine can create with their settings, a robotic soldier. Of this plan was born Albert an ideal guy to be a perfect boyfriend. He will be the most popular boy of the school.
15.
Harry and the Hendersons (1987)
1h 50m Comedy Family Fantasy
Returning from a hunting trip in the forest, the Henderson family's car hits an animal in the road. At first they fear it was a man, but when they examine the "body" they find it's a "bigfoot". They think it's dead so they decide to take it home (there could be some money in this). As you guessed, it isn't dead. Far from being the ferocious monster they fear "Harry" to be, he's a friendly giant.
16.
Honey I Blew Up the Kid (1992)
1h 29m Adventure Comedy Family Science Fiction
Wayne Szalinski is at it again. But instead of shrinking things, he tries to make a machine that can make things grow. As in the first one, his machine isn't quite accurate. But when he brings Nick & his toddler son Adam to see his invention, the machine unexpectedly starts working. And when Adam comes right up to the machine, he gets zapped along with his stuffed bunny.
1h 19m Comedy Romance Family
Domestic robots fall in love and run off together.
1h 41m Comedy Family
Some say that to be the leader of a country is one of the loneliest jobs in the world. But being the child of a world leader can be doubly so. Constantly surrounded by security officers, restricted in movements and having almost every waking moment carefully monitored makes normalcy an impossibility. No one knows this better than young Luke Davenport, the son of U.S. President Davenport. He vents his loneliness, frustration and feelings of isolation from family and friends by being a brat to his private Secret Service agent. When the agent snaps from the strain in front of the First Lady, a new agent is assigned to Luke. He turns out to be the enormous Sam Simms, a bit of a rogue who managed to rise through the ranks by sheer determination rather than strict adherence to Secret-Service protocol. At first, Luke tries all his old tricks upon Sam. But instead of getting angry, Sam seems to actually understand.
19.
Son of Flubber (1963)
1h 40m Comedy Family Science Fiction
Beleaguered professor Ned Brainard has already run into a pile of misfortunes with his discovery of the super-elastic substance "Flubber." Now he hopes to have better luck with a gravity-busting derivative he's dubbed "Flubbergas." Ned's experiments, constantly hampered by government obstruction, earn the consternation of his wife, Betsy. But a game-winning modification to a football uniform may help Ned make the case for his fantastic new invention.
20.
The Million Dollar Duck (1971)
1h 29m Comedy Family
Professor Dooley takes home a duck from his research laboratory as a toy for his son, but soon finds out that it lays golden eggs.
21.
Parental Guidance (2012)
1h 44m Comedy
Artie and Diane agree to look after their three grandkids when their type-A helicopter parents need to leave town for work. Problems arise when the kids' 21st-century behavior collides with Artie and Diane's old-school methods.
22.
I Heart Shakey (2012)
1h 30m Family Comedy
Shakey is a family film about a 35-year-old widower named J.T. O'Neil, his precocious 10-year-old daughter and their devoted mutt Shakey. After moving from a small town to Chicago and missing the fine print in their rental contract, J.T. is forced to try and get rid of his lovable pooch. Shakey and Chandler won't have it and hatch a plan to keep Shakey and teach J.T. a valuable lesson about loyalty and the importance of keeping family together.
1h 41m Action Adventure Family Science Fiction
Shy seventh-grader Spencer Griffith's life changes when the meteor falls into local junkyard and he finds a Cybersuit - the wise and strong robot from another galaxy. Spencer puts Cybersuit on and becomes a different kind of guy
24.
3 Men and a Little Lady (1990)
1h 44m Family Comedy
Sylvia's work increasingly takes her away from the three men who help bring up Mary, her daughter. When she decides to move to England and take Mary with her, the three men are heartbroken at losing the two most important females in their lives.
25.
The Computer Wore Tennis Shoes (1969)
1h 31m Comedy Family Drama
Some college students manage to persuade the town's big businessman, A. J. Arno, to donate a computer to their college. When the problem- student, Dexter Riley, tries to fix the computer, he gets an electric shock and his brain turns to a computer; now he remembers everything he reads. Unfortunately, he also remembers information which was in the computer's memory, like Arno's illegal businesses..
explore
Check out more list from our community