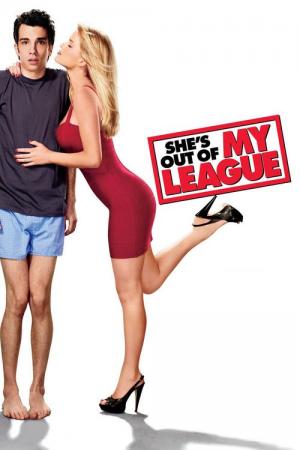 11 Best Movies Like She ...
If you liked this movie , you will for sure love these too! In this collection we highlight some of the best films that share a very similar mood to 'She's Out of My League', and are worth checking out.
1h 51m Comedy Romance
Altruistic Jane finds herself facing her worst nightmare as her younger sister announces her engagement to the man Jane secretly adores.
1h 38m Comedy Romance
On a university scholarship, a good natured student from the midwest gets a crash course in city life while dealing with three evil roommates. He befriends a virtually homeless college student whom he falls for, but she's dating a nasty professor.
3.
Going the Distance (2010)
1h 42m Comedy Drama Romance
Erin and Garrett are very much in love. When Erin moves to San Francisco to finish her journalism degree and Garrett stays behind in New York to work in the music industry, they gamely keep the romance alive with webcams and frequent-flyer miles. But just when it seems the lovers will soon be reunited, they each score a big break that could separate them for good.
4.
The 40-Year-Old Virgin (2005)
1h 56m Comedy Romance
Andy Stitzer has a pleasant life with a nice apartment and a job stamping invoices at an electronics store. But at age 40, there's one thing Andy hasn't done, and it's really bothering his sex-obsessed male co-workers: Andy is still a virgin. Determined to help Andy get laid, the guys make it their mission to de-virginize him. But it all seems hopeless until Andy meets small business owner Trish, a single mom.
5.
I Love You, Beth Cooper (2009)
1h 42m Comedy Romance
A valedictorian's declaration of love for a high-school cheerleader launches a night of revelry, reflection and romance for a group of graduating seniors.
6.
No Strings Attached (2011)
1h 47m Comedy Romance
Emma is a busy doctor who sets up a seemingly perfect arrangement when she offers her best friend Adam a relationship with one rule: No strings attached. But when a fling becomes a thing, can sex friends stay best friends?
1h 36m Comedy Romance
A romantically challenged morning show producer is reluctantly embroiled in a series of outrageous tests by her chauvinistic correspondent to prove his theories on relationships and help her find love. His clever ploys, however, lead to an unexpected result.
1h 35m Comedy Romance
The story of Angela, an ambitious, image-conscious businesswoman working for over-demanding boss Mary. When Angela becomes unexpectedly pregnant at the peak of her career, her life with her divorce attorney husband, Curtis, is turned upside-down.
1h 49m Comedy Adventure Romance
A high school senior drives cross-country with his best friends to hook up with a babe he met online.
1h 22m Comedy Romance
Three to one may sound like fairly good odds, but it depends on the game. When the "one" is one very irresistible woman and the "three" are three hopelessly smitten guys, the deck is pretty stacked. In the battle of the sexes, the first rule is to never underestimate the power of a woman.
1h 41m Comedy Romance
Tom and Hannah have been platonic friends for 10 years. He's a serial dater, while she wants marriage but hasn't found Mr. Right. Just as Tom is starting to think that he is relationship material after all, Hannah gets engaged. When she asks Tom to be her 'maid' of honor, he reluctantly agrees just so he can attempt to stop the wedding and woo her.
explore
Check out more list from our community