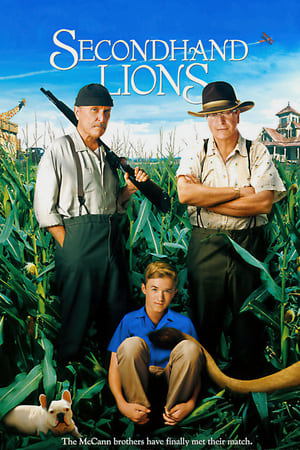 14 Best Movies Like Secondhand Lions ...
If you liked this one , you will probably love these too! In this list we highlight some of the best films that share a very similar mood to 'Secondhand Lions', and are worth checking out.
1.
Homeward Bound: The Incredible Journey (1993)
1h 24m Adventure Comedy Drama Family
Remake of the popular Disney classic, this time featuring some well known voices as two dogs and a cat trek across America encountering all sorts of adventures in the quest to be reunited with their owners.
2.
One Christmas Eve (2014)
1h 27m Comedy Family
The Newton family live in their comfortable home, but there seems to something missing. This "hole" is filled by a small puppy, who walks into their home and their lives. Beethoven, as he is named, grows into a giant of a dog... a St Bernard. Doctor Varnick, the local vet has a secret and horrible sideline, which requires lots of dogs for experiments. Beethoven is on the bad doctor's list.
1h 50m Fantasy Comedy Family
Recently orphaned, a young boy is taken in by his godmother who is shocked to realize that she can see the boy's imaginary friend: a flamboyant, French magician named Bogus.
5.
We Bought a Zoo (2011)
2h 4m Drama Comedy Family
Benjamin has lost his wife and, in a bid to start his life over, purchases a large house that has a zoo – welcome news for his daughter, but his son is not happy about it. The zoo is in need of renovation and Benjamin sets about the work with the head keeper and the rest of the staff, but, the zoo soon runs into financial trouble.
1h 57m Adventure Family Drama Comedy
Stanley's family is cursed with bad luck. Unfairly sentenced to months of detention at Camp Green Lake, he and his campmates are forced by the warden to dig holes in order to build character. What they don't know is that they are digging holes in order to search for a lost treasure hidden somewhere in the camp.
2h 5m Comedy Drama Family
Loving but irresponsible dad Daniel Hillard, estranged from his exasperated spouse, is crushed by a court order allowing only weekly visits with his kids. When Daniel learns his ex needs a housekeeper, he gets the job -- disguised as an English nanny. Soon he becomes not only his children's best pal but the kind of parent he should have been from the start.
8.
For the Love of Benji (1977)
1h 25m Family
Benji gets lost after a flight overseas and becomes a stray in Athens, Greece. He then tries everyday to reunite with his family while mysterious people pursue him, in a race to get a code which was secretly tattooed on his paw at the airport. But who are the bad guys and who are the agents that can be trusted? Will Benji and his kids and their nanny ever get to enjoy their vacation?
9.
The Little Rascals Save the Day (2014)
1h 33m Comedy
The Little Rascals are back in an all-new movie! Join the fun with Spanky, Alfalfa, Darla, Buckwheat, Petey the dog and the whole gang as they are up to their usual mischief! The Rascals try anything to raise the money needed to save their grandma's (Doris Roberts) bakery. The only trouble is - they can't seem to do anything right! From botched pet washes to terrible taxi service, they just can't raise a penny. Their only hope is to win prize money from the local talent show - but have you ever heard Alfalfa sing?
1h 27m Comedy Family Drama
As a child, Michael Walker wished every day could be Christmas. That is, until a tragic accident crushed his holiday spirit. Thirty years later, Michael still can't muster any joy for the holidays, despite encouragement from his playful wife and well-intentioned parents. But when his young son faces a tragedy, Michael needs to make amends with his past. A mysterious man named Nick gives Michael a gift and instills in him the courage to find the joy that he lost.
11.
Marley & Me (2008)
1h 55m Comedy Family
A newly married couple who, in the process of starting a family, learn many of life's important lessons from their trouble-loving retriever, Marley. Packed with plenty of laughs to lighten the load, the film explores the highs and lows of marriage, maturity and confronting one's own mortality, as seen through the lens of family life with a dog.
1h 46m Drama Comedy
A recently-widowed science fiction writer considers whether to adopt a hyper-imaginative 6-year-old abandoned and socially-rejected boy who says he's really from Mars.
13.
Beethoven's 5th (2003)
1h 31m Comedy Family
When Sara takes Beethoven to spend summer vacation with wacky Uncle Freddie in an old mining town, the mischievous canine "digs up" the missing clue to a legendary hidden fortune of Rita and Moe Selig. Now everybody wants to be the dog's best friend as his discovery unleashes a frenzy of treasure hunting among the community's cast of kooky creatures. With help from Uncle Freddie and Garrett (a friend or maybe more), Sara and Beethoven try to help uncover a secret that has been in the crazy little town for years. Description above from the Wikipedia article Beethoven's 5th (film), licensed under CC-BY-SA, full list of contributors on Wikipedia.
1h 24m Adventure Comedy Family
An eccentric socialite raises a gorilla as her son.
explore
Check out more list from our community