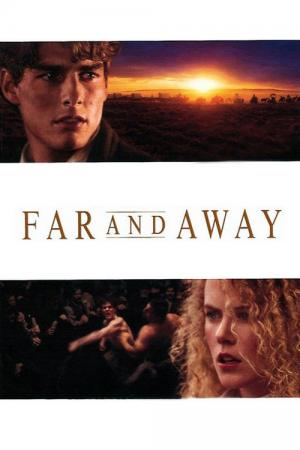 14 Best Movies Like Far And Away ...
If you liked this film , you will for sure love these too! In this list we highlight some of the best films that share a very similar mood to 'Far and Away', and are worth checking out.
2.
Nights in Rodanthe (2008)
1h 37m Drama Romance
Adrienne is trying to decide whether to stay in her unhappy marriage or not, and her life changes when Paul, a doctor who is travelling to reconcile with his estranged son, checks into an inn where she is staying.
3.
Autumn in New York (2000)
1h 43m Drama Romance
Autumn in New York follows the sexual exploits of Will Keane - New York restaurateur, infamous verging-on-50 playboy, master of the no-commitment seduction - until he runs into an unexpected dead end when he meets Charlotte Fielding. Charlotte is half Will's age and twice his match, a 21 year-old free spirit yearning to get out and taste the excitement of adult life.
4.
Message in a Bottle (1999)
2h 11m Romance Drama
A woman finds a romantic letter in a bottle washed ashore and tracks down the author, a widowed shipbuilder whose wife died tragically early. As a deep and mutual attraction blossoms, the man struggles to make peace with his past so that he can move on and find happiness.
2h 3m Romance Drama
An epic love story centered around an older man who reads aloud to a woman with Alzheimer's. From a faded notebook, the old man's words bring to life the story about a couple who is separated by World War II, and is then passionately reunited, seven years later, after they have taken different paths.
1h 44m Drama Romance
Happy young married couple Paige and Leo are, well, happy. Then a car accident puts Paige into a life-threatening coma. Upon awakening she has lost the previous five years of memories, including those of her beloved Leo, her wedding, a confusing relationship with her parents, or the ending of her relationship with her ex-fiance. Despite these complications, Leo endeavors to win her heart again and rebuild their marriage.
7.
The Blue Lagoon (1980)
1h 44m Romance Adventure Drama
Two small children and a ship's cook survive a shipwreck and find safety on an idyllic tropical island. Soon, however, the cook dies and the young boy and girl are left on their own. Days become years and Emmeline and Richard make a home for themselves surrounded by exotic creatures and nature's beauty. But will they ever see civilization again?
8.
Legends of the Fall (1994)
2h 13m Adventure Drama Romance War Western
An epic tale of three brothers and their father living in the remote wilderness of 1900s USA and how their lives are affected by nature, history, war, and love.
1h 29m Drama Romance Comedy
A woman who is robbed on her way to catch the 1:30 train to Boston is left stranded in New York City. She meets a man who helps her during the course of the night and the two form a romance.
2h 45m Adventure Drama Romance
Set in northern Australia before World War II, an English aristocrat who inherits a sprawling ranch reluctantly pacts with a stock-man in order to protect her new property from a takeover plot. As the pair drive 2,000 head of cattle over unforgiving landscape, they experience the bombing of Darwin by Japanese forces firsthand.
1h 30m Drama Romance
A British college student falls for an American student, only to be separated from him when she's banned from the U.S. after overstaying her visa.
12.
Quigley Down Under (1990)
1h 59m Western
American Matt Quigley answers Australian land baron Elliott Marston's ad for a sharpshooter to kill the dingoes on his property. But when Quigley finds out that Marston's real target is the aborigines, Quigley hits the road. Now, even American expatriate Crazy Cora can't keep Quigley safe in his cat-and-mouse game with the homicidal Marston.
1h 55m Drama Romance War
While Sergeant John Tyree is home on two weeks leave from Germany, he meets Savannah after he dives into the ocean to retrieve Savannah's purse that had fallen off a pier. John eventually falls in love with Savannah, who promises to write to him until he returns from overseas.
2h 34m Adventure Drama History Romance
In this classic story of love and devotion set against the backdrop of the American Civil War, a wounded Confederate soldier named W.P. Inman deserts his unit and travels across the South, aiming to return to his young wife, Ada, who he left behind to tend their farm. As Inman makes his perilous journey home, Ada struggles to keep their home intact with the assistance of Ruby, a mysterious drifter sent to help her by a kindly neighbor.
explore
Check out more list from our community