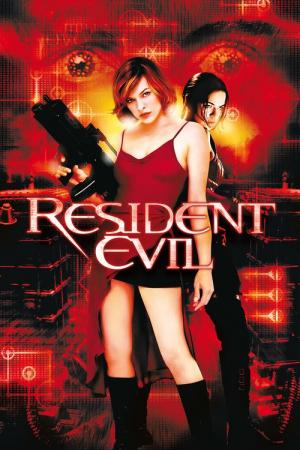 31 Best Movies Like Resident Evil ...
If you liked this movie , you will probably love these too! In this selection we highlight some of the best films that share a very similar mood to '', and are worth checking out.
1.
Resident Evil: Apocalypse (2004)
1h 34m Horror Action Science Fiction
As the city is locked down under quarantine, Alice finds out that the people that died from the previous incident at the Umbrella Corporation have turned into zombies. She then joins a small band of elite soldiers, who are enlisted to rescue the missing daughter of the creator of the mutating T-virus. Once lack of luck and resources happen, they begin to wage an exhilarating battle to survive and escape before the Umbrella Corporation erases its experiment from the face of the earth.
2.
Resident Evil: Retribution (2012)
1h 35m Action Horror Science Fiction
The Umbrella Corporation's deadly T-virus continues to ravage the Earth, transforming the global population into legions of the flesh eating Undead. The human race's last and only hope, Alice, awakens in the heart of Umbrella's most clandestine operations facility and unveils more of her mysterious past as she delves further into the complex. Without a safe haven, Alice continues to hunt those responsible for the outbreak; a chase that takes her from Tokyo to New York, Washington, D.C. and Moscow, culminating in a mind-blowing revelation that will force her to rethink everything that she once thought to be true. Aided by new found allies and familiar friends, Alice must fight to survive long enough to escape a hostile world on the brink of oblivion. The countdown has begun.
3.
Resident Evil: Extinction (2007)
1h 34m Horror Action Science Fiction
Years after the Racoon City catastrophe, survivors travel across the Nevada desert, hoping to make it to Alaska. Alice joins the caravan and their fight against hordes of zombies and the evil Umbrella Corp.
1h 56m Action Drama Horror Science Fiction Thriller
Life for former United Nations investigator Gerry Lane and his family seems content. Suddenly, the world is plagued by a mysterious infection turning whole human populations into rampaging mindless zombies. After barely escaping the chaos, Lane is persuaded to go on a mission to investigate this disease. What follows is a perilous trek around the world where Lane must brave horrific dangers and long odds to find answers before human civilization falls.
5.
Resident Evil: The Final Chapter (2016)
1h 47m Action Horror Science Fiction
Picking up immediately after the events in Resident Evil: Retribution, Alice is the only survivor of what was meant to be humanity's final stand against the undead. Now, she must return to where the nightmare began - The Hive in Raccoon City, where the Umbrella Corporation is gathering its forces for a final strike against the only remaining survivors of the apocalypse.
6.
Resident Evil: Afterlife (2010)
1h 37m Action Adventure Horror Science Fiction
In a world ravaged by a virus infection, turning its victims into the Undead, Alice continues on her journey to find survivors and lead them to safety. Her deadly battle with the Umbrella Corporation reaches new heights, but Alice gets some unexpected help from an old friend. A new lead that promises a safe haven from the Undead takes them to Los Angeles, but when they arrive the city is overrun by thousands of Undead - and Alice and her comrades are about to step into a deadly trap.
1h 41m Drama Science Fiction Thriller
Robert Neville is a scientist who was unable to stop the spread of the terrible virus that was incurable and man-made. Immune, Neville is now the last human survivor in what is left of New York City and perhaps the world. For three years, Neville has faithfully sent out daily radio messages, desperate to find any other survivors who might be out there. But he is not alone.
8.
Dawn of the Dead (2004)
1h 41m Action Horror
A group of survivors take refuge in a shopping mall after the world is taken over by aggressive, flesh-eating zombies.
1h 48m Action Thriller Science Fiction
The lethal Reaper virus spreads throughout Britain—infecting millions and killing hundreds of thousands. Authorities brutally and successfully quarantine the country but, three decades later, the virus resurfaces in a major city. An elite group of specialists is urgently dispatched into the still-quarantined country to retrieve a cure by any means necessary. Shut off from the rest of the world, the unit must battle through a landscape that has become a waking nightmare.
10.
28 Days Later... (2002)
1h 53m Horror Thriller Science Fiction
Twenty-eight days after a killer virus was accidentally unleashed from a British research facility, a small group of London survivors are caught in a desperate struggle to protect themselves from the infected. Carried by animals and humans, the virus turns those it infects into homicidal maniacs -- and it's absolutely impossible to contain.
1h 45m Action Horror Science Fiction
A team of space marines known as the Rapid Response Tactical Squad, led by Sarge, is sent to a science facility on Mars after somebody reports a security breach. There, they learn that the alert came after a test subject, a mass murderer purposefully injected with alien DNA, broke free and began killing people. Dr. Grimm, who is related to team member Reaper, informs them all that the chromosome can mutate humans into monsters -- and is highly infectious.
12.
Land of the Dead (2005)
1h 33m Horror Science Fiction Thriller
The world is full of zombies and the survivors have barricaded themselves inside a walled city to keep out the living dead. As the wealthy hide out in skyscrapers and chaos rules the streets, the rest of the survivors must find a way to stop the evolving zombies from breaking into the city.
13.
28 Weeks Later (2007)
1h 40m Horror Thriller Science Fiction
The inhabitants of the British Isles have lost their battle against the onslaught of disease, as the deadly rage virus has killed every citizen there. Six months later, a group of Americans dare to set foot on the isles, convinced the danger has come and gone. But it soon becomes all too clear that the scourge continues to live, waiting to pounce on its next victims.
14.
Day of the Dead (2008)
1h 26m Horror
When a small Colorado town is overrun by the flesh hungry dead, a small group of survivors try to escape in a last ditch effort to stay alive.
1h 27m Science Fiction Action Thriller
In the late 21st century, a subculture of humans have emerged who have been modified genetically by a vampire-like disease, giving them enhanced speed, incredible stamina and acute intelligence. As they are set apart from "normal" and "healthy" humans, the world is pushed to the brink of worldwide civil war aimed at the destruction of the "diseased" population. In the middle of this crossed-fire is - an infected woman - Ultraviolet, who finds herself protecting a nine-year-old boy who has been marked for death by the human government as he is believed to be a threat to humans.
16.
Dead & Deader (2006)
2h 31m Adventure Fantasy Action
Captain Jack Sparrow works his way out of a blood debt with the ghostly Davy Jones to avoid eternal damnation.
17.
Alien Lockdown (2004)
1h 30m Science Fiction Horror
After an experiment to make the ultimate weapon goes wrong, a team of commandos is sent into a genetic research lab and end up getting stalked by a creature that looks a lot like the Predator
18.
Chanbara Beauty (2008)
1h 25m Action Horror
The dead have risen to feast on the flesh of the living, and just when it seems that all hope for humanity has been lost, bikini girls with machine guns take one last shot at saving mankind from certain extinction. In the near future, a deranged scientist named Sugita has conducted a series of experiments intended to reanimate the dead. Unfortunately for the entire population of the planet, these experiments were a resounding success. Now, as a massive, shambling army of the undead launches a bloody war against their living counterparts, wandering beauties Aya (Eri Otoguro) and Reiko (Manami Hashimoto) team up to destroy every last zombie in sight. Unfortunately, Aya's sword-wielding schoolgirl sister Saki (Chise Nakamura) is in league with the nefarious Sugita. When Aya discovers that Saki has killed their father, she vows to take brutal revenge against her murderous younger sibling. Meanwhile, the zombie population is growing at an alarming rate.
1h 30m Action Adventure Horror
In a seedy bar in a town ravaged by war, scientist and businessman Hunt hires mercenary and former Royal Marine D.C. to assemble a crack team of ex-soldiers to protect him on a dangerous journey into no-man's land. Their mission is to scope out an old military bunker in Eastern Europe. It should be easy – 48 hours at the most. Lots of cash for little risk. Or so he says...
21.
House of the Dead 2 (2005)
22.
Anaconda: The Offspring (2008)
1h 31m Action Horror Thriller
Cancer-terminal tycoon Peter Murdoch's secret Wexel Hall Pharmaceuticals lab has developed a blood orchid extract cure. To examine why it works optimally in snakes, they also bread a super-anaconda strain. But the original pair escapes, leaving a bloody trail of corpses. Murdoch runs, instructing his staff to clean up. They keep failing and being eaten like unsuspecting locals, some alive, even after enlisting ruthless big game hunter Hammett. The fast-growing pregnant monster sheds its skin, thus disabling the only tracking device.
24.
The Devil's Tomb (2009)
1h 35m Horror Mystery
In the 1980s, college student Samantha Hughes takes a strange babysitting job that coincides with a full lunar eclipse. She slowly realizes her clients harbor a terrifying secret.
25.
Wyrmwood: Road of the Dead (2014)
1h 38m Horror Action Comedy
Barry is a talented mechanic and family man whose life is torn apart on the eve of a zombie apocalypse. His sister, Brooke, is kidnapped by a sinister team of gas-mask wearing soldiers & experimented on by a psychotic doctor. While Brooke plans her escape Barry goes out on the road to find her & teams up with Benny, a fellow survivor - together they must arm themselves and prepare to battle their way through hordes of flesh-eating monsters in a harsh Australian bushland.
1h 37m Horror Science Fiction
A rash of bizarre murders in New York City seems to point to a group of grotesquely deformed vagrants living in the sewers. A courageous policeman, a photo journalist and his girlfriend, and a nutty bum, who seems to know a lot about the creatures, band together to try and determine what the creatures are and how to stop them.
27.
The Girl with All the Gifts (2016)
1h 50m Drama Horror Thriller Science Fiction
In the future, a strange fungus has changed nearly everyone into a thoughtless, flesh-eating monster. When a scientist and a teacher find a girl who seems to be immune to the fungus, they all begin a journey to save humanity.
28.
Hell of the Living Dead (1980)
1h 39m Horror Science Fiction Thriller
A tough female reporter and her cameraman boyfriend team up with a four-man commando unit in the New Guinea jungle whom are fighting flesh-eating zombies. NB: Not to be confused with the 1981 American-made film with the same title.
1h 48m Action Horror Mystery Science Fiction Thriller
Two crew members wake up on an abandoned spacecraft with no idea who they are, how long they've been asleep, or what their mission is. The two soon discover they're actually not alone – and the reality of their situation is more horrifying than they could have imagined.
30.
The Incredible Melting Man (1977)
1h 24m Horror Science Fiction
An astronaut exposed to cosmic rays outside of Saturn's rings returns to Earth and begins to melt away. Escaping from the hospital, he wanders around the backwoods looking for human flesh to eat.
explore
Check out more list from our community