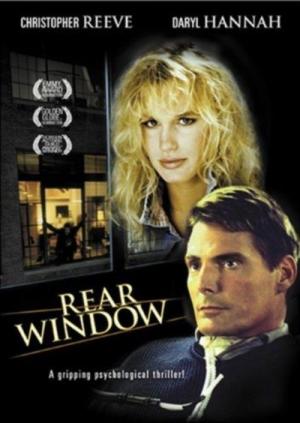 12 Best Movies Like Rear Window ...
If you liked this movie , you will probably love these too! In this selection we highlight some of the best films that share a very similar premise to '', and are worth checking out.
4.
Murder in Greenwich (2002)
1h 29m Crime Drama Family Mystery Thriller
The story of Martha Moxley, a 15-year-old girl murdered in Greenwich in the 1970s. Her murder went unsolved for 25 years.
1h 29m Drama Action Thriller Mystery
After a stunt man dies while he is involved in the making of a motion picture, his brother takes his place in order to find out what really happened.
When Detecive Max Garrett is assigned to protect the sultry photographer Laura Cross from a ruthless killer, he has no idea what he's in for. The more involved Garrett gets in the case, the more attracted he is to Cross, but as they get closer, so does the killer.
Roman (Lucky McKee) is a lonely young man who yearns to find love, happiness and companionship. Tormented by his ungrateful co-workers and trapped in a life of tedium as a welder in a local factory, Roman's one pleasure is his obsession with the elusive beauty (Kristen Bell) who lives in another apartment in his building complex. When a chance encounter with the young woman goes horribly wrong, a moment of frenzied desperation triggers a chilling turn of events leading to the girl's murder. As he teeters between deranged fantasy and cold reality, Roman's struggle to hide his grisly secret is further complicated by an eccentric neighbor named Eva (Nectar Rose) who develops an unlikely attraction to Roman and forces herself into his dark and tortured world.
A chess grandmaster is in a big tournament, and when his lover is found painted up and the blood drained out of her body he becomes a chief suspect. After he gets a call from the killer urging him to try and figure out the game, he cooperates with police and a psychologist to try and catch the killer, but doubts linger about the grandmaster's innocence as the string of grisly murders continues.
11.
Living in Peril (1997)
The young architect Walter leaves his wife Linda to go to L.A. to draw a mansion for Harrison. On the highway a truck driver almost drives him off the road. Walter calls the truck-company to complain. The driver gets fired. When Walter arrives to the apartment-block where he has rented a flat he meets the choleric landlord William and the others living there. But now the problems starts. The next morning somebody has ruined his drawing and Harrison dislikes what Walter has drawn. But soon everything gets out of hand. Walter gets into more trouble - one morning he finds rats all over his apartment and the next day he finds his beautiful neighbor killed in his bed - and he starts to think that it is the fired truck driver who is out to get revenge.
explore
Check out more list from our community