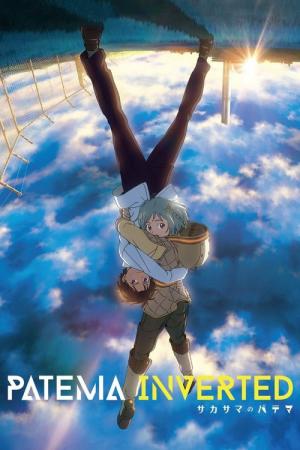 14 Best Movies Like Patema Inverted ...
If you liked this movie , you will definitely love these too! In this list we highlight some of the best films that share a very similar mood to 'Patema Inverted', and are worth checking out.
1.
Pokémon: The Rise of Darkrai (2007)
1h 30m Adventure Animation Family Fantasy Action Comedy Drama
Ash and friends (this time accompanied by newcomer Dawn) arrive at an idyllic village on their way to their next Pokemon contest, where chaos will soon erupt with the prophecy of two Pokemon Gods (Dialga and Palkia) and the arrival of a mysterious, seemingly deadly Pokemon named Darkrai, which has the power to distort space and time.
2.
Winx Club: The Secret of the Lost Kingdom (2007)
1h 25m Fantasy Animation Family
Sixteen years ago the most powerful warrior wizards of the Magic Dimension sacrificed themselves to fight against absolute evil. Now the fate of a kingdom is in the hands of a young girl - Bloom, the fairy of the Dragon's flame. Accompanied by her Winx Club girlfriends, Bloom must overcome the greatest challenge of all: enter the depths of the obscure dimension, fight against evil to bring her parents back to life and reveal the mystery linked to her origins. The destiny of the entire Magic Dimension depends on the outcome of this conflict.
3.
Journey to Agartha (2011)
1h 56m Animation Adventure Drama Fantasy
The film centers on Asuna, a young girl who spends her solitary days listening to the mysterious music emanating from the crystal radio she received from her late father as a memento. One day while walking home she is attacked by a fearsome monster and saved mysterious boy named Shun. However, Shun disappears and Asuna embarks on a journey of adventure to the land of Agartha with her teacher Mr. Morisaki to meet a Shun again. Through her journey she comes to know the cruelty and beauty of the world, as well as loss.
1h 34m Adventure Fantasy Animation Comedy Science Fiction Family
In a divided land, it takes a rebellious boy and his clandestine love for a Princess of an opposing race to stop a war orchestrated by a power hungry villain.
5.
Escaflowne: The Movie (2000)
1h 38m Animation Adventure Drama Fantasy
Gaea is a mythical realm ruled by sword and sorcery and immersed in blood and violence. Thrust into a conflict she doesn't quite understand, Hitomi Kanzaki helps aid the young Prince Van as they embark upon a journey to fight the Black Dragon Clan. The battle over a legendary suit of dragon armor, Escaflowne, has begun.
6.
Gulliver's Travels Beyond the Moon (1965)
1h 20m Animation Science Fiction
The story concerns a homeless boy named Ricky, or Ted in the Japanese version. After seeing a movie about Gulliver he meets Professor Gulliver himself in a forest. Gulliver is now an elderly, space-traveling scientist. With Dr. Gulliver's assistant Sylvester the crow (named Crow in the Japanese edition), and Ricky's companions, a talking dog and a toy soldier, they travel the Milky Way to the Planet of Blue Hope, which has been taken over by the Queen of Purple Planet and her evil group of robots. Armed with water-pistols and water balloons, which melt the villains, Ricky and Gulliver restore Blue Hope to its doll-like owners.
1h 46m Animation Science Fiction Drama
In the not-too-distant future, androids have come into common usage. However, treating androids on the same level as humans is frowned upon, and there is constant paranoia surrounding the possibility of robots defying humans, their masters. Those who appear too trustworthy of their androids are chided and labeled as "android-holics." Rikuo Sakisaka, who has taken robots for granted for his entire life, one day discovers that Sammy, his home android, has been acting independently and coming and going on her own. He finds a strange phrase recorded in her activity log, "Are you enjoying the Time of Eve?". He, along with his friend Masakazu Masaki, traces Sammy's movements and finds an unusual cafe. Nagi, the barista, informs them that the cafe's main rule is to not discriminate between humans and androids. While Rikuo tries to reveal Sammy's intentions, he begins to question the legitimacy of the fear that drives humans to regard androids as nothing more than mere tools.
8.
Atlantis: Milo's Return (2003)
1h 10m Fantasy Animation Science Fiction Family Action
Milo and Kida reunite with their friends to investigate strange occurances around the world that seem to have links to the secrets of Atlantis.
9.
Pokemon: Lucario and the Mystery of Mew (2005)
1h 43m Adventure Animation Fantasy Action Family Science Fiction
In the legendary past, before Poké Balls were invented, an aura-guiding hero Pokémon named Lucario sensed two groups of armies about to clash, and a threat of a massive war in front of Oldoran Castle in Kanto that would leave no survivors. He transferred this message to his master, the legendary hero Arlon, while he was being attacked by a violent group of Hellgar. During the battle, his sense of sight was lost and he was rendered unable to see. He used the detection of his Aura, and so with the offensive Wave Bomb, he eliminated them. Though by the threat, the queen of Rota, Lady Rin was resolute to die with her civilians, and so Arlon made a choice.
10.
The little prince (2015)
1h 48m Adventure Animation Fantasy Family
Based on the best-seller book 'The Little Prince', the movie tells the story of a little girl that lives with resignation in a world where efficiency and work are the only dogmas. Everything will change when accidentally she discovers her neighbor that will tell her about the story of the Little Prince that he once met.
1h 46m Romance Animation Drama
High schoolers Mitsuha and Taki are complete strangers living separate lives. But one night, they suddenly switch places. Mitsuha wakes up in Taki's body, and he in hers. This bizarre occurrence continues to happen randomly, and the two must adjust their lives around each other.
12.
The Flight of Dragons (1982)
1h 36m Animation Family Fantasy
The realm of magic is being threatened by the realm of logic, so Carolinus, the green wizard decides to shield it for all time. Ommadon, the evil red wizard, stands in his way. Carolinus then calls for a quest that is to be led by a man named Peter Dickinson, who is the first man of both the realms of science and magic. It is Peter's job to defeat Ommadon.
13.
Howl's Moving Castle (2004)
1h 59m Fantasy Animation Adventure
When Sophie, a shy young woman, is cursed with an old body by a spiteful witch, her only chance of breaking the spell lies with a self-indulgent yet insecure young wizard and his companions in his legged, walking castle.
14.
Welcome to the Space Show (2010)
2h 16m Animation Science Fiction
Five children save the life of a dog-like alien while at a self-run summer camp. He attempts to reward them by taking them to an alien colony on the Moon. Events take a turn for the worse when his report on that attack that injured him causes passage from the Moon to the Earth to be banned, and children are stranded in space. The children need to find a way back home before camp ends and their parents discover that they are missing. They also have to avoid the poachers that injured their alien friend, and now seem to be stalking them all.
explore
Check out more list from our community