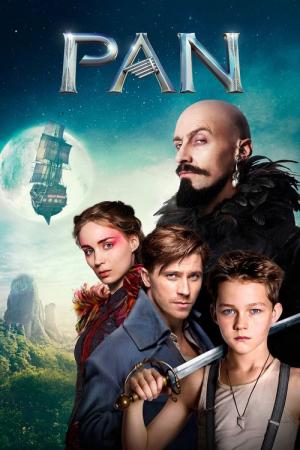 11 Best Movies Like Pan ...
If you liked this one , you will for sure love these too! In this selection we highlight some of the best films that share a very similar mood to 'Pan', and are worth checking out.
1.
Harry Potter and the Sorcerer's Stone (2001)
2h 32m Adventure Fantasy
Harry Potter has lived under the stairs at his aunt and uncle's house his whole life. But on his 11th birthday, he learns he's a powerful wizard -- with a place waiting for him at the Hogwarts School of Witchcraft and Wizardry. As he learns to harness his newfound powers with the help of the school's kindly headmaster, Harry uncovers the truth about his parents' deaths -- and about the villain who's to blame.
2.
The Hobbit: The Desolation of Smaug (2013)
2h 41m Fantasy Adventure Action
The Dwarves, Bilbo and Gandalf have successfully escaped the Misty Mountains, and Bilbo has gained the One Ring. They all continue their journey to get their gold back from the Dragon, Smaug.
3.
The Neverending Story III (1994)
1h 35m Fantasy Family
A young boy must restore order when a group of bullies steal the magical book that acts as a portal between Earth and the imaginary world of Fantasia.
4.
A Series of Unfortunate Events (2004)
1h 48m Adventure Comedy Family
Three wealthy children's parents are killed in a fire. When they are sent to a distant relative, they find out that he is plotting to kill them and seize their fortune.
1h 26m Adventure Fantasy Action Comedy Family
The four-inch-tall Clock family secretly share a house with the normal-sized Lender family, "borrowing" such items as thread, safety pins, batteries and scraps of food. However, their peaceful co-existence is disturbed when evil lawyer Ocious P. Potter steals the will granting title to the house, which he plans to demolish in order to build apartments. The Lenders are forced to move, and the Clocks face the risk of being exposed to the normal-sized world.
6.
Thomas and the Magic Railroad (2000)
1h 24m Animation Drama Family
Mr. Conductor's supply of magic gold dust, which allows him to travel between Shining Time and Thomas's island, is critically low. Unfortunately, he doesn't know how to get more. Meanwhile, Thomas is fending off attacks by the nasty diesel engines. Getting more gold dust will require help from Mr. C's slacker cousin, his new friend Lily and her morose grandfather, plus the secret engine.
7.
Teenage Mutant Ninja Turtles III (1993)
1h 36m Action Adventure Comedy Family Fantasy Science Fiction
The four turtles travel back in time to the days of the legendary and deadly samurai in ancient Japan, where they train to perfect the art of becoming one. The turtles also assist a small village in an uprising.
8.
Gulliver's Travels (2010)
1h 25m Family Comedy Adventure Fantasy
Travel writer Lemuel Gulliver takes an assignment in Bermuda, but ends up on the island of Liliput, where he towers over its tiny citizens.
9.
Miss Peregrine's Home for Peculiar Children (2016)
2h 7m Drama Fantasy Adventure Family
A teenager finds himself transported to an island where he must help protect a group of orphans with special powers from creatures intent on destroying them.
1h 42m Adventure Family Fantasy
When teen Sarah is forced to babysit Toby, her baby stepbrother, she summons Jareth the Goblin King to take him away. When he is actually kidnapped, Sarah is given just thirteen hours to solve a labyrinth and rescue him.
1h 46m Adventure Comedy Drama Family Fantasy
After she spends all her money, an evil enchantress queen schemes to marry a handsome, wealthy prince. There's just one problem - he's in love with a beautiful princess, Snow White. Now, joined by seven rebellious dwarves, Snow White launches an epic battle of good vs. evil...
explore
Check out more list from our community