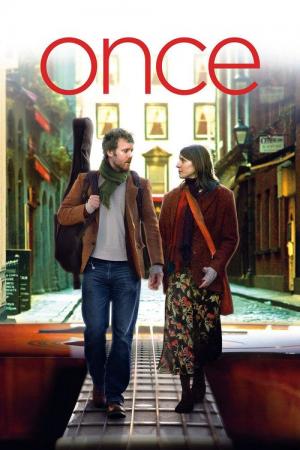 12 Best Movies Like Once ...
If you liked this movie , you will definitely love these too! In this collection we highlight some of the best films that share a very similar mood to 'Once', and are worth checking out.
2h 9m Comedy Drama Romance Music
Mia, an aspiring actress, serves lattes to movie stars in between auditions and Sebastian, a jazz musician, scrapes by playing cocktail party gigs in dingy bars, but as success mounts they are faced with decisions that begin to fray the fragile fabric of their love affair, and the dreams they worked so hard to maintain in each other threaten to rip them apart.
2.
Mr. Holland's Opus (1995)
2h 17m Drama Music Family
In 1965, passionate musician Glenn Holland takes a day job as a high school music teacher, convinced it's just a small obstacle on the road to his true calling: writing a historic opus. As the decades roll by with the composition unwritten but generations of students inspired through his teaching, Holland must redefine his life's purpose.
3.
Immortal Beloved (1994)
2h 1m Drama Music Romance
A chronicle of the life of infamous classical composer Ludwig van Beethoven and his painful struggle with hearing loss. Following Beethoven's death in 1827, his assistant, Schindler, searches for an elusive woman referred to in the composer's love letters as "immortal beloved." As Schindler solves the mystery, a series of flashbacks reveal Beethoven's transformation from passionate young man to troubled musical genius.
4.
The Legend of 1900 (1998)
2h Drama Music Romance
The story of a virtuoso piano player who lives his entire life aboard an ocean liner. Born and raised on the ship, 1900 (Tim Roth) learned about the outside world through interactions with passengers, never setting foot on land, even for the love of his life. Years later, the ship may be destroyed, and a former band member fears that 1900 may still be aboard, willing to go down with the ship.
5.
The Thing Called Love (1993)
1h 56m Drama Romance
Miranda Presley moves from New York to Nashville to become a songwriter. At an unsuccessful audition she meets James Wright, a promising newcomer. After only a few days they marry but start to quickly regret it.
6.
Coco Chanel & Igor Stravinsky (2009)
2h Drama Romance
Paris 1913. Coco Chanel is infatuated with the rich and handsome Boy Capel, but she is also compelled by her work. Igor Stravinsky's The Rite of Spring is about to be performed. The revolutionary dissonances of Igor's work parallel Coco's radical ideas. She wants to democratize women's fashion; he wants to redefine musical taste. Coco attends the scandalous first performance of The Rite in a chic white dress. The music and ballet are criticized as too modern, too foreign. Coco is moved but Igor is inconsolable.
7.
Pure Country 2: The Gift (2010)
1h 52m Drama Music Romance
Three angels bestow the gift of song to a young girl, who must follow a series of rules in order hold on to it during her rise to fame and fortune.
1h 51m Romance Drama
A fictionalized account of the last days of opera singer Maria Callas (Ardant).
9.
Permanent Record (1988)
1h 32m Drama
David Sinclair seems to have everything going for him: he's smart, musically talented, and very successful. To top off his senior year in high school, his band is trying to get a recording session. Therefore, David's suicide leaves everyone, especially his best friend and band-mate, Chris, with a lot of questions.
1h 38m Drama
The drama tells the story of John Lennon's teenage years in Liverpool and the start of his journey to becoming a successful musician. The story also examines the impact on his early life and personality of the two dominant females in his childhood.
11.
Beyond the Lights (2014)
1h 56m Romance Drama
Noni Jean is a hot new rising star. But not all is what it seems, and the pressure causes Noni to nearly fall apart - until she meets Kaz Nicol, a promising young cop and aspiring politician who's been assigned to her detail. Can Kaz's love give Noni the courage to find her own voice and break free to become the artist she was meant to be?
12.
God Help the Girl (2014)
1h 51m Comedy Drama Music
Eve is a catastrophe—low on self-esteem but high on fantasy, especially when it comes to music. Over the course of one Glasgow summer, she meets two similarly rootless souls: posh Cass and fastidious James, and together they form a group.
explore
Check out more list from our community