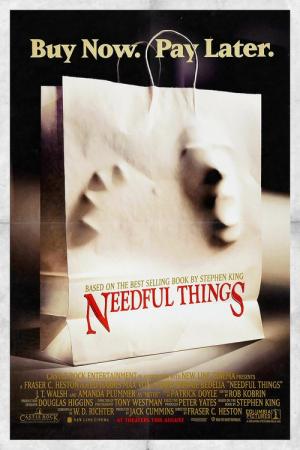 13 Best Movies Like Needful Things ...
If you liked this movie , you will for sure love these too! In this collection we highlight some of the best films that share a very similar premise to 'Needful Things', and are worth checking out.
1h 47m Drama Thriller
One day in 1984, Todd Bowden, a brilliant high school boy fascinated by the history of Nazism, stumbles across an old man whose appearance resembles that of Kurt Dussander, a wanted Nazi war criminal. A month later, Todd decides to knock on his door.
2.
Storm of the Century (1999)
1h 26m Drama Sci-Fi & Fantasy
Storm of the Century, alternatively known as Stephen King's Storm of the Century, is a 1999 horror TV miniseries written by Stephen King and directed by Craig R. Baxley. Unlike many other King mini-series, Storm of the Century was not based upon a Stephen King novel—King wrote it as a screenplay from the beginning. The screenplay was published in February 1999.
1h 41m Thriller Crime
It's fire and brimstone time as grieving mother Karen McCann takes justice into her own hands when a kangaroo court in Los Angeles fails to convict Robert Doob, the monster who raped and murdered her 17-year-old daughter.
4.
It: Chapter Two (2019)
2h 49m Horror Fantasy
27 years after overcoming the malevolent supernatural entity Pennywise, the former members of the Losers' Club, who have grown up and moved away from Derry, are brought back together by a devastating phone call.
1h 56m Crime Drama Thriller
David Sumner, a mild-mannered academic from the United States, marries Amy, an Englishwoman. In order to escape a hectic stateside lifestyle, David and his wife relocate to the small town in rural Cornwall where Amy was raised. There, David is ostracized by the brutish men of the village, including Amy's old flame, Charlie. Eventually the taunts escalate, and two of the locals rape Amy. This sexual assault awakes a shockingly violent side of David.
6.
Children of the Corn: The Gathering (1996)
1h 25m Horror
Grace Rhodes, who is studying to be a doctor, returns to her hometown as a strange illness is afflicting the local children. The symptoms include a high fever and spasms, but even weirder is what happens the next day: All those with the illness claim they are somebody else -- then they begin murdering the grown-ups. After her sister undergoes the same sinister metamorphosis, Grace comes to believe there is some connection to an evil cult figure who may be returning from the grave.
2h 2m Mystery Horror
Thad Beaumont is the author of a highly successful series of violent pulp thrillers written under the pseudonym of 'George Stark', but when he decides to 'kill-off' his alter-ego in a mock ceremony, it precipitates a string of sadistic murders matching those in his pulp novels, which are soon discovered to be the work of Stark himself. Looking like a maniacal version of his counterpart, Stark is not so willing to quit the writing game – even if it means coming after Thad's wife and their baby.
1h 43m Drama Thriller Horror
Hatch Harrison, his wife, Lindsey, and their daughter, Regina, are enjoying a pleasant drive when a car crash leaves wife and daughter unharmed but kills Hatch. However, an ingenious doctor, Jonas Nyebern, manages to revive Hatch after two lifeless hours. But Hatch does not come back unchanged. He begins to suffer horrible visions of murder -- only to find out the visions are the sights of a serial killer.
1h 32m Horror Thriller
A fat lawyer finds himself growing "Thinner" when an old gypsy man places a hex on him. Now the lawyer must call upon his friends in organized crime to help him persuade the gypsy to lift the curse. Time is running out for the desperate lawyer as he draws closer to his own death, and grows ever thinner.
1h 31m Fantasy Horror Thriller
Charles Brady and his mother, Mary, are the last of a dying breed whose needs are not of this world. They are Sleepwalkers - able to stay alive only by feeding on the life-force of the innocent, but destined to roam the earth, avoiding discovery while searching for their next victim. That search takes them to the sleepy little town of Travis, Indiana, where beautiful teenager Tanya Robertson is about to become an unwilling pawn in their nightmarish fight for survival.
1h 30m Horror Science Fiction
The Djinn having been released from his ancient prison seeks to capture the soul of the woman who discovered him, thereby opening a portal and freeing his fellow Djinn to take over the earth.
12.
The Seventh Sign (1988)
1h 37m Horror Fantasy
Abby is a pregnant woman with a curious new boarder in the apartment over her garage. Turns out he's heaven-sent and is speeding along the Apocalypse by bloodying rivers, egging on plagues and following scripture word for word.
1h 38m Horror Fantasy Thriller
The angel Gabriel comes to Earth to collect a soul which will end the stalemated war in Heaven, and only a former priest and a little girl can stop him.
explore
Check out more list from our community