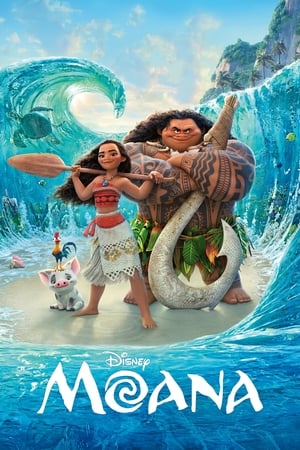 31 Best Movies Like Moana ...
If you liked this movie , you will for sure love these too! In this list we highlight some of the best films that share a very similar premise to '', and are worth checking out.
1h 42m Animation Adventure Family
Young princess Anna of Arendelle dreams about finding true love at her sister Elsa's coronation. Fate takes her on a dangerous journey in an attempt to end the eternal winter that has fallen over the kingdom. She's accompanied by ice delivery man Kristoff, his reindeer Sven, and snowman Olaf. On an adventure where she will find out what friendship, courage, family, and true love really means.
1h 40m Animation Family
When the kingdom's most wanted-and most charming-bandit Flynn Rider hides out in a mysterious tower, he's taken hostage by Rapunzel, a beautiful and feisty tower-bound teen with 70 feet of magical, golden hair. Flynn's curious captor, who's looking for her ticket out of the tower where she's been locked away for years, strikes a deal with the handsome thief and the unlikely duo sets off on an action-packed escapade, complete with a super-cop horse, an over-protective chameleon and a gruff gang of pub thugs.
1h 38m Action Adventure Animation Comedy Family Fantasy
The prehistoric Croods family live in a particularly dangerous moment in time. Patriarch Grug, his mate Ugga, teenage daughter Eep, son Thunk, and feisty Gran gather food by day and huddle together in a cave at night. When a more evolved caveman named Guy arrives on the scene, Grug is distrustful, but it soon becomes apparent that Guy is correct about the impending destruction of their world.
1h 43m Family Animation Adventure Comedy Fantasy Music
Elsa, Anna, Kristoff and Olaf head far into the forest to learn the truth about an ancient mystery of their kingdom.
6.
Lilo & Stitch (2002)
1h 25m Animation Family
As Stitch, a runaway genetic experiment from a faraway planet, wreaks havoc on the Hawaiian Islands, he becomes the mischievous adopted alien "puppy" of an independent little girl named Lilo and learns about loyalty, friendship, and 'ohana, the Hawaiian tradition of family.
1h 32m Animation Comedy Family
James Sullivan and Mike Wazowski are monsters, they earn their living scaring children and are the best in the business... even though they're more afraid of the children than they are of them. When a child accidentally enters their world, James and Mike suddenly find that kids are not to be afraid of and they uncover a conspiracy that could threaten all children across the world.
1h 32m Family Animation Fantasy Adventure Comedy Music
Lovable and friendly, the trolls love to play around. But one day, a mysterious giant shows up to end the party. Poppy, the optimistic leader of the Trolls, and her polar opposite, Branch, must embark on an adventure that takes them far beyond the only world they've ever known.
1h 40m Animation Family
Nemo, an adventurous young clownfish, is unexpectedly taken from his Great Barrier Reef home to a dentist's office aquarium. It's up to his worrisome father Marlin and a friendly but forgetful fish Dory to bring Nemo home -- meeting vegetarian sharks, surfer dude turtles, hypnotic jellyfish, hungry seagulls, and more along the way.
10.
The Princess and the Frog (2009)
1h 38m Romance Family Animation
A waitress, desperate to fulfill her dreams as a restaurant owner, is set on a journey to turn a frog prince back into a human being, but she has to face the same problem after she kisses him.
11.
The Secret Life of Pets (2016)
1h 27m Adventure Comedy Animation Family
The quiet life of a terrier named Max is upended when his owner takes in Duke, a stray whom Max instantly dislikes.
12.
The Little Mermaid (1989)
1h 23m Animation Family Fantasy
This colorful adventure tells the story of an impetuous mermaid princess named Ariel who falls in love with the very human Prince Eric and puts everything on the line for the chance to be with him. Memorable songs and characters -- including the villainous sea witch Ursula.
13.
The Good Dinosaur (2015)
1h 33m Adventure Animation Family
An epic journey into the world of dinosaurs where an Apatosaurus named Arlo makes an unlikely human friend.
1h 36m Animation Adventure Comedy Family
Captured by smugglers when he was just a hatchling, a macaw named Blu never learned to fly and lives a happily domesticated life in Minnesota with his human friend, Linda. Blu is thought to be the last of his kind, but when word comes that Jewel, a lone female, lives in Rio de Janeiro, Blu and Linda go to meet her. Animal smugglers kidnap Blu and Jewel, but the pair soon escape and begin a perilous adventure back to freedom -- and Linda.
1h 30m Animation Comedy Fantasy Adventure
It ain't easy bein' green -- especially if you're a likable (albeit smelly) ogre named Shrek. On a mission to retrieve a gorgeous princess from the clutches of a fire-breathing dragon, Shrek teams up with an unlikely compatriot -- a wisecracking donkey.
16.
Ralph Breaks the Internet: Wreck-It Ralph 2 (2018)
17.
Rise of the Guardians (2012)
1h 37m Family Animation Fantasy Action Adventure
When an evil spirit known as Pitch lays down the gauntlet to take over the world, the immortal Guardians must join forces for the first time to protect the hopes, beliefs and imagination of children all over the world.
18.
Arthur Christmas (2011)
1h 37m Drama Animation Family Comedy
Each Christmas, Santa and his vast army of highly trained elves produce gifts and distribute them around the world in one night. However, when one of 600 million children to receive a gift from Santa on Christmas Eve is missed, it is deemed 'acceptable' to all but one—Arthur. Arthur Claus is Santa's misfit son who executes an unauthorised rookie mission to get the last present half way around the globe before dawn on Christmas morning.
1h 30m Animation Family Adventure Fantasy Romance
Princess Jasmine grows tired of being forced to remain in the palace, so she sneaks out into the marketplace, in disguise, where she meets street-urchin Aladdin. The couple falls in love, although Jasmine may only marry a prince. After being thrown in jail, Aladdin becomes embroiled in a plot to find a mysterious lamp, with which the evil Jafar hopes to rule the land.
20.
Ice Age: Continental Drift (2012)
1h 28m Animation Comedy Adventure Family
Manny, Diego, and Sid embark upon another adventure after their continent is set adrift. Using an iceberg as a ship, they encounter sea creatures and battle pirates as they explore a new world.
21.
How to Train Your Dragon (2010)
1h 38m Fantasy Adventure Animation Family
As the son of a Viking leader on the cusp of manhood, shy Hiccup Horrendous Haddock III faces a rite of passage: he must kill a dragon to prove his warrior mettle. But after downing a feared dragon, he realizes that he no longer wants to destroy it, and instead befriends the beast – which he names Toothless – much to the chagrin of his warrior father
22.
How to Train Your Dragon 2 (2014)
1h 42m Fantasy Action Adventure Animation Comedy Family
The thrilling second chapter of the epic How To Train Your Dragon trilogy brings back the fantastical world of Hiccup and Toothless five years later. While Astrid, Snotlout and the rest of the gang are challenging each other to dragon races (the island's new favorite contact sport), the now inseparable pair journey through the skies, charting unmapped territories and exploring new worlds. When one of their adventures leads to the discovery of a secret ice cave that is home to hundreds of new wild dragons and the mysterious Dragon Rider, the two friends find themselves at the center of a battle to protect the peace.
23.
The Book of Life (2014)
1h 35m Animation Adventure Comedy Family Fantasy
The journey of Manolo, a young man who is torn between fulfilling the expectations of his family and following his heart. Before choosing which path to follow, he embarks on an incredible adventure that spans three fantastical worlds where he must face his greatest fears.
1h 45m Family Animation Fantasy Music Comedy Adventure
Despite his family's baffling generations-old ban on music, Miguel dreams of becoming an accomplished musician like his idol, Ernesto de la Cruz. Desperate to prove his talent, Miguel finds himself in the stunning and colorful Land of the Dead following a mysterious chain of events. Along the way, he meets charming trickster Hector, and together, they set off on an extraordinary journey to unlock the real story behind Miguel's family history.
25.
Despicable Me 3 (2017)
1h 36m Action Animation Comedy Family Adventure
Gru and his wife Lucy must stop former '80s child star Balthazar Bratt from achieving world domination.
1h 35m Animation Family Adventure Drama Comedy
Growing up can be a bumpy road, and it's no exception for Riley, who is uprooted from her Midwest life when her father starts a new job in San Francisco. Riley's guiding emotions— Joy, Fear, Anger, Disgust and Sadness—live in Headquarters, the control centre inside Riley's mind, where they help advise her through everyday life and tries to keep things positive, but the emotions conflict on how best to navigate a new city, house and school.
1h 38m Animation Family Adventure Comedy
Bolt is the star of the biggest show in Hollywood. The only problem is, he thinks it's real. After he's accidentally shipped to New York City and separated from Penny, his beloved co-star and owner, Bolt must harness all his "super powers" to find a way home.
28.
Wreck-It Ralph (2012)
1h 41m Family Animation Comedy Adventure
Wreck-It Ralph is the 9-foot-tall, 643-pound villain of an arcade video game named Fix-It Felix Jr., in which the game's titular hero fixes buildings that Ralph destroys. Wanting to prove he can be a good guy and not just a villain, Ralph escapes his game and lands in Hero's Duty, a first-person shooter where he helps the game's hero battle against alien invaders. He later enters Sugar Rush, a kart racing game set on tracks made of candies, cookies and other sweets. There, Ralph meets Vanellope von Schweetz who has learned that her game is faced with a dire threat that could affect the entire arcade, and one that Ralph may have inadvertently started.
29.
Shrek the Third (2007)
1h 33m Fantasy Adventure Animation Comedy Family
The King of Far Far Away has died and Shrek and Fiona are to become King & Queen. However, Shrek wants to return to his cozy swamp and live in peace and quiet, so when he finds out there is another heir to the throne, they set off to bring him back to rule the kingdom.
1h 33m Animation Family Fantasy Adventure Comedy Romance
Bestowed with superhuman strength, a young mortal named Hercules sets out to prove himself a hero in the eyes of his father, the great god Zeus. Along with his friends Pegasus, a flying horse, and Phil, a personal trainer, Hercules is tricked by the hilarious, hotheaded villain Hades, who's plotting to take over Mount Olympus!
explore
Check out more list from our community