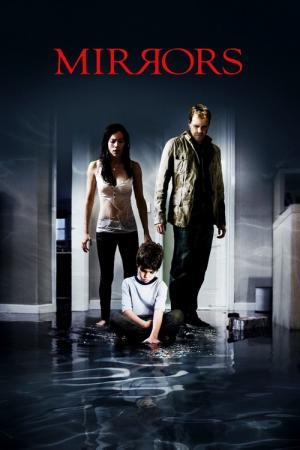 11 Best Movies Like Mirrors ...
If you liked this movie , you will probably love these too! In this selection we highlight some of the best films that share a very similar mood to 'Mirrors', and are worth checking out.
1h 49m Horror Mystery Thriller
In her many years as a social worker, Emily Jenkins believes she has seen it all, until she meets 10-year-old Lilith and the girl's cruel parents. Emily's worst fears are confirmed when the parents try to harm the child, and so Emily assumes custody of Lilith while she looks for a foster family. However, Emily soon finds that dark forces surround the seemingly innocent girl, and the more she tries to protect Lilith, the more horrors she encounters.
3.
Paranormal Activity 3 (2011)
1h 23m Horror Mystery
In 1988, young sisters Katie and Kristi befriend an invisible entity who resides in their home.
4.
The Amityville Horror (1979)
1h 57m Horror
George Lutz and his wife Kathleen, move into their Long Island dream house with their children only for their lives to be turned into a hellish nightmare. The legacy of a murder committed in the house gradually affects the family and a priest is brought in to try and exorcise the demonic presence from their home.
1h 52m Horror Thriller
Paranormal investigators Ed and Lorraine Warren work to help a family terrorized by a dark presence in their farmhouse. Forced to confront a powerful entity, the Warrens find themselves caught in the most terrifying case of their lives.
6.
Paranormal Activity (2007)
1h 32m Horror Mystery Thriller
An American nurse living and working in Tokyo is exposed to a mysterious supernatural curse, one that locks a person in a powerful rage before claiming their life and spreading to another victim.
1h 55m Horror Mystery
It sounded like just another urban legend: A videotape filled with nightmarish images, leading to a phone call foretelling the viewer's death in exactly seven days. As a newspaper reporter, Rachel Keller was naturally skeptical of the story, until four teenagers all met with mysterious deaths exactly one week after watching just such a tape. Allowing her investigative curiosity to get the better of her, Rachel tracks down the video... and watches it. Now she has just seven days to unravel the mystery of the Ring.
9.
Paranormal Activity: The Marked Ones (2014)
1h 24m Horror Thriller
Seventeen-year-old Jesse has been hearing terrifying sounds coming from his neighbor's apartment, but when he turns on his camera and sets out to uncover their source, he encounters an ancient evil that won't rest until it's claimed his very soul.
10.
The Taking of Deborah Logan (2014)
1h 30m Horror Mystery Thriller
What starts as a poignant medical documentary about Deborah Logan's descent into Alzheimer's disease and her daughter's struggles as caregiver degenerates into a maddening portrayal of dementia at its most frightening, as hair-raising events begin to plague the family and crew and an unspeakable malevolence threatens to tear the very fabric of sanity from them all.
explore
Check out more list from our community