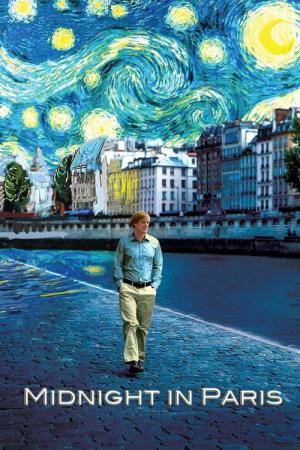 14 Best Movies Like Midnight In Paris ...
If you liked this one , you will definitely love these too! In this selection we highlight some of the best films that share a very similar premise to 'Midnight in Paris', and are worth checking out.
1.
The Purple Rose of Cairo (1985)
1h 22m Fantasy Comedy Romance
Cecilia is a waitress in New Jersey, living a dreary life during the Great Depression. Her only escape from her mundane reality is the movie theatre. After losing her job, Cecilia goes to see 'The Purple Rose of Cairo' in hopes of raising her spirits, where she watches dashing archaeologist Tom Baxter time and again.
1h 41m Romance Fantasy Drama Comedy
A narcissistic TV weatherman, along with his attractive-but-distant producer, and his mawkish cameraman, is sent to report on Groundhog Day in the small town of Punxsutawney, where he finds himself repeating the same day over and over.
3.
The Science of Sleep (2006)
1h 45m Comedy Drama Fantasy
A man entranced by his dreams and imagination is lovestruck with a French woman and feels he can show her his world.
4.
Paris-Manhattan (2012)
1h 19m Comedy Romance
Alice, an obsessed Woody Allen fan, meets Pierre in a night-club and falls in love with him. But when Pierre sees Alice's sister Hélène, things start to get complicated.
5.
To Rome with Love (2012)
1h 51m Romance Comedy Drama
Four tales unfold in the Eternal City: While vacationing in Rome, architect John encounters a young man whose romantic woes remind him of a painful incident from his own youth; retired opera director Jerry discovers a mortician with an amazing voice, and he seizes the opportunity to rejuvenate his own flagging career; a young couple have separate romantic interludes; a spotlight shines on an ordinary man.
2h 2m Comedy Romance
At a tiny Parisian café, the adorable yet painfully shy Amélie accidentally discovers a gift for helping others. Soon Amelie is spending her days as a matchmaker, guardian angel, and all-around do-gooder. But when she bumps into a handsome stranger, will she find the courage to become the star of her very own love story?
1h 44m Comedy Romance Fantasy Drama
Calvin is a young novelist who achieved phenomenal success early in his career but is now struggling with his writing – as well as his romantic life. Finally, he makes a breakthrough and creates a character named Ruby who inspires him. When Calvin finds Ruby, in the flesh, sitting on his couch about a week later, he is completely flabbergasted that his words have turned into a living, breathing person.
8.
Stranger Than Fiction (2006)
1h 53m Comedy Drama Fantasy Romance
Harold Crick is a lonely IRS agent whose mundane existence is transformed when he hears a mysterious voice narrating his life.
9.
Magic in the Moonlight (2014)
1h 37m Comedy Drama Romance
Set in the 1920s French Riviera, a master magician is commissioned to try and expose a psychic as a fraud.
1h 39m Comedy Drama Fantasy Romance
Gwyneth Paltrow plays London publicist Helen, effortlessly sliding between parallel storylines that show what happens if she does or does not catch a train back to her apartment. Love. Romantic entanglements. Deception. Trust. Friendship. Comedy. All come into focus as the two stories shift back and forth, overlap and surprisingly converge.
11.
My Future Boyfriend (2011)
1h 13m Comedy
P-A-X-497/341, aka "Pax" , a curious young man from the well-ordered but loveless future, travels to present day New Orleans in search of romance novelist Elizabeth Barrett – whose book he has come upon during an archeological dig in the year 3127. Hoping Elizabeth can explain the concept of love to him, which is now nonexistent in his time, Pax embarks on an adventure filled with new discoveries. Elizabeth introduces Pax to life in the year 2011, filled with love, music and of course, destiny. When Pax doesn't return to the future by the given deadline, Bob, his fellow scientist, travels back in time to find him. Meanwhile, as Elizabeth helps Pax learn about love, she ends up confiding in her colleague, played by Valerie Harper, about her own upcoming "surprise" engagement.
12.
Mighty Aphrodite (1995)
1h 35m Comedy Romance
When Lenny and his wife, Amanda, adopt a baby, Lenny realizes that his son is a genius and becomes obsessed with finding the boy's biological mother in hopes that she will be brilliant too. But when he learns that Max's mother is Linda Ash, a kindhearted prostitute and porn star, Lenny is determined to reform her immoral lifestyle. A Greek chorus chimes in to relate the plot to Greek mythology in this quirky comedy.
13.
Everyone Says I Love You (1996)
1h 41m Comedy Romance
A New York girl sets her father up with a beautiful woman in a shaky marriage while her half sister gets engaged.
2h 3m Comedy Drama Romance Fantasy
The night after another unsatisfactory New Year party, Tim's father tells his son that the men in his family have always had the ability to travel through time. Tim can't change history, but he can change what happens and has happened in his own life – so he decides to make his world a better place... by getting a girlfriend. Sadly, that turns out not to be as easy as he thinks.
explore
Check out more list from our community