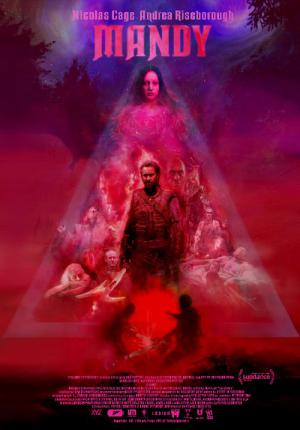 14 Best Movies Like Mandy ...
If you liked this film , you will probably love these too! In this collection we highlight some of the best films that share a very similar mood to 'Mandy', and are worth checking out.
1h 44m Mystery Thriller Horror
Chris and his girlfriend Rose go upstate to visit her parents for the weekend. At first, Chris reads the family's overly accommodating behavior as nervous attempts to deal with their daughter's interracial relationship, but as the weekend progresses, a series of increasingly disturbing discoveries lead him to a truth that he never could have imagined.
1h 36m Action Crime Thriller
Master thief Will Montgomery is just released from the State penitentiary after serving a 10 year sentence, is contacted by Vincent, his ex comrade in crime, who is holding Will's teenage daughter ransom in a hijacked taxi cab. Vincent will only surrender her when Will reveals the whereabouts of the 20 million dollars he contrived to conceal from their last robbery.
3.
Rambo 5: Last Blood (2019)
1h 29m Action Thriller Drama
After fighting his demons for decades, John Rambo now lives in peace on his family ranch in Arizona, but his rest is interrupted when Gabriela, the granddaughter of his housekeeper María, disappears after crossing the border into Mexico to meet her biological father. Rambo, who has become a true father figure for Gabriela over the years, undertakes a desperate and dangerous journey to find her.
2h Drama Thriller Mystery Action
With no clue how he came to be imprisoned, drugged and tortured for 15 years, a desperate businessman seeks revenge on his captors.
7.
The Stendhal Syndrome (1996)
2h Crime Horror Thriller
A young policewoman slowly goes insane while tracking down an elusive serial rapist/killer through Italy when she herself becomes a victim of the brutal man's obsession.
1h 53m Action Thriller
Quan is a humble London businessman whose long-buried past erupts in a revenge-fueled vendetta when the only person left for him to love – his teenage daughter – dies in an Irish Republican Army car bombing. His relentless search to find the terrorists leads to a cat-and-mouse conflict with a British government official whose own past may hold the clues to the identities of the elusive killers.
1h 37m Mystery Thriller Drama
Three young people on a road trip from Colorado to New Jersey talk to a trucker on their CB radio, then must escape when he turns out to be a psychotic killer.
1h 31m Horror
Mia, a young woman struggling with sobriety, heads to a remote cabin with a group of friends where the discovery of a Book of the Dead unwittingly summon up dormant demons which possess the youngsters one-by-one.
1h 32m Action Crime Drama Thriller
A man is out for justice after a group of corrupt police officers are unable to catch his wife's killer.
1h 28m Action
A group of sadistic mercenaries led by Col. John Hogan kidnap Michael Danton from his home, and set him loose on the grounds of their secret camp to be used as training for new recruits. Danton has been called the "most perfect killer ever." Now, he'll have to prove it again. This prey has become DEADLY!
1h 38m Horror Action Thriller
On a stormy night, young Jim, who transports a luxury car from Chicago to California to deliver it to its owner, feeling tired and sleepy, picks up a mysterious hitchhiker, who has appeared out of nowhere, thinking that a good conversation will help him not to fall asleep. He will have enough time to deeply regret such an unmeditated decision.
explore
Check out more list from our community