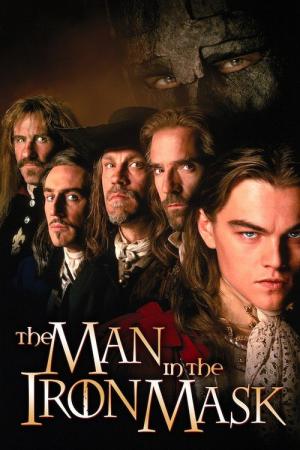 10 Best Movies Like Man In The Iron Mask ...
If you liked this film , you will definitely love these too! In this list we highlight some of the best films that share a very similar premise to 'The Man in the Iron Mask', and are worth checking out.
1.
The Three Musketeers (1993)
1h 45m Action Adventure Comedy
D'Artagnan travels to Paris hoping to become a musketeer, one of the French king's elite bodyguards, only to discover that the corps has been disbanded by conniving Cardinal Richelieu, who secretly hopes to usurp the throne. Fortunately, Athos, Porthos and Aramis have refused to lay down their weapons and continue to protect their king. D'Artagnan joins with the rogues to expose Richelieu's plot against the crown.
42m Drama
It's 1715 on the Bahamian island of New Providence, the first functioning democracy in the Americas, where the diabolical pirate Edward Teach, a.k.a. Blackbeard, reigns over a rogue nation of thieves, outlaws and miscreant sailors. Part shantytown, part marauder's paradise, this is a place like no other on earth - and a mounting threat to international commerce. To gain control of this fearsome society, Tom Lowe, a highly skilled undercover assassin, is sent to the buccaneers' haven to take down the brilliant and charismatic Blackbeard. But the closer Lowe gets, the more he finds that his quest is not so simple. Lowe can't help but admire the political ideals of Blackbeard, whose thirst for knowledge knows no bounds - and no law. But Lowe is not the only danger to Blackbeard's rule. He is a man with many villainous rivals and one great weakness - a passionately driven woman whom he cannot deny.
3.
Ring of the Musketeers (1992)
1h 26m Comedy Adventure
Modern day "Musketeers" attempt to become protectors of the inocent. While the biking trio rescue kindnapped children, guard witnesses, and chase mafia types, they also seek the missing fourth musketeer, who wears the famous musketeers' ring.
4.
The Count of Monte Cristo (2002)
2h 11m Adventure
Edmond Dantés's life and plans to marry the beautiful Mercedes are shattered when his best friend, Fernand, deceives him. After spending 13 miserable years in prison, Dantés escapes with the help of a fellow inmate and plots his revenge, cleverly insinuating himself into the French nobility.
5.
The Mask of Zorro (1998)
2h 16m Action Adventure
It has been twenty years since Don Diego de la Vega fought Spanish oppression in Alta California as the legendary romantic hero, Zorro. Having escaped from prison he transforms troubled bandit Alejandro into his successor, in order to foil the plans of the tyrannical Don Rafael Montero who robbed him of his freedom, his wife and his precious daughter.
6.
The Lord of the Rings: The Fellowship of the Ring (2001)
2h 59m Adventure Fantasy Action
Young hobbit Frodo Baggins, after inheriting a mysterious ring from his uncle Bilbo, must leave his home in order to keep it from falling into the hands of its evil creator. Along the way, a fellowship is formed to protect the ringbearer and make sure that the ring arrives at its final destination: Mt. Doom, the only place where it can be destroyed.
8.
The Three Musketeers (1973)
1h 45m Action Adventure Comedy Drama
The young D'Artagnan arrives in Paris with dreams of becoming a king's musketeer. He meets and quarrels with three men, Athos, Porthos, and Aramis, each of whom challenges him to a duel. D'Artagnan finds out they are musketeers and is invited to join them in their efforts to oppose Cardinal Richelieu, who wishes to increase his already considerable power over the king. D'Artagnan must also juggle affairs with the charming Constance Bonancieux and the passionate Lady De Winter, a secret agent for the cardinal.
2h 35m Action Drama Adventure
In the year 180, the death of emperor Marcus Aurelius throws the Roman Empire into chaos. Maximus is one of the Roman army's most capable and trusted generals and a key advisor to the emperor. As Marcus' devious son Commodus ascends to the throne, Maximus is set to be executed. He escapes, but is captured by slave traders. Renamed Spaniard and forced to become a gladiator, Maximus must battle to the death with other men for the amusement of paying audiences.
10.
The Musketeers (2014)
1h Drama Action & Adventure
Set in 17th century Paris, musketeers Athos, Porthos, Aramis and D'Artagnan are members of an elite band of soldiers who fight for what is just. They are heroes in the truest and most abiding sense – men that can be trusted and believed in to do the right thing, regardless of personal risk.
explore
Check out more list from our community